Red Sox
'If I took Adderall, that's probably what I would feel like': Alex Verdugo was locked in before game-tying double
"I wasn't going to let anything go."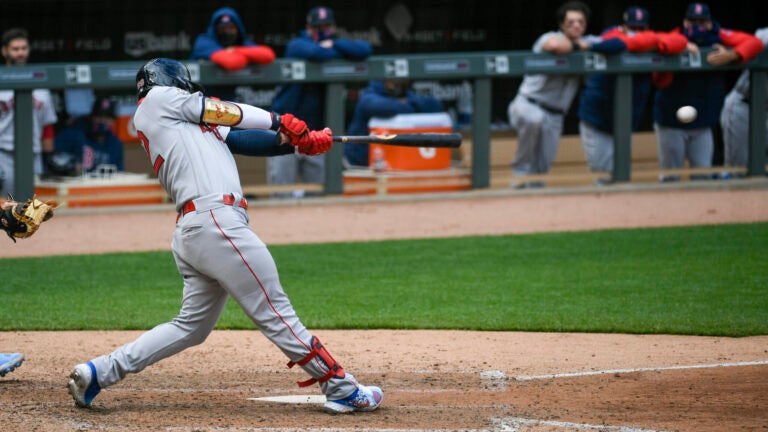 The Boston Red Sox's nine-game winning streak came to an end on Thursday in a 4-3 loss, but not before Alex Verdugo gave the Minnesota Twins one more scare.
Verdugo, who was the hero on both ends of the Red Sox's double-header Wednesday, once again gave the Red Sox a chance to win. With the bases loaded in the top of the eighth inning, Verdugo ripped a line drive down the left-field line that caromed into the corner. Left fielder Kyle Garlick mishandled the ball a bit, and all three runners scored easily.
The Red Sox, who had managed just two hits and no runs against Twins starter Michael Pineda, had improbably tied the game.
Are you not entertained?! pic.twitter.com/BaA1SNwKHn

— Red Sox (@RedSox) April 15, 2021
"I was completely locked in," Verdugo said. "I just got a little lower in my stance, got right here, just trying to see the barrel out in front and to simulate just trying to keep a short swing and being direct to it. …
"If I took Adderall, that's probably what I would feel like right there. I was zoned in, locked in and I wasn't going to let anything go. Anything close, let it go and let's see. Good things happened."
The Red Sox gave up a walk-off single to Max Kepler in the ninth, but both the team and Verdugo return to Boston with a lot to feel good about.
"I don't think it was a tough game at all, to be honest with you," Red Sox manager Alex Cora said.
Verdugo has drawn praise for his play over the last two days. On Wednesday, Red Sox legend David Ortiz tweeted out kudos following the 25-year-old's diving, game-ending catch in the opener and his two-run single that broke the second game open in the sixth inning.
Verdugo's batting average since his 0-for-11 start to the season is .363. On Thursday, his game-tying double was the result of a 10-pitch war-of-attrition at-bat against Twins reliever Taylor Rodgers.
"We live for those," Verdugo said. "The long ABs, the grind of it, the bases loaded, we're down late in the innings. It's those things that when you're hitting in the cage in the off-season, you're playing Wiffle ball with your buddies as a kid."
Red Sox manager Alex Cora called the at-bat "outstanding."
"He took some borderline pitches that were balls, fouled off some tough pitches and stayed on the pitch," Cora said. "He's a good player. A complete player. He can hit lefties, righties and he's a good defender.
"He's still young. He's learning the game. I love the fact that he's engaged in the game from Pitch 1 all the way until the end."
Get Boston.com's browser alerts:
Enable breaking news notifications straight to your internet browser.