Red Sox
Closer Matt Barnes 'wholeheartedly' embracing aggressive new philosophy
Barnes's focus on working faster and attacking the strike zone is resulting in his best professional season so far.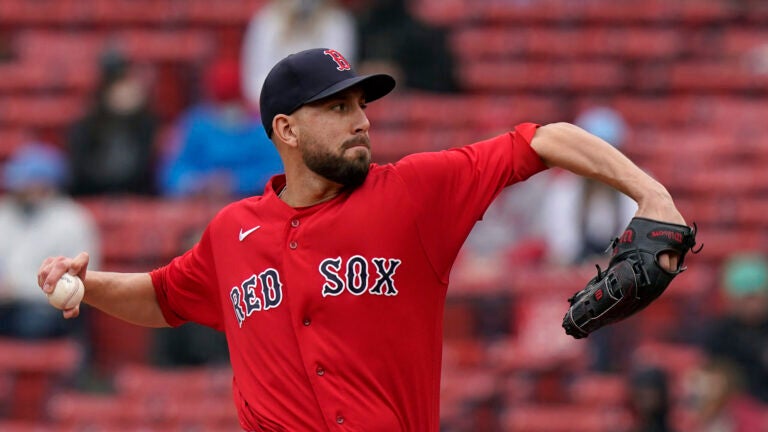 Matt Barnes wasn't too sure about changing anything about his approach heading into the 2021 season. But he's finding change can be very good amid a solid start.
The Red Sox closer is committing to working faster and attacking the strike zone more often than he has in previous years, something NBC Sports Boston's John Tomase highlighted early Wednesday morning.
"I would kind of nibble around the zone a little bit, try to force guys to expand before they were ever engaged," Barnes said of his pitching style before this year. "Getting guys to expand drastically before they've engaged is a tough thing to do. You're trying to get guys engaged, get them moving, get them active in the zone, and then that allows you to expand and have better success."
Barnes said the Sox's analytics department approached him with a statistic that got him on board with the team's aggressive, strike-zone-pounding philosophy: if he threw 100 first-pitch fastballs down the middle for strikes, he'd see a positive result 92 percent of the time.
A quick peek at Barnes's pitching shows he's taken that to heart. He's throwing nearly 54 percent of his pitches in the strike zone so far this season as opposed to keeping just 46.6 percent of his pitches in the zone in 2020 — the league average is 48.4.
Despite getting almost the same rate of swings on those pitches, hitters simply aren't squaring him up.
Batters are now hitting 13 percent fewer pitches Barnes throws in the strike zone compared to last season. He's also seen a substantial uptick in how often hitters now chase pitches out of the zone (35.9 percent this year compared with 28.8 in 2020) and whiff on his offerings as a whole (38.3 percent in 2021 vs. 28.8 in 2020).
All that has led to the best season the eight-year Sox veteran has yet put together in the big leagues, including a career-low in ERA (2.77) and a strikeout percentage and whiff rate, among other things, that put him among the best relievers in baseball.
He's also significantly cut down on his walks, a major issue of his past. Barnes's current 6.4 percent walk rate is well below his career average of 10.4.
"We've been able to put together a really good game plan," he said. "We looked at some of the analytical stuff on attacking the strike zone and working quick and forcing guys to make some decisions at the plate. I've taken that wholeheartedly and really tried to use that to my advantage. It's about working quick, it's about attacking guys, it's about being confident in my stuff and being aggressive in the zone."
Get Boston.com's browser alerts:
Enable breaking news notifications straight to your internet browser.