Red Sox
Here's everything that happened in the Red Sox' Game 4 loss to the Astros in the ALCS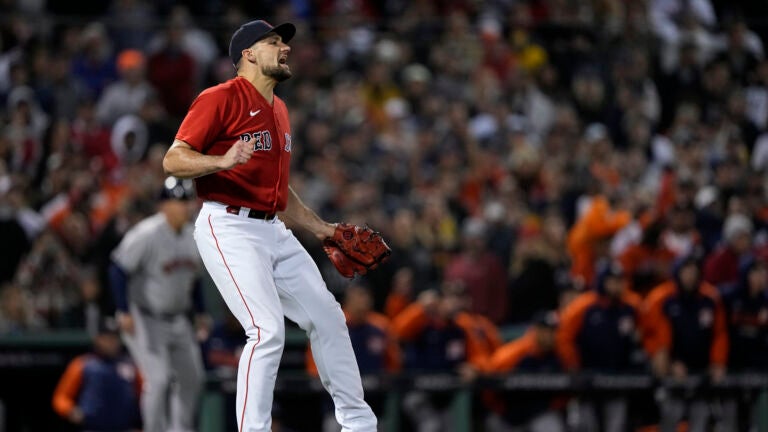 The ALCS is now a best-of-three series after the Astros scored eight runs in the final two innings of Game 4 to tie the series up.
Holding a 2-1 lead heading into the eighth, Garrett Whitlock came back in for his second inning of work in relief. But Whitlock's first pitch to Jose Altuve ended up in the Green Monster, tying the game 2-2.
After they failed to score in the eighth, the Red Sox turned to Nathan Eovaldi, who started Game 2 and is projected to start Game 6, for the ninth. Eovaldi gave up a leadoff double to Carlos Correa, but struck out two of the next three hitters with an intentional walk sandwiched in between.
Eovaldi appeared to get out of the ninth when his two-strike curveball looked like it hit the top outer corner against Jason Castro. Home-plate umpire Laz Diaz called it a ball though, and two pitches later, Castro hit a single that beat the Red Sox' shift to give the Astros a 3-2 lead.
Eovaldi's night ended when he walked Altuve in the next at-bat to load the bases up. Martin Perez, who came in for Eovaldi, gave up a bases clearing double to Michael Brantley in his first pitch out of the bullpen, making it 6-2 Astros.
Houston didn't stop its scoring there. Yordan Alvarez, Carlos Correa, and Kyle Tucker each hit RBI singles to make it 9-3 Houston before the top of the ninth ended.
Ryan Pressly finished the Red Sox in the ninth, securing the win for the Astros to tie the series.
A pair of home runs got the scoring started in the first inning. Alex Bregman hit a fly ball to left that kept carrying and carrying before it landed onto the Green Monster to give the Astros an early 1-0 lead.
Xander Bogaerts nullified that and gave the Red Sox the lead in the bottom half of the first. He destroyed Zack Greinke's 83 mph slider to left as he was able to watch it leave Fenway Park, giving the Red Sox a 2-1 lead.
Red Sox starter Nick Pivetta was spotless after giving up the first-inning home run, which was the only run he allowed on day. He gave up one run on two hits, two walks, and three strikeouts over five innings, giving the Red Sox another solid start.
Greinke lasted nowhere near as long as Pivetta. For the third straight game, the Astros pulled their starting pitcher in the second inning. Greinke pitched 1 1/3 innings, giving up two runs on one hit, three walks, and zero strikeouts.
Unlike they did in Game 3, Houston did get a strong night from its bullpen. Brooks Raley got out of the second before Cristian Javier threw three-plus scoreless innings, giving up just two hits and two walks over that stretch. Phil Maton and Kendall Graveman combined to give the Astros three more scoreless innings of relief.
Josh Taylor and Adam Ottavino handled the sixth and Whitlock pitched a scoreless seventh before giving up the home run to Altuve.
Astros extend their lead to 9-2 in the ninth
Martin Perez came in for Nathan Eovaldi and got shellacked right away.
Michael Brantley hit the first pitch he saw into the gap in right field, clearing the bases to give Houston a 6-2 lead as he strolled into second for a double.
After intentionally walking Alex Bregman, Perez gave up a single to Yordan Alvarez that scored Brantley from second to make it 7-2 Astros.
Correa came up again and hit a swinging bunt. Perez's throw to first wasn't fielded cleanly by Kyle Schwarber and the ball rolled away to score another run.
Kyle Tucker grounded into the shift, but Christian Arroyo's throw didn't beat him to first, scoring another run.
Gurriel flew out to left to end the inning. Barring a miracle, this series will be tied 2-2 in a matter of moments.
Astros take a 3-2 lead in the ninth
Carlos Correa began the inning by hitting a double to right, giving the Astros a prime opportunity to take the lead.
Nathan Eovaldi appeared to have the rest of the inning under control. He struck out Kyle Tucker swinging. The Red Sox intentionally walked Yuli Gurriel in the following at-bat, but Eovaldi struck out Aledmys Diaz swinging for the second out of the inning.
Eovaldi looked like he got Jason Castro to strike out looking to end the inning. But his curve that might have hit the top outer edge of the zone was called for ball two. Two pitches later, Castro hit a groundball back up the middle, beating the shift, and allowing Correa to score to give Houston a 3-2 lead.
Eovaldi walked Altuve in the following at-bat to load the bases, which ended Eovaldi's day. Martin Perez will enter the game for the Red Sox.
End of the eighth (Game tied 2-2)
We almost had a redux of what happened in Game 3 of the ALDS.
Following a ground out by Alex Verdugo and a strikeout by J.D. Martinez, Hunter Renfroe drew a walk to get on board, setting up Christian Vazquez to possibly be a hero again.
It looked and sounded like that was about to happen. Fox play-by-play announcer Joe Buck and the network's camera really sold Vazquez's fly ball off the bat, but the ball died before the warning track for out No. 3.
We head to the ninth, with Nathan Eovaldi coming on in relief.
Nathan Eovaldi is warming up
As Eovaldi sits right in between his Game 2 and potentially Game 6 starts, it appears he'll pitch at least an inning in Game 4 out of the bullpen.
Eovaldi is warming up in the Red Sox bullpen in the bottom of the eighth, adding another fun element to this already tense Game 4.
Middle of the eighth (game tied 2-2)
Following Jose Altuve's game-tying homer, Michael Brantley got on board with a bloop single to center.
Garrett Whitlock had a good bounceback against Alex Bregman. He got Bregman down in an 0-2 count, but his two low-and-away pitchers just missed the zone. Bregman hit Whitlock's sinker right to Xander Bogaerts, who turned it into a 6-4-3 double play to get the two outs.
Yordan Alvarez flew out to center to end the inning, but now the Red Sox offense has to score – something they haven't done since the first inning.
Jose Altuve ties it
It took one pitch for Jose Altuve to turn this game around. The Astros second baseman ripped Garrett Whitlock's insider sinker 400 feet onto the Green Monster.
End of the seventh (Red Sox lead 2-1)
Kiké Hernández might be regressing back to the mean a bit. He's 0-for-4 on the night after Kendall Graveman got him to ground out begin the seventh.
Rafael Devers couldn't get on, either. He made contact with a sinker on the inner half of the zone, but it resulted in a fly out to right.
Xander Bogaerts fouled off a pair of sinkers from Graveman before he struck out swinging on a slider.
We move on to the eighth, and Garrett Whitlock indeed remains on the mound for the Red Sox. In the bullpen, Nathan Eovaldi is warming up with a sweatshirt on.
Middle of the seventh (Red Sox lead 2-1)
Garrett Whitlock easily got the first two hitters he faced out. Kyle Tucker flew out on center on three pitches and Yuli Gurriel grounded out on two.
Chas McCormick singled on the first pitch he saw though. With Martin Maldonado struggling, Houston decided to pinch-hit him for lefty Jason Castro. Castro was able to get Whitlock to work a bit, but he hit a sharp liner right at Kyle Schwarber to end the inning.
If/when Whitlock comes back out for the eighth, he'll face the top of Houston's order. Meanwhile, the Astros called in Kendall Graveman to pitch the seventh.
End of the sixth (Red Sox lead 2-1)
Phil Maton came in and did exactly what he needed to do. He got Christian Vazquez to pop out, struck Christian Arroyo out swinging, and got Kyle Schwarber to fly out to end the inning. The Red Sox left Hunter Renfroe stranded at first following his leadoff walk.
Now, the Red Sox will turn Garrett Whitlock out of the bullpen. You would imagine that if things go as the Red Sox hope, he'll pitch the seventh and eighth innings. If that's the case Nathan Eovaldi could be the closer in the ninth. Eovaldi pitched on Saturday and probably wouldn't start again until Friday, which would make him a good candidate to pitch an inning tonight.
Bottom of the sixth (Red Sox lead 2-1)
Cristian Javier came back in for his fourth inning of work, but turned right back to the Astros dugout after walking Hunter Renfroe to start the inning. Javier filled in nicely for the Astros after Greinke's shaky start, pitching three-plus scoreless innings and allowed just two hits and two walks.
Houston will turn to Phil Maton to face the bottom of the order and Kyle Schwarber. After pitching a scoreless inning in Game 1, Maton gave up a two-run homer to J.D. Martinez in Game 3 over his 1 1/3 innings pitched.
Middle of the sixth (Red Sox lead 2-1)
Josh Taylor came on to replace Nick Pivetta and got the first two hitters he faced out as Michael Brantley grounded into the shift and Alex Bregman flew out to right.
But the Red Sox' shift wasn't enough to stop Yordan Alvarez's hard-hit grounder to make its way into the outfield for a single. With Carlos Correa due up, the Red Sox turned to righty Adam Ottavino. The power pitcher did what he needed to do, getting Correa to strike out looking at a 95 mph sinker.
End of the fifth (Red Sox lead 2-1)
The Red Sox had another solid chance to add to their lead in the fifth, but failed to do so.
Rafael Devers began the inning with a fly out. Xander Bogaerts got on though when he hit a hard line drive off the center field wall for a double. It appeared Bogaerts would have a chance to score in the next at-bat, but Alex Verdugo's fly ball to left fell a few feet short off the wall for out No. 2.
J.D. Martinez got ahead 3-1 in his at-bat, but he ended up striking out when he whiffed on Cristian Javier's slider on the outer edge of the plate.
Javier's now thrown three scoreless innings of relief for Houston. On the other end, Boston is going to its bullpen for the first time on the night, with lefty Josh Taylor replacing starter Nick Pivetta as the Astros have Michael Brantley and Yordan Alvarez due in the sixth.
Pivetta's final line: five innings, two hits, one run, two walks, three strikeouts, one home run.
Middle of the fifth (Red Sox lead 2-1)
Nick Pivetta threw arguably his best inning yet in the fifth. He froze Chas McCormick and struck him out looking at a knuckle curve to start the frame. Martin Maldonado flew out to right in the next at-bat.
In his third time against Jose Altuve, he got two quick strikes on him. Altuve did draw a couple of balls after, but grounded out to third.
A replay showed that Altuve might have been safe at first as Kyle Schwarber's foot wasn't on the bag when he got the ball in his glove. But the Astros didn't challenge.
Pivetta's only thrown 65 pitches, though his day might be done. Adam Ottavino was warming up in the bullpen during the inning.
End of the fourth (Red Sox lead 2-1)
Cristian Javier quickly recorded the first out of the inning, getting Christian Vazquez to fly out to right on one pitch.
But Christian Arroyo took advantage of Javier's fastball on the outer edge of the zone, hitting it the opposite way to right. Astros right fielder didn't take the most aggressive approach to field the ball as it rolled around in the corner, so Arroyo got on his horse and got a triple out of it.
The Red Sox weren't able to take advantage, though. With the Astros infield in, Kyle Schwarber hit a sharp grounder to Jose Altuve, who was able to get Schwarber out at first without worrying about Arroyo running home. Kiké Hernández fouled out in the next at-bat to end the inning.
The Red Sox also suffered a brief scare in the inning. After fouling off his first pitch, Schwarber grabbed at his hamstring, which he injured earlier in the season and missed nearly two months because of it.
Middle of the fourth (Red Sox lead 2-1)
Nick Pivetta walked Yordan Alvarez on five pitches to begin the fourth, but he was able to get around that quickly.
Carlos Correa hit a hard line out to left on the first pitch of his at-bat for the first out. Kyle Tucker popped out on just the second pitch of his at-bat for the second. Finally, Yuli Gurriel couldn't hold his swing on a high fastball for the second strike of his at-bat and popped out to second on the next pitch to end the inning.
End of the third (Red Sox lead 2-1)
Xander Bogaerts hopped on the first two pitches Cristian Javier threw, but both were fouled off. Javier won the battle on the fifth pitch of the at-bat, getting Bogaerts to ground out to third.
Alex Verdugo got on board though, getting six fastballs thrown to him in a seven-pitch at-bat that resulted in a walk.
J.D. Martinez loaded the count too, but got a tough strike three call on a fastball that appeared to be off the plate. The strike three call upset Alex Cora enough for him to get out of the dugout and debate the call, clearly showing he was upset. First base coach Carlos Febles restrained Cora before he could get ejected.
Meanwhile, Verdugo stole second on the play and with Martinez stepping in front of Martin Maldonado, the Astros might have had a case for interference. But it wasn't called and Verdugo was able to stay at second.
The no-call on the potential interference didn't matter though, as Hunter Renfroe whiffed at Javier's slider to strike out and end the inning.
Middle of the third (Red Sox lead 2-1)
After a slow second inning, Nick Pivetta breezed through the top of the Astros lineup in the third.
Jose Altuve hit a high pop along the third-base line. There appeared to be a brief error in communication between Rafael Devers and Christian Vazquez, but Devers still made the grab.
Michael Brantley grounded right into the shift for the second out. Alex Bregman got another inside slider, but was a little too under it this time as he popped out to left to end the inning.
Besides retiring the side in order, the other good news for the Red Sox that inning was Pivetta threw just eight pitches. He's thrown just 37 pitches so far, which could mean that the Red Sox might get another five-plus inning from their starting pitcher.
Cristian Javier enters the game for the Astros to start the third after his strong Game 1 performance.
End of the second (Red Sox lead 2-1)
The lefty-on-lefty matchup didn't work for the Astros right away. Raley was able to put Schwarber in a 1-2 hole, but missed the zone with three straight offspeed pitches to walk Schwarber.
Raley found himself in a similar situation against Kiké Hernández, who loaded the count after trailing 1-2. Raley was able to get Hernández out though, throwing a curve that broke low-and-inside that Hernández whiffed at for the second out of the inning.
Raley was able to end the inning by getting Rafael Devers to fly out to right, getting him out on a curve.
It appears this might Raley's only inning as right Cristian Javier is relieving in the Astros bullpen. That would make sense as Xander Bogaerts and J.D. Martinez are due up in the third, giving the Astros the righty-on-righty matchup.
Zack Greinke's day ends (Red Sox lead 2-1)
The Astros are going to their bullpen in the second inning for the third straight game.
After going up 1-2 against Christian Vázquez, Greinke threw three straight balls low-and-away to walk the Red Sox catcher. He did get Christian Arroyo to ground out, with Yuli Gurriel having to make an awkward-looking stop in order to toss the ball to Greinke at first.
But with Dusty Baker decided that was it for Greinke in Game 4 with the top of the Red Sox order coming back up. Lefty Brooks Raley was called for the bullpen to face Kyle Schwarber.
Middle of the second (Red Sox lead 2-1)
Just like the first, Pivetta got the first two hitters out in the second. Carlos Correa grounded out to short and Kyle Tucker couldn't check his swing on a high fastball for strike three.
The inning nearly ended when Rafael Devers made a diving effort to stop Yuli Gurriel's grounder along the third-base line. However, Devers's throw to first was high and bounced off a camera in the camera well to advance Gurriel to second.
Chas McCormick walked on four pitches, extending the inning for Houston. Pivetta's knuckle-curve on his first to Martin Maldonado got away from Christian Vázquez, putting runners in scoring position.
Maldonado's postseason struggles continued, though. After going ahead 3-1 in the count, he got too under Pivetta's inside fastball for a fly-out to center to end the inning.
End of the first (Red Sox lead 2-1)
The Red Sox were able to get a couple more men on board in the first, with Alex Verdugo reaching due to an error and J.D. Martinez walking. But Alex Bregman made a great snag on a grounder and tossed the ball over to second to record the final out.
Greinke's already given up two runs. He threw 28 pitches in the first with just 13 going for strikes and he's grunting as he throws every pitch. It makes you wonder if tonight will be another short night for the Astros' starting pitching.
Xander Bogaerts gives the Red Sox a 2-1 lead
Zack Greinke was able to retire Kyle Schwarber and Kiké Hernández to start, but quickly got into trouble.
Greinke walked Rafael Devers on five pitches, setting the stage for Xander Bogaerts. As Bogaerts stepped into the box, Fox play-by-play announcer Joe Buck noted the shortstop had yet to record an RBI this series despite the Red Sox scoring so many runs.
Bogaerts changed that. Greinke's second pitch was an 83 mph slider right above Bogaerts's knees in the zone. Bogaerts crushed it, and he knew right away, as he saw the ball fly onto Lansdowne Street to give the Red Sox a 2-0 lead.
Middle of the first (Astros lead 1-0)
It took just one pitch for Nick Pivetta to record the game's first out. Jose Altuve popped out to left swinging at an inside fastball to start.
Pivetta followed that up by striking out Michael Brantley. The lefty whiffed at a high fastball for strike three.
But Pivetta wasn't able to put the Astros away in order. Alex Bregman pulled Pivetta's 94 mph that was over the plate for a high fly ball that landed on top of the Green Monster, putting the Astros up 1-0.
Pivetta got Yordan Alvarez to pop out to end the inning, but the Red Sox find themselves in an early hole.
8 p.m.
Former Red Sox pitcher Tim Wakefield and British singer Calum Scott are throwing the first pitch prior to Game 4.
In case you didn't know, the team's been singing to Scott's song "Dancing on My Own" in recent weeks. Here's why.
7:40 p.m.
In case you missed it, here's everything we wrote on the Red Sox' Game 3 victory.
These Red Sox have magic on their side again
Red Sox' Kyle Schwarber dons Waltham Hawks shirt after grand slam
Chad Finn: What we learned from the Red Sox' dominant Game 3 win
Kyle Schwarber continues to provide for Red Sox in leadoff spot
Carlos Correa on Eduardo Rodriguez's celebration toward him: 'I loved it personally'
Alex Cora explained why he was upset with Eduardo Rodriguez's gesture toward Carlos Correa
5 takeaways as Kyle Schwarber, Red Sox slug their way to big win over Astros in Game 3 of ALCS
7:35 p.m.
The Fox pregame show is underway and in case if you were wondering, they're back on Jersey Street tonight even after Alex Rodriguez was heckled all night.
Chad Finn has more here.
Starting pitchers
The Red Sox will have righty Nick Pivetta on the mound for Game 4 while the Astros will go with Zack Greinke as their starter.
Pivetta was solid in his lone start against the Astros this season. He gave up two runs on three hits, two walks, and nine strikeouts over nine innings in Houston in June.
Tuesday's game will be the first start in the 28-year-old's career. Pivetta did pitch twice out of the bullpen in the ALDS against the Rays, but both appearances were out of the bullpen. In Game 1 of that series, Pivetta gave up three runs in 4 2/3 innings. He was in control in Game 3 though, pitching four scoreless innings in extras to help keep the game tied before Christian Vazquez's walk-off home run.
As for Greinke, he hasn't been the pitcher he once was as of late. In June, he gave up four runs over three innings against the Red Sox. Greinke's only made three starts since the start of September, giving up 15 runs over 11 2/3 innings in those outings.
Greinke did pitch in the Astros' ALDS win over the White Sox, but it was only for an inning out of the bullpen.
Starting lineups
With a righty starting for the Astros again, the Red Sox' lineup remains exactly the same from Game 3 in Game 4.
Here's the Red Sox' starting lineup:
1. Kyle Schwarber 1B
2. Kiké Hernández CF
3. Rafael Devers 3B
4. Xander Bogaerts SS
5. Alex Verdugo LF
6. J.D. Martinez DH
7. Hunter Renfroe RF
8. Christian Vázquez C
9. Christian Arroyo 2B
The Astros' lineup remains nearly the same from Game 3. The only difference is Chas McCormick will start in center instead of Jose Siri.
Here's the Astros' full starting lineup for Game 4:
1. Jose Altuve 2B
2. Michael Brantley LF
3. Alex Bregman 3B
4. Yordan Alvarez DH
5. Carlos Correa SS
6. Kyle Tucker RF
7. Yuli Gurriel 1B
8. Chas McCormick CF
9. Martin Maldonado
Get the latest Boston sports news
Receive updates on your favorite Boston teams, straight from our newsroom to your inbox.