Red Sox
4 things to know about hard-throwing Red Sox lefty James Paxton
Paxton has struggled with injuries during his career. But when he's healthy, the Red Sox hope to see him bring the heat for their starting rotation.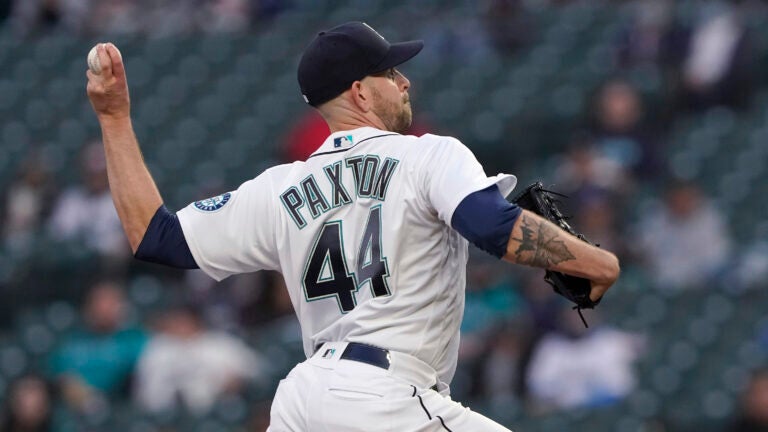 The Red Sox needed some help in their starting rotation after the departure of Eduardo Rodriguez to the Detroit Tigers, and Boston's hoping it will get it in southpaw James Paxton.
Sources report to the Globe's Alex Speier that the Sox have reached a one-year, $10 million deal with Paxton, which also includes club options for the 2023-24 seasons that could make the deal worth up to $35 million.
The 33-year old southpaw has a 3.59 career ERA with a 57-33 record in his time with the Seattle Mariners (2013-18, 2021) and New York Yankees (2019-20).
The fire-baller will likely start the season on the injured list as he works his way back from Tommy John surgery in April 2021 but should pitch in 2022.
When Paxton returns, he'll balance out a righty-heavy rotation, joining Chris Sale as the staff's main left-handed pitchers. But beyond that, a healthy Paxton offers intriguing upside in the form of overpowering stuff, which has helped him strike out nearly 10 batters per nine innings in his career.
Here are a few things to know about the Red Sox' new veteran pitcher.
They call him "The Big Maple."
A quick look into Paxton's backstory will tell you how he got that nickname pretty quickly.
The 6-foot-4, 230-pound left-hander is originally from British Columbia in Canada. He even played for the North Delta Blue Jays of the British Columbia Premier League, a competitive youth league, and was part of Team Canada's Junior National Team as a youngster.
After starring for three years at the University of Kentucky, Paxton was even drafted by his home country Toronto Blue Jays in the first round of the 2009 MLB Draft. However, he declined to sign with Toronto and ended up playing in an independent baseball league in America before the Seattle Mariners selected him with a fourth-round pick in the 2010 draft.
He's (usually) a hard-throwing lefty.
If you want a pitcher capable of bringing some heat, Paxton is your guy. The power-pitching left-hander has thrown his four-seam fastball an average of 95.8 miles per hour over the course of his career, according to FanGraphs.
His lowest average fastball velocity for a season was 2020—a year in which he had lumbar surgery to remove a cyst in February. Aside from that year, Paxton has regularly been in the 70th percentile or higher in average fastball velocity, per Baseball Savant.
That four-seamer is especially tough to square up because it boasts impressive movement toward right-handed hitters and away from lefties. In 2020, Paxton's four-seam fastball averaged 14 inches of horizontal break, which was about seven inches more on average than the rest of the league. As if a fastball capable of touching 100 mph wasn't hard enough to hit…
Then, once Paxton gets opponents' bats sped up, he can change speeds with a cut fastball in the mid-to-high 80s and a devastating wipeout breaking ball.
He's thrown a no-hitter—in Canada.
No-hitters and perfect games are already magical in and of themselves. But Paxton's no-hit gem in a 5-0 Mariners win on May 8, 2018 was extra special.
The opponent the big southpaw dispatched without a hit in just 99 pitches? The Blue Jays that drafted him in 2009. Even better: Paxton did it on the road in his home country, making him the first Canadian Major League pitcher ever to do so.
The "Big Maple" is also the second Canadian-born player to throw a no-hitter after Dick Fowler did it for the Philadelphia A's in 1945.
He's struggled with injuries in recent years.
If there's one big caveat with Paxton, it's health.
During his time in Seattle, he regularly spent time on the disabled list for a variety of issues, including forearm strains, pectoral muscle strains and back problems.
His surgery prior to the pandemic-delayed 2020 season cost him several months of preparation time, and he only made five appearances that year for the New York Yankees after struggling with diminished fastball velocity.
The fastball speed returned for the 2021 season, but he didn't get much of a chance to show it. He left his very first start of the year against the Chicago White Sox with elbow discomfort. Within a week, Seattle announced Paxton would receive season-ending Tommy John surgery, which took place at the end of April.
When he's been available, though, he's been very good. If he can be healthy and effective in 2022, there's a chance the Red Sox could keep him around past the end of the next season.
Get the latest Boston sports news
Receive updates on your favorite Boston teams, straight from our newsroom to your inbox.