Red Sox
Chris Sale hit by line drive, fracturing pinky finger on his throwing hand
Sale will visit a hand specialist on either Monday or Tuesday to determine the next step.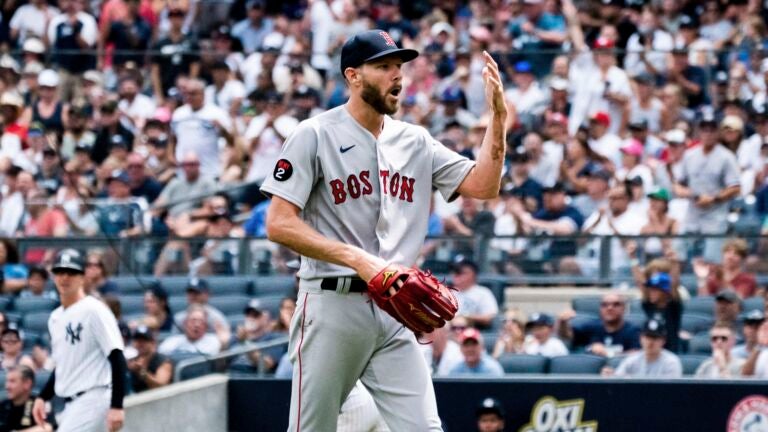 Chris Sale's second start of the season came to a quick end on Sunday.
Facing just his sixth batter of the game, Sale was struck by a line drive off a hit from Yankees outfielder Aaron Hicks. The ball hit Sale's pitching hand and ricocheted all the way into shallow right field. Sale fell to the ground and grimaced for a moment, before tossing his injured hand around, and ran straight into the dugout.
Sale briefly put his injured hand up in the air, which allowed cameras to show that the pinky on his pitching hand looked dislocated. The Red Sox announced later on Sunday that Sale suffered a "left fifth finger fracture," otherwise known as the pinky finger. No timetable for his injury was announced.
Sale reemerged in the Red Sox' dugout in the fourth inning. His left hand was taped. He'll see a hand specialist either Monday or Tuesday, Red Sox manager Alex Cora told reporters following Sunday's 13-2 loss. Cora didn't rule out Sale making another return later this season.
Hicks's line drive traveled 106.7 mph off the bat, according to Baseball Savant. With the ball rolling into right field, Gleyber Torres was able to score from second to give the Yankees a 3-0 lead.
Sale said he didn't feel the pain right away.
"No pain. Zero pain. Anger, frustration, rage first," Sale said on the moments following the play. "I hit the ground. I didn't even think about my broken finger. I hit the ground, I see my finger under my ring finger and I go, 'Here goes more time.' That was the first thing that went through my mind."
Sale's dealt with several injuries over the past few seasons, making just 11 regular-season starts since August 2019. He missed all of 2020 and most of 2021 after having Tommy John surgery. Sale suffered a right rib cage fracture in February that sidelined him until this past Tuesday. He pitched five shutout innings against the Rays in his 2022 season debut.
Sale was upset that his ability to play baseball has been taken away by injury again.
"I've said it all along. I just want to do my job. I just want to play baseball," Sale said. "I've had so many things take that away from me. It sucks. This is almost a bigger blow than the other ones because it's unexpected. I felt good."
But as Sale faces another long stint off the field, he tried to keep things in perspective.
"Two things I know for a fact right now. I have a lot of love in my corner, a lot of people who care about me and want me to succeed. And somebody somewhere is having a worse day than I am right now. And that's a fact," Sale said.
"I'm who I am and missing more time and that eats me alive," Sale added. "But I have to have something to look back on and hold onto and that's what it is. There's really, really tough times in this world right now and the broken finger isn't the worst of it."
Prior to the freak injury, Sale's second outing of the season didn't start off as well as his first. DJ LeMahieu hit a double to open the game and Sale hit Aaron Judge with a pitch on the following at-bat. An error from Rafael Devers allowed LeMahieu to score later, and Matt Carpenter's fielder's choice scored Judge in the at-bat before Hicks's.
Hirokazu Sawamura replaced Sale and ended the inning in the following at-bat.
Sign up for Red Sox updates⚾
Get breaking news and analysis delivered to your inbox during baseball season.