Red Sox
The likelihood of the Red Sox trading top prospect Triston Casas to Marlins is reportedly 'low'
The Marlins offer plenty of controllable, high-end starting pitching.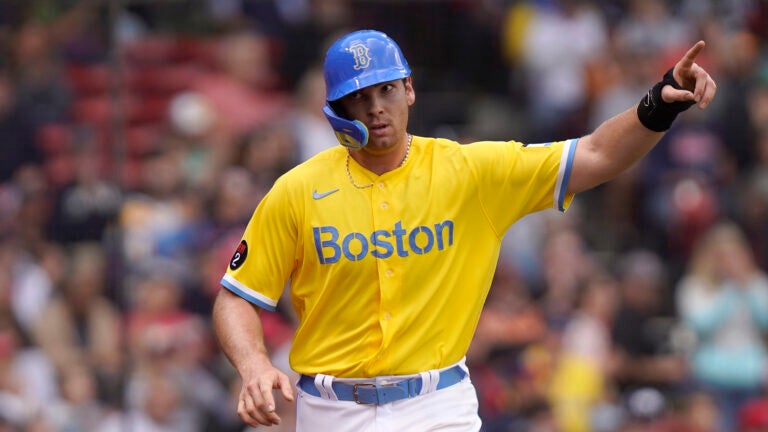 If the Boston Red Sox are scouring the trade market for controllable, high-end starting pitching — the Miami Marlins seem like a perfect match, given their abundance of young arms both in the rotation and further down in their prospect pipeline.
Of course, given the premium placed on young starters, the Red Sox would likely have to part with a significant blue-chip prospect of their own to facilitate such a move. The Miami Herald reported earlier this week that the Marlins would be interested in dealing "a significant player" in exchange for Boston first baseman Triston Casas.
Still, even though Boston's dearth of quality starting pitching stands as one of its most noticeable flaws ahead of the 2023 season, the likelihood of the Red Sox moving Casas in any potential trade with the Marlins is "low", according to Alex Speier of The Boston Globe.
The 22-year-old Casas struggled at the plate during his limited reps up at the MLB level last season, batting .197 with five home runs and 12 RBI over 76 at-bats.
But the 6-foot-4 slugger's discipline and pop at the plate give Boston a potential middle-of-the-order mainstay for years to come, with Speier noting that Boston's lack of interest in first baseman Freddie Freeman during his free-agent frenzy last offseason was a byproduct of the Red Sox' faith in Casas asserting himself at the pro level.
Even though a Casas trade could net Boston a pretty talented pitcher, the team's previous offseason moves paint the picture of an organization that hasn't viewed the first baseman as a movable asset, especially with the team designating Eric Hosmer for assignment rather than holding onto him for the big-league minimum.
Still, with Boston's reluctance to include Casas in any deal, the Marlins offer a pretty tempting package of pitching if the Sox were willing to relinquish other assets. Even though reigning Cy Young winner Sandy Alcantara is likely staying put, the Herald noted that other hurlers like Pablo Lopez, Trevor Rogers, and Edward Cabrera are all potential trade pieces.
Lopez, 26, went 10-10 last season with Miami with a 3.75 ERA and a 1.17 WHIP. The right-hander has high-end stuff, but the 2022 campaign marked the first time Lopez logged over 112 innings of work in a single season.
Rogers, 25, is an interesting case, with the southpaw finishing second in NL Rookie of the Year voting back in 2021 thanks to a 2.64 ERA and a 1.15 WHIP over 25 starts. But Rogers regressed this past season, going 4-11 with a 5.47 ERA and a 1.50 WHIP.
Cabrera, 24, made major strides last season after an up-and-down showing during limited reps in 2021. The 6-foot-5 righty made 14 starts in 2022, posting a 3.01 ERA and a 1.07 WHIP while striking out 75 batters over 71.2 innings of work.
Newsletter Signup
Stay up to date on all the latest news from Boston.com