Red Sox
Red Sox are suffering from an offseason of subtraction, but they've made one clear statement
Chaim Bloom is pinning a lot of hope, and probably his job, on the success of MLB rookie Masataka Yoshida.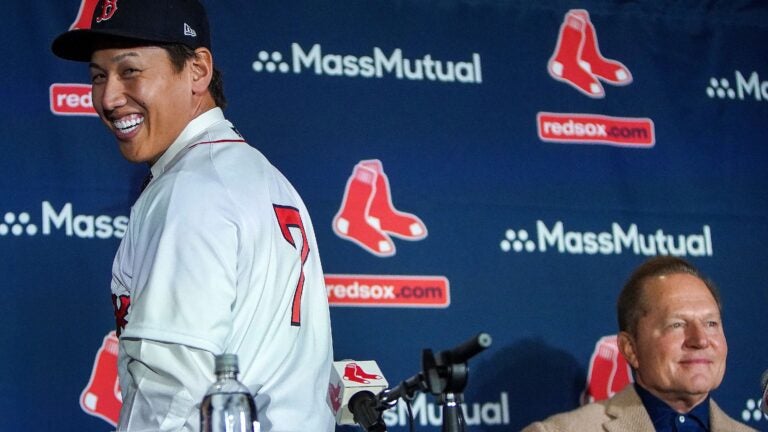 COMMENTARY
I can't be the only person whose pulse spiked seeing the words "Rafael Devers" and "agreement" on their phone Tuesday until realizing it was just for a $17.5-million deal covering his last year before free agency.
No matter. Good news is good news, and avoiding even the suggestion of arbitration with The Last Red Sox Superstar qualifies as parade-worthy if we're grading this winter on a curve. The sides are talking, and they managed something productive.
Even if my lizard brain leaps to three Januaries ago when they cleared this hurdle with Mookie Betts right before . . . well, you know.
Cynicism's cheap and easy, of course, but how can we not partake? The Red Sox of 2022-23 seem more committed to winning negotiations than games.
Plus, the universe is giving us setups like Red Sox owner John Henry — who also owns Boston Globe Media Partners, including Boston.com — going to Fenway Park to watch the hockey team in his portfolio play against the Bruins. What am I, made of stone?
His baseball team has cleaned out the closet, with four of its top-12 players by bWAR (Xander Bogaerts, Christian Vázquez, Nate Eovaldi, J.D. Martinez) in 2022 set to play elsewhere and a fifth — Michael Wacha — likely to join them.
(Provided someone convinces themselves his 3.32 ERA, despite a batting average on balls in play 10 percent below league average and a hard-hit rate in the worst fifth of the league, isn't the mirage it seems.)
That's fine. Restocking with zero of the top 25 free agents is an odd pair, even if (as we discussed last time) it's understandable in hindsight when Boston no longer offers the most money nor a reasonable chance to truly contend until . . . 2025, maybe?
The final months of 2022 yielded something. A horrendous bullpen has been rebuilt with Kenley Jansen (No. 27 on that free-agent list), Chris Martin, Joely Rodríguez, and whichever rotational depth pieces fall to it. Let's say everyone but Chris Sale, Corey Kluber, Brayan Bello, Garrett Whitlock, and Nick Pivetta.
The lineup, with spring training 50-odd days away, has 38-year-old Justin Turner at DH — I assume his and Kluber's deals not yet being official is to give time for a trade that clears 40-man space. I'd rather Trevor Story stay at second base and Kiké Hernández stay in center field, but one of them is going to shortstop until we're told otherwise.
If it works, they'll chase fewer pitches than they did a year ago. They'll get deeper into games, and lose fewer by way of late-inning meltdowns. Turner can spell Triston Casas at first and Devers at third in a way Martinez certainly couldn't. We can see what they're going for, even if we don't like the odds.
But saying that, it is a roster that has lost ground to its divisional peers it couldn't afford to lose. It is a roster that offers hope primarily because baseball's built a world where third-place teams can make the World Series, and this Red Sox team could still finish third in the East.
Whether they had offseason Plans A that failed or being about $16 million below the first luxury-tax line was the plan all along, this is a roster almost bereft of long-term commitments. Just three players are signed beyond the 2024 season.
Whitlock, making bargain basement money through 2026 before two cheap team options beyond. Story, whose post-2025 opt out the club can void by picking up his reasonable-seeming 2028 option.
And Masataka Yoshida. The name that may end up defining Chaim Bloom's tenure in Boston.
I mean, reasonably speaking. Bloom will always be the man who traded Betts. Who let Bogaerts leave. Who did with Devers whatever he does. But those, we understand, are as much ownership decisions as anything else. Hal Steinbrenner wanted Aaron Judge to stay a Yankee, thus it was so. Peter Seidler and Steve Cohen want to win at all costs, and thus their Padres and Mets are trying.
Yoshida, however? As with Story, it's Bloom's stake in the ground. And unlike with Story, potentially, their offer was both immediate and head and shoulders the best.
Despite Yoshida getting the full unveiling, it has largely flown under the radar due to both the general malaise around the team and Yoshida's status as an unknown. But his signing is the culmination of a multi-year pursuit, outlined deeply in The Athletic and full of the rosy hopes every winter is full of.
"It's more of Western swing with the ability to lift the ball and with surprising raw power," Sox scouting boss Gus Quattlebaum said, hinting at the perception that power doesn't translate across the Pacific. "It changed the calculus for us as evaluators."
The best pure hitter Pacific Rim coordinator Brett Ward had seen in the area since Ichiro Suzuki.
"The Japanese Juan Soto," according to longtime All-Star outfielder Adam Jones, who played with Yoshida as he won batting titles in 2020 and 2021.
It's no promise of a gyroball, but it's a lot to hang on an MLB rookie who slots into the leadoff spot on a team lacking power before its Nos. 2 and 3 sluggers left town.
But it's something that doesn't feel like a fallback.
The word "priority" has flown around the team for nearly a year, almost exclusively in cases that ended up with a player they supposedly wanted choosing other colors. Re-signing Bogaerts. Extending Devers. Adding at catcher. Adding a frontline starter. And those are just the ones they said themselves, never mind the likes of José Abreu, billed as a "No. 1 outside target" after he signed with Houston.
They have made Yoshida their man in a way they've not made anyone else. He is unquestionably part of their future. He is their guy.
If they're right, a lot of us will look pretty silly.
If they're not, a lot of us will be picking through names to be the new boss of baseball operations.
Get the latest Boston sports news
Receive updates on your favorite Boston teams, straight from our newsroom to your inbox.