Red Sox
There's plenty in the Red Sox house to fix, but with Rafael Devers deal, they've poured the foundation
Three thoughts on a massive, franchise-altering deal for the Red Sox.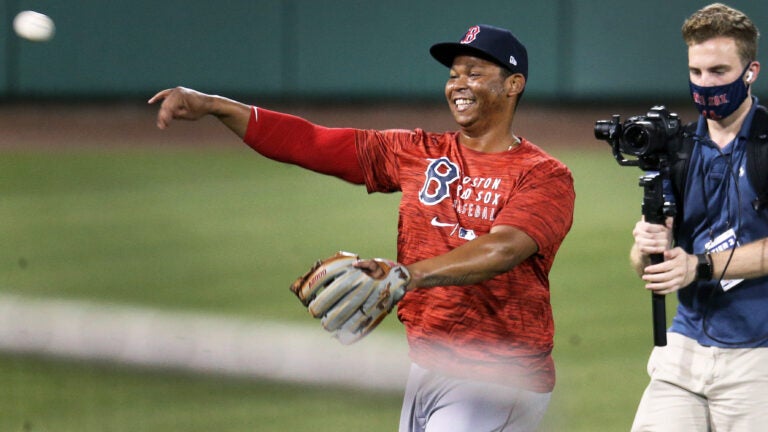 COMMENTARY
Let's call it two years, 11 months.
On Feb. 4, 2020, the initial (and better) version of the Mookie Betts trade broke. An organizational failure spanning three baseball bosses, and a punt to the groin that fundamentally changed how a sizable percentage of people viewed the Red Sox.
By Jan. 4, 2023, their likes had only grown, and the snowball of that day had rolled down a lot of mountain. The austerity talk. The trades, and their diminishing returns. The two dreadful seasons that sandwiched a best-case-scenario 2021 playoff berth.
All leading to Xander Bogaerts and a season-long lie about genuine interest in keeping a player who, while not quite Betts's equal, made it unequivocally clear he wanted to be here.
Betts was a line not to be crossed for plenty. Bogaerts, too, though we'll never really know how much.
Because Rafael Devers was the one the Red Sox wouldn't cross.
Eleven years, $331 million, with no opt out. It's a humongous bet, one nearly twice in dollars of the "Matt Olson framework" that made this seem so bleak last summer. But it's one they ultimately decided they had no choice but to make.
They were right. And I don't have, or hear, a single gripe about it.
Three initial thoughts from this address:
The 2023 picture remains gray.
As noted Wednesday, Devers's agreement for his final arbitration season brought up memories of the Sox giving Betts $27 million for 2020 a month before trading him to Los Angeles. It's impossible to dismiss the idea that, if the sides remained galaxies apart, Devers wouldn't have been dealt this year.
So in that sense, Devers being here for 2023, 2033, and all inbetween removes a pretty big sword from above our heads.
But it doesn't change the lay of the land. Betting odds are too often held up as power rankings, but it says something that DraftKings (as of Thursday morning) has Texas, Baltimore, and the Angels among the 10 teams with shorter odds to win the pennant — never mind the World Series — than the Red Sox.
There is time to do more, with Opening Day still 80-odd days away, but the market insistence this winter that major-league talent be in trades makes Chaim Bloom's job that much harder.
"We are looking [into] a lot of significant moves [via trade] as long as we can do it in a way that isn't just robbing Peter to pay Paul," the Sox architect told The Athletic last month.
Trading Triston Casas to Miami for the high-end starting pitcher you wanted is exactly that. A last-place team that's let eight free agents walk this winter isn't exactly lousy with those kind of resources.
It's still just sorta lousy.
You did it! (But not like that.)
I love me a good stupid conspiracy theory. Nothing that causes active harm or comes from a place of hate, but one that somehow treads that line between being completely ridiculous and just close enough to possible you can pray it's real.
Say, birds aren't real. Stevie Wonder isn't actually blind. And the newest inductee, John Henry getting booed at the Winter Classic is what finally got Devers his contract extension.
It's everywhere. Fantastic work, everyone. How can you not smile?
I'm trying to remember how many times Henry — also owner of Boston Globe Media Partners, including boston.com — was irredeemable and needed to sell the team through the years. Late 2012, of course, after the fire-sale deal with the Dodgers had us staring down a "years-long rebuild."
In 2015, after Don Orsillo was pushed out by NESN. In 2019, after Henry's first public statements about getting payroll under the competitive balance tax line. I'm certainly forgetting several, this being the city where John Lackey was worthless until he wasn't. Where Hanley Ramirez should have been traded for a bucket of baseballs in 2015, then was an outrageous DFA early in 2018.
There is no doubt Henry, content to let Sam Kennedy speak for ownership since just after the Betts trade, is aware of the outside noise. (Even if FSG ignores it.) He certainly saw the 35 percent drop in NESN ratings last season, and Fenway attendance drop to its lowest in a full season since 2001 — the year before he became owner.
This is a franchise that has had a Hall of Famer on its roster almost every season since its birth. From Cy Young and Jimmy Collins to Pedro Martinez and David Ortiz. Rafael Devers was The Last Red Sox Superstar standing, with no one in his neighborhood promised to follow.
"As good a lefthanded bat as is in the league," Jake Peavy said on MLB Network on Wednesday. "This is the best deal of the winter. This kid's 26 years old. He's a stud in the prime of his career."
Aaron Judge will be in New York the next decade because the Yankees will make too much money in the next decade with him for it to be any other way. Finally, in Boston, ownership understood the same with Devers.
There's huge value in a reset.
With all due respect to literally the first tweet I saw after reports of the deal broke, an expletive-laden bleat that Bloom, not Henry, should get 100 percent of the credit for the [checks notes] sixth-largest contract in baseball history, we can finally put to rest the Tampa Bay North narrative of these two years and 11 months.
At least for a few seconds.
Even taking the baseball piece out of it, there was no way forward for a Red Sox approach built on the grass always being greener elsewhere. At some point, no matter how sports-rabid your fanbase is, you have to give them a jersey player. Signing big free agents is great, but there simply has to be someone too good to let walk.
A homegrown star hits different. They are the ties of generations. The hats on the plaques in Cooperstown.
Rafael Devers signed with the Red Sox in July 2013, just before Brad Stevens stopped being some babyface at Butler. He was on the front page of the Globe two summers later, turning heads at 18 in Single A and becoming the name we could call our own as we used to with Betts, Benintendi, Bogaerts, and Vázquez. As we do now with Casas.
Was Devers the Marcelo Mayer of the summer of 2015? Maybe, though it doesn't much matter.
I just know that 18 years on from that summer, Rafael Devers might still be here crushing ice cream and extra-base hits. Which means that maybe, Mayer will be too. That it isn't just a line of stellar seasons in arbitration years giving way to spineless talk about priorities and aw shucks regret when careers go on elsewhere.
Bloom's Red Sox don't figure to ever stop being what we've seen. The construction of a perennial contender is, by definition, a perennial enterprise.
But it's one that requires an awful lot of good will and benefit of the doubt. And just at the moment when the account looked empty, the brass on Jersey Street bought $331 million more of it.
It doesn't repair the damage to the house, but it stops the wildfire. And after the last two years and 11 months, we can all take a minute to celebrate some reinforcement of the foundation.
Get the latest Boston sports news
Receive updates on your favorite Boston teams, straight from our newsroom to your inbox.