Red Sox
After Rafael Devers' $331 megadeal, what are the biggest contracts in Red Sox history?
The Red Sox have doled seven contracts totaling at least $140 million.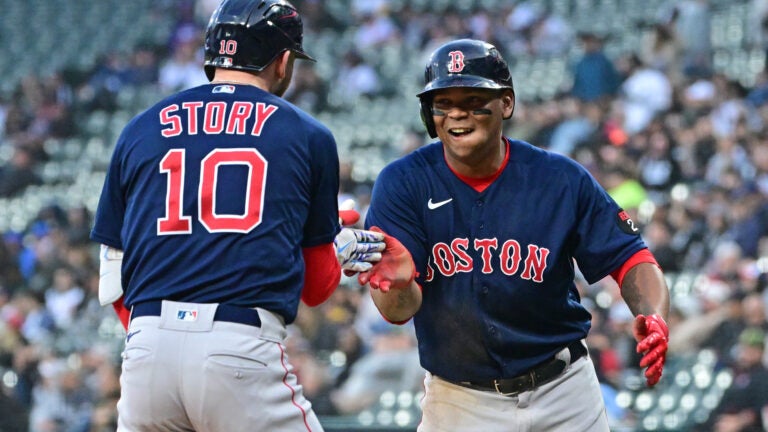 While the departures of Xander Bogaerts and Mookie Betts over the last few seasons have cultivated a narrative that the Red Sox have been unwilling to open up their checkbook to retain or add talent — Boston countered such a stance on Wednesday night with its reported 11-year, $331 million contract extension for Rafael Devers.
And while Devers's megadeal stands as the most expensive contract ever doled out by the Red Sox, it stands as just one of several contracts that have reached the triple digits in terms of a multi-million payout.
Devers might stand in a tier by himself in terms of his lucrative payday, but what other players are featured on the Red Sox' list of the top-10 contracts in franchise history?
There are plenty of championship-orchestrating deals featured here — along with a couple that will have most Sox fans wincing in pain.
Let's dive in.
11. P Daisuke Matsuzaka — 6 years, $103.1 million
Matsuzaka is a bit of an interesting case when it comes to the parameters of his contract, as his official deal with Boston was a six-year, $52 million agreement struck in December 2006. But the Red Sox also had to spend $51.1 million in its posting fee just in order to gain exclusive negotiating rights with the Japanese ace pitcher — leading to the final triple-figure payout.
A pitching sensation with the Seibu Lions during his time with the Nippon Professional Baseball (NPB) league, Matsuzaka was expected to be a No. 1 starter for the Red Sox over the span of his contract — with his legendary "gyroball" pitch destined to befuddle even the top batters in the MLB.
Of course, Matsuzaka did help the Red Sox win the 2007 World Series (15-12, 4.40 ERA in his rookie season), but the righty failed to live up to expectations in Boston. Even his best season with the Sox in 2008 (18-3, 2.90 ERA) was marked with multiple starts comprised of short outings and extended pitch counts.
Over six seasons with Boston, Matsuzaka went 50-37 with a 4.52 ERA and a 1.41 WHIP. He played two more seasons in North America with the Mets (2013-14) before finishing his pro career back in Japan.
9. 2B Dustin Pedroia — 8 years, $110 million (tie)
At the time when Pedroia signed off on a $110 million contract extension with Boston back in July 2013, the franchise infielder was only the second second baseman in MLB to cross the $100 million threshold with a new deal.
But even back then, Pedroia's lengthy contract was considered a bargain move by the Sox and a sign of Pedroia opting for long-term security over perhaps a more lucrative deal on the open market.
Pedroia had already put together an impressive resume by the 2013 season — winning a World Series and Rookie of the Year trophy in 2007, AL MVP trophy in 2008, and posting a career batting average of .303 upon signing his long-term agreement.
Pedroia further rewarded Boston's faith in him by helping the Red Sox win another World Series that same year in 2013 — batting .301 with nine home runs and 84 RBI over 160 games.
Unfortunately, that represented a high point of Pedroia's new contract. Following a dirty slide from Orioles infielder Manny Machado in 2017 that injured Pedroia's knee — the Sox star only appeared in nine total games from 2018 and onward before eventually retiring in 2021.
9. DH J.D. Martinez – 5 years, $110 million (tie)
Frankly, Martinez's contract was validated with just his 2018 season. With Boston in desperate need of a slugger in the heart of its lineup to replace David Ortiz, Martinez was a hitting machine in 2018 — batting .330 with 43 home runs, a league-leading 130 RBI, and finishing fourth in AL MVP voting.
Martinez went on to bat .300 with three home runs and 14 RBI over 14 postseason games that October en route to a World Series title. Over his five seasons with Boston, Martinez earned four All-Star nods and drove in 423 runs.
8. SS Xander Bogaerts — 6 years, $120 million
Well, this one aged poorly.
Bogaerts' six-year extension with the Sox inked back in April 2019 was already considered a below-market win for Boston — but an opt-out clause in 2022 opened the door for the Sox shortstop to drive up his price once again if he continued to thrive at the plate.
Sure enough, Bogaerts continued to live up to his end of the bargain (.304 batting average, 82 home runs and 297 RBI from 2019-22) — opening the door for Bogaerts to join a crowded field of star UFA shortstops this offseason.
It was a good move for Bogaerts and his agent, Scott Boras, as Bogaerts eventually signed an 11-year, $280 million contract with the San Diego Padres last month.
7. SS/2B Trevor Story — 6 years, $140 million
The Red Sox might have secured Bogaerts' replacement at short a season before he left Boston — as Boston went out and signed Trevor Story back in March following a productive stretch out in Colorado.
The full verdict isn't out on Story quite yet, but the infielder didn't live up to expectations during the 2022 season. While Story's defense at second was impressive, his play at the plate left a lot to be desired.
Story only appeared in 94 games with Boston last year, batting .238 with 16 home runs and 66 RBI — while fanning 122 times in 357 at-bats.
6. OF Carl Crawford — 7 years, $142 million
When the Sox pried Crawford out of Tampa Bay back in the winter of 2010, they thought they had their leadoff man of the future — a dynamic player capable of impacting games at the plate, in the field, and on the basepaths.
But the move ultimately proved to be a disaster, with Crawford struggling at the plate and never quite acclimating to the big-market atmosphere and pressure brought upon in Boston. Crawford played just 161 games with Boston over two seasons — batting .260 with a .292 on-base percentage before getting dealt to the Dodgers in 2012.
5. P Chris Sale — 5 years, $145 million
Chris Sale's first two seasons with Boston were dominant — with the lanky southpaw going 29-12 with a 2.56 ERA over 59 starts from 2017-18. During that stretch, Sale struck out 545 batters over 372.1 innings of work, finished second in AL Cy Young Award voting in 2017, and helped Boston win a World Series in 2018.
But after Boston rewarded Sale with a five-year contract extension in 2019, the star pitcher's tenure with the Sox has been a complete disaster. Over the last four seasons, Sale has only appeared in 36 games — missing the entire 2020 season due to Tommy John surgery.
The 2022 season was a particularly brutal stretch for both Sale and the Sox — with the ace pitcher only logging 5.2 innings of work all year after being sidelined with a myriad of injuries — including a fractured rib, a fractured pinky finger, and a broken wrist following a bicycle accident.
If Sale doesn't right the ship and get back on the mound moving forward, this could stand as the most disastrous contract forged by Boston — a startling end to a Sox pitcher who was close to un-hittable over his first two seasons in a Sox jersey.
4. 1B Adrian Gonzalez — 7 years, $154 million
The Red Sox paid a king's ransom to acquire Gonzalez from the Padres back in 2010 — dealing him in exchange for top prospects Casey Kelly, Anthony Rizzo (ooof), and Reymond Fuentes.
Upon adding Gonzalez to the lineup, Boston managed to keep him in place long-term by way of a seven-year extension — signed shortly after the 2011 season began. And give credit where it's due, Gonzalez was very effective in his debut season with Boston, leading the AL in hits (213), batting .338 and winning a Gold Glove.
But with the Sox in need of a fiscal reset, they eventually dealt Gonzalez to the Dodgers in August 2018 — with the star first baseman facilitating a move that saw Los Angeles also take on Josh Beckett, Carl Crawford and Nick Punto's contracts.
Such a trade allowed Boston to retool ahead of a 2013 World Series title. Still, it was a joy to see Gonzalez pepper the Green Monster with that opposite-field stroke.
3. LF Manny Ramirez — 8 years, $160 million
Ramirez's megadeal with Boston still stands as the third-largest contract in franchise history, even if it was signed over two decades ago.
And even though Ramirez last played with Boston back in 2008, the Sox are still paying the slugging left fielder through a deferred payment plan — with Boston's last payout scheduled for 2026, when Ramirez is 54 years old.
Still, this was a move that paid for itself 10 times over. Even with all of Ramirez's antics, Boston's heavy spending gave it an impact bat in the middle of the lineup — with the emergence of David Ortiz handing the Red Sox one of the best 3-4 duos in recent memory.
Along with his impressive individual accolades (.312 batting average, .999 OPS, 274 home runs, 868 RBI), Ramirez helped Boston win two World Series titles – snapping an 86-year drought in 2004 en route to the 2004 World Series MVP trophy.
2. P David Price — 7 years, $217 million
Price's tenure in Boston was … rocky, to say the least.
Handed the largest contract for a pitcher in MLB history back in January 2015, Price failed to live up to expectations over his first few seasons with Boston — with injuries and general underperformance marring his tenure with the Sox.
However, Price did redeem himself in 2018 — going 16-7 with a 3.58 ERA over 30 stars during the regular season before helping Boston win a World Series later that year. While Steve Pearce took home World Series MVP honors, you could have easily given it to Price (two wins, three earned runs over 13.2 innings of work).
Ultimately, the Red Sox dumped Price's contract in their deal with the Dodgers centered on Mookie Betts back in February 2020. Los Angeles ultimately took on $64 million over the final three seasons of Price's contract, meaning that Boston still paid him $16 million in 2022 despite not throwing one pitch for the Sox.
1. 3B Rafael Devers — 11 years, $331 million
Price might have been the previous benchmark when it came to contracts handed out by Boston, but Devers' new deal blows that one out of the water.
In terms of total value, Devers' new deal with Boston stands as the sixth-largest in MLB history.
Mike Trout, Angels: $426.5 million (2019-30)
Mookie Betts, Dodgers: $365 million (2021-32)
Aaron Judge, Yankees: $360 million (2023-31)
Francisco Lindor, Mets: $341 million (2022-31)
Fernando Tatis, Padres: $340 million (2021-33)
Rafael Devers, Red Sox: $331 million (2023-34)
Sign up for Red Sox updates⚾
Get breaking news and analysis delivered to your inbox during baseball season.