Red Sox
'I love what I do': Here's what Rafael Devers had to say about his Red Sox contract extension
Chaim Bloom said Devers "fits perfectly into what we're building."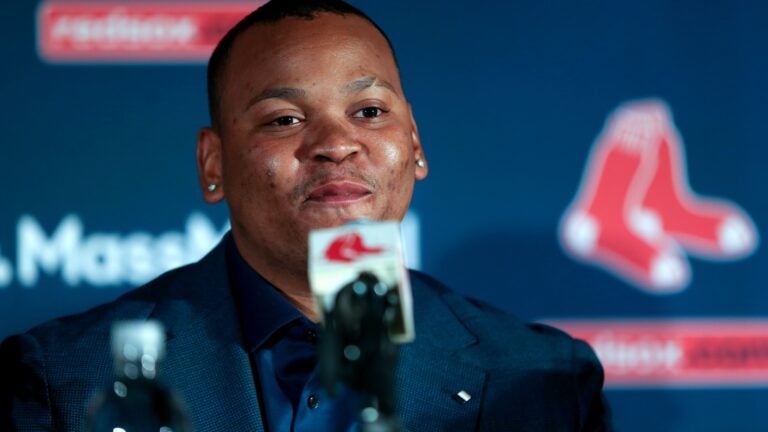 The Red Sox formally announced the agreement of a 10-year contract extension with Rafael Devers on Wednesday morning. The deal will keep Devers in Boston through the 2033 season.
Devers, 26, has been with the Red Sox since signing with Boston as a 16-year-old on Aug. 9, 2013. The two-time All-Star beamed as he spoke at the press conference held inside Fenway Park.
"I've always had a sense that everyone here understands the amount of passion and work that I put towards the game and I felt that that alone was enough to give me that confidence that something was going to get done," Devers said when asked if he had a sense that an extension was going to get worked out.
An important moment in the negotiating process came when Red Sox leadership, including chief baseball officer Chaim Bloom and principal owner John Henry (who also owns Boston Globe Media Partners) traveled to the Dominican Republic to make their pitch.
"When they came down to the Dominican Republic, it was a good time, we had great conversation down there," Devers explained. "My thought process was that they wouldn't come all the way to the Dominican Republic for no reason, so I had a lot of confidence that [a deal] was going to happen."
"He fits perfectly into what we're building, what we're going to keep building, and it's not just [Rafael], it's also how we see the organization positioned to back up the bet that we're making," Bloom said of Devers.
"We underachieved our talent last year," Bloom added. "There are a number of reasons for that. But I think when you look at the talent that we have coming — not just this year, but in the years to come, as I said this is a long-term commitment — we're going to be well-positioned to back that up. You can go through a lot of the names, whether they've played in the big leagues or are yet to play in the big leagues, and I think feel better than we have in a long time about what we're going to be able to put around him to be able to win."
The extension spans 11 years and is worth $331 million.
Devers was asked if the contract, the largest in team history, would change or affect his motivation.
"That will never happen. I love what I do," he replied. "I'm happy to play here. That hunger won't subside. It will be maintained because I just love playing baseball and I love doing it here."
"I just want to be the same guy that I've always been," he added later when asked if his role in the team will change. "Someone who has fun, someone who enjoys the game, who's approachable. A lot of times my teammates ask me a lot of questions, and I'm happy to answer, but I never want to feel like I'm above the team or something that's larger than what I see that I am."
Still, Devers's role will undoubtedly change to some extent given the free agent departure of Xander Bogaerts (who signed an 11-year deal with the Padres in December).
In that context, Red Sox fans may have been struck by some of Bloom's comments during his introductory remarks at the start of the press conference.
"He's not just a star, he's our star," Bloom said of Devers. "It's a wonderful thing to retain a homegrown player who loves Boston and Boston and Red Sox nation loves back."
But having watched Bogaerts — his fellow infielder and friend — leave Boston, how does Devers feel about the current state of the team?
"I feel very comfortable with the team we have now," he said. "There's always room for another piece, but I feel very comfortable with the additions that we made in the bullpen. I think we got really better there, and that's just part of it. I just feel very comfortable with where we're going."
As for whether or not he wanted to test free agency, Devers cited his comfort with the Red Sox.
"This is the organization that has given me everything, so that was a factor. But also free agency isn't easy. It's a tough process, and I just didn't want to have to go through that."
Bloom, speaking extemporaneously, also had a message for Red Sox fans following a demoralizing 12 months.
"Loving your team has great moments, it's not always easy," he explained. "I know we've had some ups and downs, certainly in the last few years. I know you're all smart and you knew there would be ups and downs with where we stood and some of the things we were going to have to go through. You've been with us the whole way; when we've celebrated, you've celebrated with us, when we've hurt, you've hurt, and we know that, and we feel it.
"When you think about what we always talk about, and where we're going, and this vision of a Red Sox organization that every year is consistently contending for championships, I'm hoping that vision is a little clearer for you today knowing that [Devers] is going to be right at the middle of it."
Sign up for Red Sox updates⚾
Get breaking news and analysis delivered to your inbox during baseball season.