Red Sox
Beyond Rafael Devers, the Red Sox are all question marks, and eight other baseball thoughts
The list of things that have to happen for the Red Sox to be contenders in 2023 goes on and on and on ...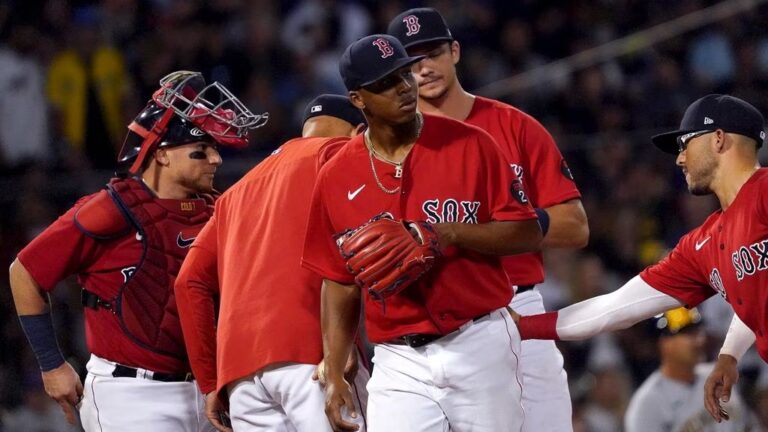 Playing nine innings while wondering if the Red Sox should check in on Pokey Reese to see if he can still play a little shortstop …
▪ Signing Rafael Devers to a 10-year, $313.5 million contract was both the smartest thing the Red Sox have done in a long time and an absolute no-brainer.
I have to tell you, I'm reluctant to give anything more than cursory credit to the organization for getting the deal done, because I'm not going to juxtapose the surprise that it actually happened over the reality that they had to do it to prevent a potential mutiny at the gates on Jersey Street.
Devers is a mesmerizing, stop-what-you're-doing-and-watch hitter at age 26, plays with a delightful joy that fluctuates between the best quirks of Manny Ramirez and Adrian Beltre, and agreed to an extremely reasonable deal that includes $75 million in deferments. The Red Sox don't get a pat on the back for getting this one right just because they've gotten so many other important things wrong.
▪ To look at it another way: Keeping Devers is essential, and a significant win for the organization and the fans. But do they have any other surefire successes on this roster?
They lost the consistently excellent Xander Bogaerts to free agency after saying they wanted to keep him but doing precious little to make it happen, and they still deserve to hear about that. A redemptive second Boston season out of Trevor Story — you know, the Bogaerts leverage — is out of the question after his elbow surgery, as if those Jamie Moyer fastballs he was throwing from shortstop during his last season with the Rockies weren't a clue that something might go wrong.
Pretty much everything other than Devers remains a question mark with this team.
▪ To look at it yet another way: Even with Devers as the anchor, what has to happen for the Red Sox to earn a playoff spot?
The short list: Masataka Yoshida has to be a star (possible). Chris Sale needs to remain healthy (stay off the Schwinn). Brayan Bello needs to emerge as a top-three starter (he probably needs another year). Triston Casas has to mash at first base (he'll walk a lot, strike out more, and run into 20 or so homers). The bullpen has to put lineups on lockdown (possible, though Kenley Jansen gives me '92 Jeff Reardon vibes). Alex Verdugo has to live up to his alleged potential (skeptical). Kiké Hernández has to stay healthy (in his age 31 season, that will be a challenge). The shortstop and second baseman to be named later need to be competent (the pickings are slim).
And on and on and on …
▪ Seldom do you see 50-something-year-old rookies at anything, but that's what I'll be when I get my first Hall of Fame ballot in a couple of years.
I used to fear that they would take it away from the writers before my longtime dream came true, but that subsided somewhat when the Today's Game Era Committee served a heaping helping of cronyism with the 2019 election of Harold Baines, and suddenly the writers, the vast majority of whom are diligent and even earnest about their ballot, didn't look so bad.
Too bad they didn't get it right in all the opportunities they had with Dwight Evans and Lou Whitaker, though. Both huge oversights that the various committees have not remedied.
▪ For now, though, I have only my imaginary ballot, which this year would include check marks next to these names: Scott Rolen, Todd Helton, Carlos Beltrán, Manny Ramirez, and Alex Rodriguez.
I think we can all agree that it is a flawless hypothetical ballot, yes? What — whaddaya mean, no? Rolen hit 316 home runs and won eight Gold Gloves at an underrepresented position in the Hall, third base. Helton batted .316 with a .953 OPS in 17 seasons with the Rockies. Beltràn clubbed 435 homers, stole 312 bases, and was a postseason beast. Locked-in Manny was the best righthanded hitter I've ever seen, and A-Rod goes in because he was more productive than Manny and carries some of the same transgressions.
▪ There are others I would seriously consider but require a little more study.
Billy Wagner, who among pitchers who have thrown at least 750 innings has the second-best strikeout rate of all-time (11.9; Jansen is first, at 13.0) is a likely yes, and I sure would have liked to see him with the Sox longer than his 17-game cameo (playoffs included) in 2009.
I'm leaning yes on Andruw Jones, one of the best defensive center fielders of all time and walloper of 434 home runs, even though he lost it fast. (His career ended in 2012. He's 102 days older than Tom Brady.)
I thought of Andy Pettitte as a future Hall of Famer during his career, and it's a surprise the 256-game winner doesn't get more support (he's never exceeded 14 percent in four years on the ballot). He gets in someday.
▪ I'm setting the over/under on votes for Jacoby Ellsbury at 0.5 — and it's probably wise to take the under. But it is worth noting that Ellsbury was a special player in between his assorted injuries.
He was a rookie dynamo, hitting .353 with a .902 OPS in 33 regular-season games, then starring in the Red Sox' World Series sweep of the Rockies (1.188 OPS). He should have been the American League Most Valuable Player in 2011, when his 212 hits included 46 doubles and 32 home runs — twice as many as he hit in his second-best season.
His contributions to the '13 champs are often overlooked, and he indirectly aided the Sox' cause after signing a seven-year, $153 million deal with the Yankees before the '14 season. He played just 520 games for New York in perhaps the most regrettable deal of Brian Cashman's tenure.
▪ Bummed to have something of an In Memoriam section, but a couple of former Red Sox players that I enjoyed when they were here recently died, and I'd like to salute them.
Lee Tinsley, a speedy outfielder who hit .260 over 270 games for the Red Sox from 1994-96, died Thursday at age 53. Like Tim Wakefield and Troy O'Leary, among others, Tinsley was one of general manager Dan Duquette's discount-bin finds that contributed to the 1995 Red Sox' unexpected run to the AL East crown. Tinsley slashed .284/.359/.402 in 100 games that season while stealing 18 bases and playing a dependable center field.
Tinsley was a nice fellow who could give Batting Stance Guy a run for his money as a mimic of other hitters. His stay with the Sox was short, but he is remembered well.
▪ I also must salute Bill Campbell, a reliever for the Sox from 1977-81, who died of cancer at age 74 on Jan. 6.
In 1976 for the Twins, Campbell became the only pitcher before or since to win 17 games and save 20 in a season. That led to a big-money free agent contract with the Sox — an unfathomable $1 million over five years — and the screwball artist was excellent in his first season (13 wins, 31 saves, 140 innings) before pitcher-loathing manager Don Zimmer ground his shoulder into a fine paste with further overuse.
It's a tribute to Campbell's resilience that he lasted in the majors through 1987.
Sign up for Red Sox updates⚾
Get breaking news and analysis delivered to your inbox during baseball season.