Red Sox
Red Sox' reported interest in outfielder could help fix holes in the middle infield
The Red Sox have reportedly been linked to arguably the best outfielder remaining on the free-agent market.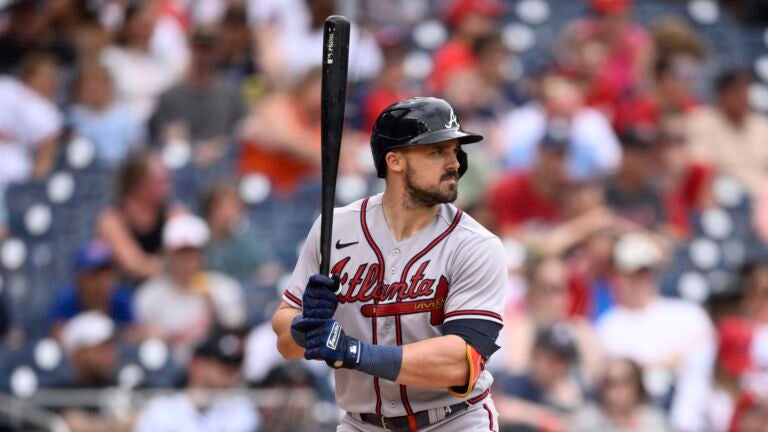 The Red Sox might be adding an outfielder to help fix their middle infield problem this season.
Boston is linked to veteran outfielder Adam Duvall, The Boston Globe's Julian McWilliams reported. Duvall obviously wouldn't play second base or shortstop if he was signed by the Red Sox, but the possible addition of the versatile outfielder would allow Kiké Hernández to move from center to second base or shortstop.
Hernández mostly played second base in his final two seasons with the Dodgers in 2019 and 2020. However, he has a fair amount of experience playing shortstop, too. He's played over 600 innings at shortstop over his nine-year career, though that pales in comparison to the 1,717 innings he's played at second base. Moving Hernández to shortstop would also allow Christian Arroyo to play his more natural position at second base, too.
Following the announcement that Trevor Story would miss four-to-six months after having elbow surgery, Red Sox chief baseball officer Chaim Bloom said Tuesday: "I would expect we're going to add" to help fill their middle infield need.
"Frankly, that was my expectation even before this," Bloom said. "Whether that's through free agency or trade — I don't know yet. What that looks like, who it is. Obviously, it's something we were already actively discussing even before this.
"And now, obviously, we're a man down. So we're going to have to fortify ourselves further. But our expectation was always that in some way, shape or form, we would have outside additions joining our position player group and so that's still the case."
Story, of course, was viewed as the Xander Bogaerts replacement at shortstop but that will be put on hold for now. And Marcelo Mayer, who's viewed as the longterm answer at short, likely won't be up in the majors until at least 2024, if not later.
As for Duvall, he'd fill a couple of other holes for the Red Sox, too. The 34-year-old has hit for power for a considerable part of his nine-year career. He's hit at least 30 home runs in a season three times, including in 2021 when he hit 38 over 146 games with the Marlins and Braves. In fact, Duvall hits 32 home runs over a 162-game average throughout his career.
Duvall had some struggles last season, though. He hit .213 with a .677 OPS with 12 home runs and 36 RBIs in 86 games before tearing the tendon sheath in his left wrist in July, requiring him to have season-ending surgery.
Still, Duvall would give the Red Sox a right-handed hitting bat with some pop, something they'll lack with Story out. He posted an OPS of at least .770 in the three seasons prior to 2022 and has hit that mark in six of the last eight seasons.
Duvall's also been viewed as a plus-defensive outfielder in recent years. In 2021, he was 21st among all outfielders in outs above average (five) and was a Gold Glove recipient that season.
Boston isn't the only team vying for Duvall as the New York Mets are also in on him, according to SNY's Andy Martino. The Red Sox have roughly $15-to-$20 million to spend before hitting the luxury tax threshold.
Sign up for Red Sox updates⚾
Get breaking news and analysis delivered to your inbox during baseball season.