Red Sox
While facing boos at Winter Weekend, Chaim Bloom explained why Red Sox committed to Rafael Devers and not Mookie Betts
"We're going to be ready to back up that bet."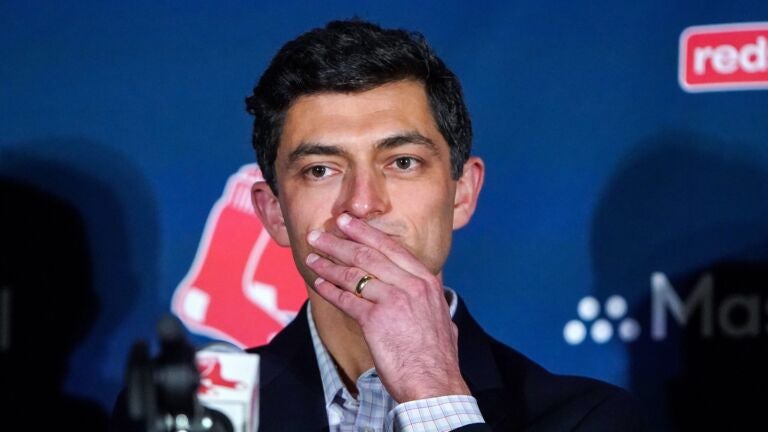 Red Sox chief baseball officer Chaim Bloom and owner John Henry were met with boos during their town hall panel discussion at Red Sox Winter Weekend on Friday.
Despite the boos, and what's been viewed by many as a disappointing offseason, Bloom remained optimistic about the outlook of the Red Sox. Bloom recalled that the future of the Red Sox wasn't too bright when he joined the organization following the 2019 season, explaining that the moves he's made since then have been about building to make the future of the team better.
"So where was the organization three years ago? The organization was coming off an 84-win season," Bloom said before a fan yelled "Dave Dombrowski!" who was Bloom's predecessor and helped the Red Sox win the World Series in 2018.
After the brief interruption, Bloom regathered himself.
"That team in 2019 had good players, but the team wasn't good enough," Bloom said. "There wasn't a whole heck of a lot of coming. You guys know that. You follow the organization. You know, there wasn't a whole lot. We could have kept going. We could have driven right off that cliff. You guys have seen big market teams do it before and end up rebuilding for half a decade. That's not acceptable. That's not acceptable for you guys. That can't happen in Boston. So, what we had to do, was find a way to drive that car around before we drove off the cliff."
Bloom explained that building a team for the future while also trying to field a competitive team in the present comes with challenges.
"Fortunately, we are blessed with great resources in this organization, always have been and have confidence that we always will be," Bloom said. "Now, the question is, 'How do we get more young talent into the organization and win at the same time?' That's what we're committed to doing: Building that foundation of young talent up at the same time as we used those resources in the here and now to help give us a chance to win.
"A lot of that we're going to have to do the old-fashioned way, right? Scout, sign, and develop. We also had to think about some other things."
Bloom was asked why the Red Sox made the decision to extend Rafael Devers, who signed a 10-year, $313.5 million deal earlier in January, after they traded Mookie Betts in February 2020. Bloom believes that the Red Sox weren't well-equipped to surround Betts with a winnable roster with the big contract he was about going to command in free agency (he ended up signing a 12-year, $365 million extension with the Dodgers).
As Bloom explained that, though, he was met with some more boos.
"At this same time three years ago, everybody knows it, we were faced with a similar choice: one year away from free agency with a superstar player. And we didn't sign him and I want to explain why. It relates to where we're going," Bloom said. "We didn't sign him, and when we make those bets, they're big bets, and those bets – hang with me here – those bets, those bets, you don't know it, you guys are smart, but those bets are much better up front than on the backend.
"We know that, every team knows what when you're making those bets. But if you want to make that type of bet, you better be ready to back it up. You better be ready to back it up. You better be ready to surround that bet with a lot of a whole lot of talent, a lot of young talent or you're not going to win. You see it all the time in this game. I don't think anyone would disagree that we weren't ready to back up that bet. We weren't ready to back it up. We didn't get that young talent from the organization. We made the move that we made with Mookie and we got Alex Verdugo and we took all the resources that the organization provides us and we added."
Bloom mentioned that the Betts trade allowed the Red Sox to add players like Kiké Hernández ahead of the 2021 season, in which they reached the ALCS. It also allowed the Red Sox to continue to make moves in 2022 too, such as signing Trevor Story to a big-money deal. But after a last-place finish, Bloom acknowledged that 2022 "didn't work out as well," adding "I'll own that."
Despite the last-place finish though, Bloom believes that the Red Sox are more equipped to handle the $300-plus million contract with Devers entering the 2023 season than they were with Betts in 2020.
"We bought into 2024 and beyond. Why? Because we're going to be ready to back up that bet," Bloom said. "We're going to be ready now with the talent we have [on our roster] and some guys who aren't up here yet to surround him the right way so we can get back to winning the right way so we never have to go through what we went through again."
Sign up for Red Sox updates⚾
Get breaking news and analysis delivered to your inbox during baseball season.