Red Sox
'Humpty Dumpty got put back together again': Chris Sale, Trevor Story share optimistic injury updates
Story expects to return to action at some point this season.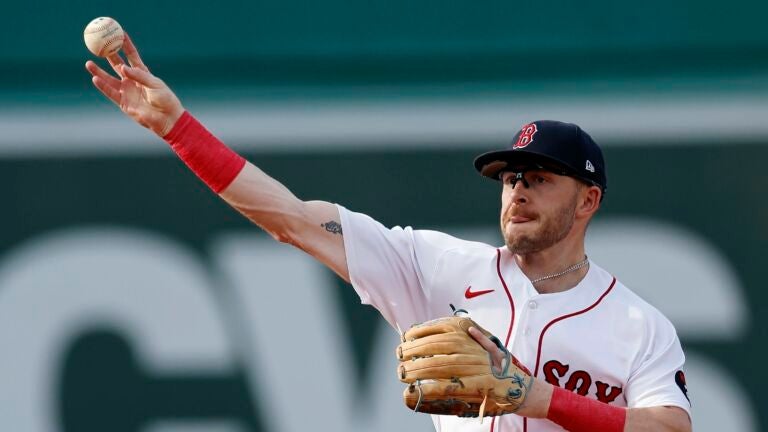 Chris Sale and Trevor Story each gave Red Sox fans encouraging news Saturday morning.
The lefty Sale, who has only pitched 11 total games in the past three years due to a string of injuries, said he's a "full go" for Spring Training.
He missed the 2020 season and the bulk of 2021 following Tommy John surgery, then injured his rib, pinky, and wrist last season. He's ready for a new beginning in a familiar place.
"I owe these people something," Sale told reporters. "I owe my teammates the starting pitcher they thought they were going to get. I owe the front office the starting pitcher they paid for. I owe the fans performances they're paying to come and see."
He noted that "Humpty Dumpty got put back together again" and is eager to compete. Sale acknowledged he sometimes catches himself waiting for the next bad thing to happen, referring to it as a "rough couple of years."
At the same time, given what's going on in the world, he noted it could be "much, much worse." He said he's been throwing since November and that his expectations for himself remain the same.
"I don't have any hesitation going forward with pitching," Sale said. "I just need to stay away from bikes and bad luck."
The infielder Story, meanwhile, who underwent surgery on his right elbow earlier in January, remains optimistic about his chances of playing in 2023.
"Yeah. Oh yeah," Story said. "In my mind, yeah."
The surgery was deemed a "successful internal bracing procedure of the right ulnar collateral ligament." ESPN's Jeff Passan referred to the operation as "modified Tommy John surgery with a quicker return date" and said players in Story's situation typically return to action in four-to-six months.
In Story's absence, and following Xander Bogaerts' departure, Kiké Hernández will likely start the majority of games at shortstop.
Story said he'll be in Fort Myers this spring for rehab, and it remains to be seen whether he'll stay there or travel with the team during the season. He said he feels good about the plan moving forward.
"I know we're going to do the best job we can," Story told reporters. "It's going to be something I'm really looking forward to. We're going to do it the right way, though. We're not going to cut any corners."
Sign up for Red Sox updates⚾
Get breaking news and analysis delivered to your inbox during baseball season.