Red Sox
6 things to know about Red Sox acquisition Adalberto Mondesi
Mondesi spent the first seven years of his major league career with Kansas City.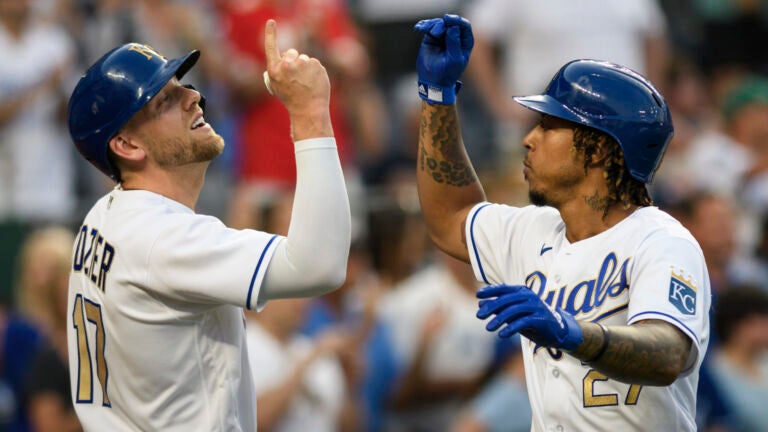 On Tuesday, the Red Sox announced the acquisition of shortstop Adalberto Mondesi and a player to be named later from the Royals in exchange for left-hander Josh Taylor.
Mondesi is the first major leaguer that Boston has traded for in 2023. It's also just the second time in two months that the Red Sox have made a trade, moving pitcher Connor Seabold to the Rockies for a player to be named later on Jan.17.
The 27-year-old spent the entirety of his professional career with Kansas City before the trade. He was signed out of the Dominican Republic in 2011 and made his big league debut in the 2015 World Series as a 19-year-old.
Last year, Mondesi saw rookie Bobby Whitt take over the majority of the starting shortstop duties for the Royals and he was left without a sure spot on next season's roster.
Mondesi will likely get an opportunity to start in Boston's infield after the team moved on from Xander Bogaerts earlier in the offseason and after it was announced that Trevor Story would miss time with an elbow injury.
Here's what you need to know about Boston's potential starting shortstop for next season.
Struggles to stay on the field
While talented, Mondesi has had issues in the past staying healthy enough to actually make use of his gifts.
Since establishing himself as a major leaguer in 2018, Mondesi managed to play 100 games in a season just twice. In 2018 he played in 104 games between the majors and minors and in 2019 he played in 113.
2020 was his healthiest season, playing in 59 of the 60 game season that was shortened due to the COVID-19 pandemic. Over the past two years however, he's played in just 50 games.
Last year his season was cut short in April when he tore the ACL in his left knee. His 2021 season was marred with a number of serious muscle strains.
There have not been any reported setbacks in Mondesi's recovery from his ACL surgery, so he appears to be on track to participate in training with the team.
Lightning on the bases
When healthy, Mondesi is one of the fastest players in baseball.
In 2016 his sprint speed was in the 99th percentile of all major leagues according to Baseball Savant. In four of his seven seasons, his sprint speed has been in the 98th percentile or higher.
Mondesi has 20 career triples and 133 career stolen bases over his seven seasons in the majors.
The only concern is that Mondesi may not have the same speed that he did before being bogged down with injuries over the last two seasons.
While the sample sizes were limited for 2021 and 2022, Mondesi's speed didn't pop off the page either year. In 2021 his sprint speed was 104th in the league and in 2022 it was 307th. Those figures don't mean that Mondesi is slow by any measurement but he certainly appears to have lost a bit of his speed in recent seasons.
There is still the possibility that those figures are simply outliers due to lingering injuries and a reduced sample size.
Baseball is in his blood
If the name Mondesi sounds familiar it's because Adalberto is the son of former all-star outfielder Raul Mondesi.
The elder Mondesi spent 13 years in the majors, the majority of which came with the Dodgers in the 1990s. He won the 1994 National League Rookie of the Year and was a two-time gold glove winner.
While Mondesi possessed similar speed to his son, stealing 229 career bases, the right-handed hitter made his living with his power, finishing with a career slugging percentage of .485.
Swings from both sides
During his career, Mondesi has flashed his skill of hitting from either side of the plate. Mondesi's numbers are similar hitting from both sides but like most switch hitters, the majority of his at-bats come from the left.
For Mondesi, 70 percent of his career plate appearances have come as a left-handed batter and from that side, he has slashed .240/.279/.396.
While the appearances are more limited from the right, Mondesi has had greater career success from there and generates more power from that side. For his career, he's slashing .254/.282/.437 as a righty.
15 of his 38 career home runs have also come from the right side of the plate.
Poor plate discipline
Mondesi's ability to get on base has been a constant problem throughout his career.
His career batting average of .244 is not anything to get excited about and his career on base percentage of .280 is even less stellar.
His average is even more worrisome considering he has a career average on balls put in play of .329, above the MLB average of .296.
Mondesi has just 60 career walks in 1,366 plate appearances, giving him a career walk rate of 4.4 percent, well below the major league average of 8.4 percent.
His infrequent walks are highlighted by his high strikeout numbers. Mondesi strikes out in 30.2 percent of his plate appearances, above the league average of 22.1 percent.
Plus defender
If his bat is good enough to keep him in the starting lineup and if his body allows it, Mondesi should provide value for the Red Sox on the defensive side of the ball.
While it is currently unclear who will get the majority of the starts at shortstop for the Red Sox next year, Mondesi can contribute all over the infield. During his career he's played 255 games at short, 68 at second, and 20 at third.
Mondesi adds value at each of those positions, according to defensive metrics that put him at above average for all three.
His defensive numbers are supported by his solid range thanks to his speed and an arm that consistently rates as above average in strength for his position.
Whether it's as a starting shortstop or as a utility infielder, Mondesi is sure to benefit the Red Sox with his defensive ability.
Sign up for Red Sox updates⚾
Get breaking news and analysis delivered to your inbox during baseball season.