Red Sox
How did Manny Ramirez, other ex-Red Sox fare in latest Baseball Hall of Fame voting?
Manny Ramirez only has three more years of eligibility on the BBWAA ballot.
David Ortiz won't have any familiar company near his plaque in Cooperstown. At least not this year.
The Baseball Hall of Fame revealed the latest BBWAA balloting Tuesday, with Scott Rolen the lone player elected among a field of 28 players.
There was plenty of Red Sox representation on the latest list of candidates, with six players on the ballot calling Fenway Park home at one point.
So how did these ex-Sox fare in the latest round of voting? Let's take a look.
LHP Billy Wagner – 68.1 percent of returned ballots (265 votes)
8th year on ballot
The flamethrowing southpaw spent most of his career with the Astros and Mets, but Wagner was a solid pick-up for Boston in 2009. In 15 appearances with Boston, Wagner posted a 1.98 ERA and struck out 22 batters over 13.2 innings of work.
Wagner made significant strides in his eighth year on the ballot, finishing with the third-most votes among the 28 candidates. He gained 64 more votes this year, putting him close to the brink of election in 2024.
LF Manny Ramirez – 33.2 percent of returned ballots (129 votes)
7th year on ballot
Ramirez's resume paints the picture of a surefire Hall of Famer.
Over 19 seasons, Ramirez slashed .312/.411/.585 with 555 home runs and 1,831 RBI. He played a key role in two World Series titles with Boston, earning All-Star nods in all eight of his seasons with the Sox.
But Ramirez's Cooperstown candidacy has been hampered by a pair of suspensions related to performance-enhancing drugs.
Even though the right-handed slugger gained another 15 votes in 2023, Ramirez faces an uphill climb. With just three more years left on the ballot, Ramirez only appeared in 33.2 percent of ballots this winter.
And with 2024 candidates like Adrian Beltre landing on the ballot next year, Ramirez needs to make up plenty of ground in the eyes of BBWAA voters.
RHP Bronson Arroyo – 0.3 percent of returned ballots (1 vote)
1st year on ballot
Arroyo was a solid option in the back end of Boston's rotation for three seasons, winning a World Series title in 2004.
But the righty spent most of his career in Cincinnati after the Sox traded him in a one-for-one swap for Wily Mo Peña in 2006. It was a case of poor asset management by Boston.
Peña did slug some gargantuan home runs with Boston over two seasons, but struck out 148 times in 432 at-bats. Meanwhile, Arroyo was the model of consistency with the Reds, making at least 32 starts in all nine of his campaigns with Cincinnati.
Arroyo was a dependable option on the mound throughout his 16-year MLB career. But landing a vote in the latest BBWAA ballot is a curious development. Arroyo went 148-137 in his career with a 4.28 ERA, earning one All-Star appearance in 2006.
Alex Rodriguez — a player infamously linked to Arroyo due to a pair of famous altercations in 2004 — landed on 35.7 percent of ballots in his second year of eligibility.
With Arroyo failing to garner at least five percent of the vote this year, he will be removed from Hall-of-Fame ballots moving forward.
1B Mike Napoli – 0.3 percent of returned ballots (1 vote)
1st year on ballot
A key cog on the 2013 Red Sox, Napoli provided plenty of thump throughout his time in the pros. Over 12 seasons, Napoli slashed .246/.346/.475 with 267 home runs and 744 RBI.
In his debut season with Boston, Napoli slugged 23 home runs and drove in 92 runs, both good for second on the team behind Ortiz.
RHP John Lackey – 0.3 percent of returned ballots (1 vote)
1st year on ballot
After an impressive run with the Angels (102-71, 3.81 ERA), Lackey's time in Boston was marred by injury and underperformance.
Over four seasons with the Red Sox, Lackey went 47-43 with a 4.46 ERA. He did redeem himself in 2013, posting a 3.52 ERA over 29 starts.
The right-hander went 4-1 during the 2013 playoffs, giving up eight runs over 26 innings of work (2.77 ERA). He earned the win in Boston's championship-clinching victory over St. Louis in Game 6 of the World Series.
Lackey won three World Series over his 15 seasons in the pros (Anaheim – 2002, Boston – 2013, Chicago – 2016).
CF Jacoby Ellsbury – 0 percent of returned ballots (0 votes)
1st year on ballot
No luck for Ellsbury in his first (and only) year on the BBWAA ballot, garnering zero votes following an 11-year career with the Red Sox and Yankees.
Injuries ultimately limited the speedy outfielder during most of his tenure in the Bronx, but Ellsbury was a game-changer at the top of many Sox lineups.
Ellsbury's 2011 campaign is often overlooked and under-appreciated. The leadoff man compiled a 9.4 WAR thanks to stellar defense, baserunning, and an explosion at the plate.
Along with slashing .321/.376/.552, Ellsbury clobbered 32 home runs and drove in 105 runs. His previous career high for homers in a single season was nine (2008).
A spark plug on two championship Sox teams in 2007 and 2013, Ellsbury was one of seven players to not earn a single vote on the 2023 ballot.
Rolen was named on 76.3 percent of returned ballots in his sixth year of eligibility. He will be joined in the Class of 2023 by Fred McGriff, who was selected by an era committee at the winter meetings in December in San Diego.
Here are the full voting results for the 2023 Baseball Hall of Fame ballot: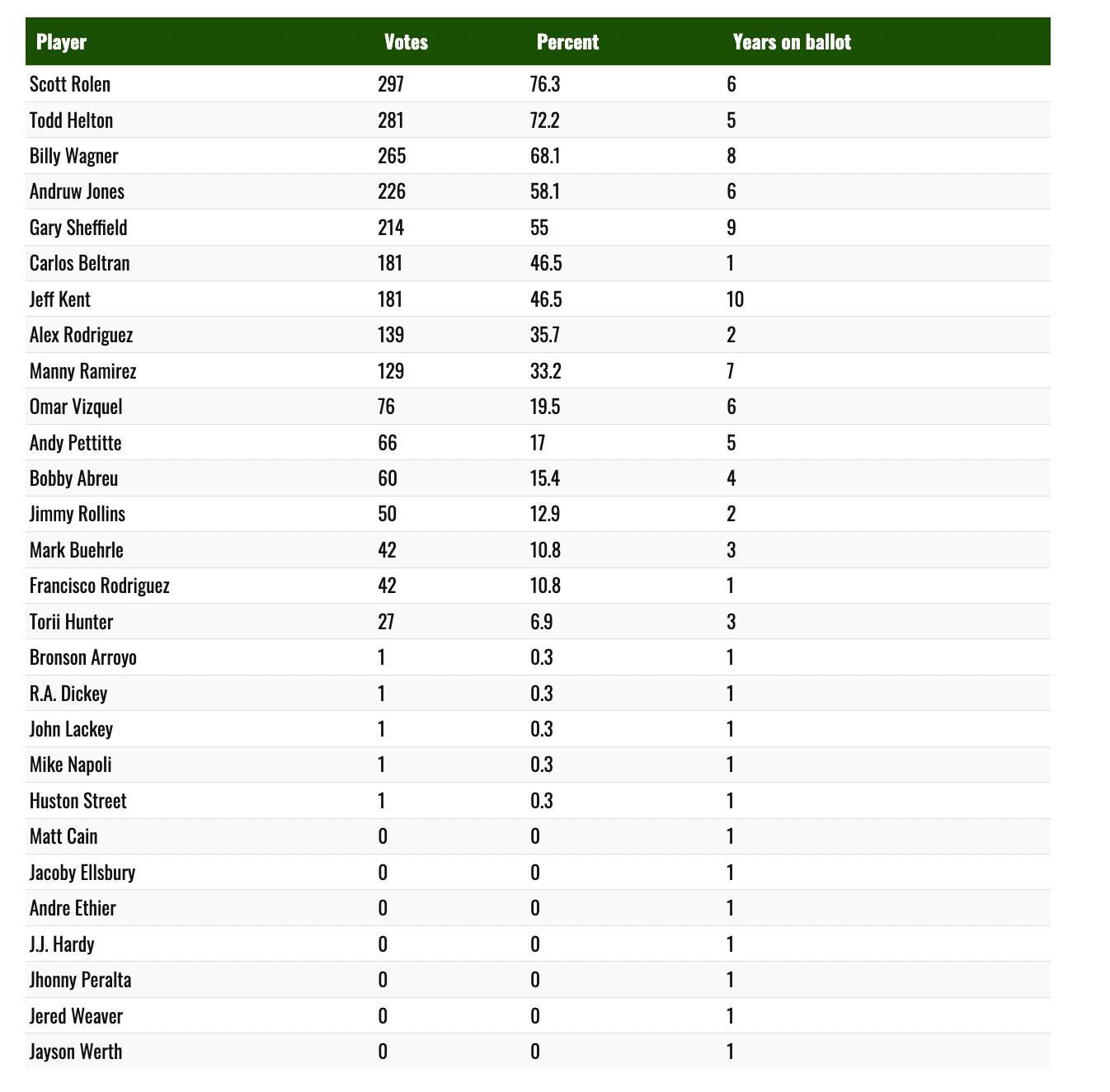 Newsletter Signup
Stay up to date on all the latest news from Boston.com