Red Sox
David Ortiz has one major issue with the Red Sox lineup in 2023
"If I'm facing him, I'm pitching around him."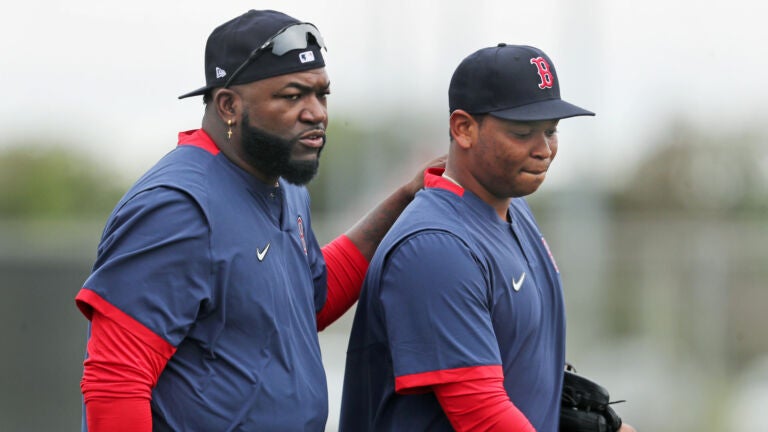 With Rafael Devers signed through the 2034 season, the Red Sox have an elite centerpiece in the heart of the lineup for the foreseeable future.
But if Boston doesn't surround Devers with more talent, David Ortiz is worried that the Sox third baseman could be neutralized by opposing teams.
"If I'm facing him, I'm pitching around him," Ortiz told WEEI.com of Devers' role in Boston's lineup. "No doubt about it. You're talking about one of the most feared hitters in baseball right now. I have been there before, and if you had no one behind me, they won't pitch to me. You know that.
"Now you have to find a way [to] consistently protect him so he can continue to keep seeing pitches."
For most of Ortiz's career in Boston, the Sox designated hitter had a stacked supporting cast, especially at the plate.
For six seasons, a 3-4 combination of Ortiz and Manny Ramirez stood as one of the most feared assortments of sluggers in MLB. But even after Ramirez was dealt to the Dodgers in 2008, Ortiz had plenty of protection around him over the years, be it Dustin Pedroia, Jason Bay, Kevin Youkilis, Adrian Beltre, Adrian Gonzalez, or Mookie Betts.
With both Xander Bogaerts and J.D. Martinez leaving Boston in free agency and Trevor Story sidelined due to elbow surgery, the 2023 Sox lineup has plenty of vacancies around Devers.
Free-agent pickups like Adam Duvall and Justin Turner have the ability to add some thump to a Sox team that ranked 20th in the league in home runs (155) in 2022. Masataka Yoshida's plate discipline and poise could have him in line for leadoff duties in Boston. Triston Casas swatted five homers in 76 at-bats during his call-up in September.
Despite the additions, the 2023 Red Sox aren't exactly stocked with sure bets in their lineup beyond Devers.
During Turner and Duvall's stints in Los Angeles and Atlanta, respectively, both hitters were usually slotted down to the No. 6 or No. 7 hole in the lineup. Yoshida's numbers in Nippon Professional Baseball (NPB) speak for themselves, but the outfielder will need to adjust to the elevated talent in MLB.
And even if Casas boasts plenty of potential, growing pains are to be expected for the rookie first baseman in 2023.
Still, Alex Cora and the Sox will need to find the right pieces to slot around Devers in the lineup, or run the risk of wasting his talents in the first year of his new long-term contract.
"He is still too young and you don't want to get to the point where you get frustrated because your production is not quite there," Ortiz added on Devers. "You have to see both sides. You have to see if they are pitching you and you are missing pitches, or if they are not pitching you and you are chasing pitches. So, we'll see. Let's see what the season brings to the table."
Newsletter Signup
Stay up to date on all the latest news from Boston.com