Red Sox
Red Sox' Trevor Story maps out best, worst-case scenarios for his availability this season
"We're really just going to take it with how it comes."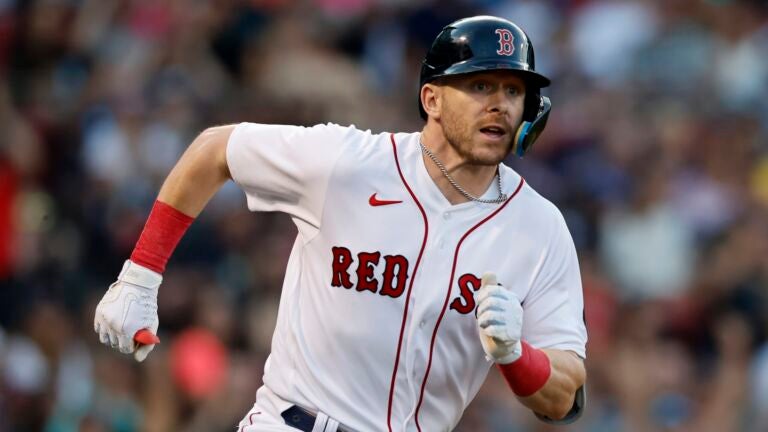 The first few days of spring training represent a clean slate and fresh start for hundreds of baseball players across MLB.
But Red Sox infielder Trevor Story is currently mired in a state of limbo, with offseason elbow surgery putting his availability this season in doubt.
Story, who underwent a "successful internal bracing procedure of the right ulnar collateral ligament" last month, noted during the Red Sox' Winter Weekend event that he remained optimistic about playing at some point in 2023.
On Tuesday morning down in Fort Myers, Story was a bit more rational with his expectations for a lengthy rehab process. Even though he hopes to eventually slot back into Boston's lineup, he acknowledged that it's not a foregone conclusion.
"I think best case, I'm back at some point in the second half and, worst case, I don't play this year," Story said, per MassLive's Chris Cotillo. "But I feel really good about the first one."
There is a wide variance in terms of the timeline of the procedure that Story underwent, which is a modified form of Tommy John surgery. Even though some projections map out a four to sixth-month stint on the shelf, Story added that his recovery might last even longer.
"I've never really been through something like this, so a lot of questions being asked," Story told Cotillo. "Just rely on the people that know more than me about this. We've heard anywhere from four months to 8-10 months. It just kind of depends on, each player is different, each guy responds a little differently in their body.
"We're really just going to take it with how it comes. And like I said, I'm planning on coming back and that's the goal for me and I think that's best case scenario."
Even though a six or seven-month rehab would allow Story to return during the dog days of the regular season, nine or 10 months would represent a lost season for the 30-year-old infielder.
Boston will share in Story's optimism for a potential return in June or July. Hand and heel injuries limited Story to just 94 games last season, with the former Rockies star batting .238 with 16 home runs, 66 RBIs, and striking out 122 times in 357 at-bats.
Still, Story's power at the plate is needed on a Sox lineup that lost Xander Bogaerts in free agency this winter.
With Story out of commission, Kiké Hernandez will move from the outfield to take over Story's expected post at shortstop. Christian Arroyo will likely handle reps at second base, while Adalberto Mondesi could play either infield positions once he's cleared to return from a torn ACL he suffered last May.
Newsletter Signup
Stay up to date on all the latest news from Boston.com