Red Sox
4 Red Sox perspectives on baseball's radically shifted (and shift-less) rules landscape
From Kenley Jansen's delivery to infield defense, here's how MLB's new rules figure to impact the Red Sox.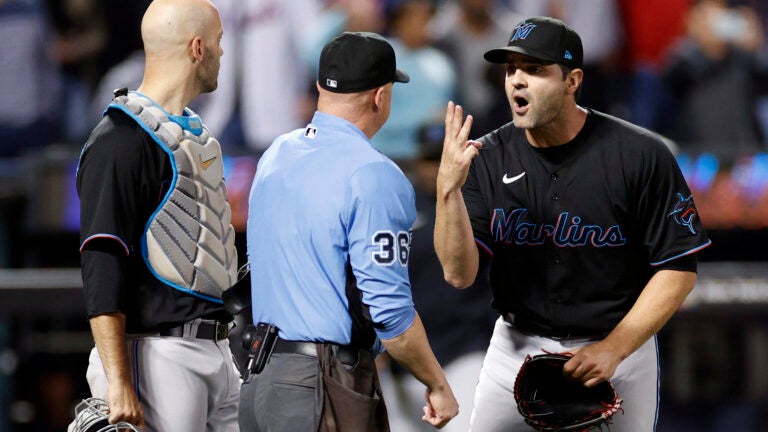 COMMENTARY
Change is a bit of a thing with your 2023 Red Sox. It happens with last-place teams, but this is no tweak. A third of the likely lineup, nearly half the rotation, and likely half the bullpen didn't play in carmine hose last year.
Consider things thusly. For roughly the same money, the Red Sox swapped:
Out: Xander Bogaerts, J.D. Martinez, Nathan Eovaldi, Michael Wacha, Rich Hill, Matt Strahm, and Matt Barnes
In: Masataka Yoshida, Justin Turner, Adam Duvall, Corey Kluber, Kenley Jansen, Chris Martin, Joely Rodriguez, Richard Bleier, and Adalberto Mondesi
I don't want to belabor the point when we've got six more weeks until the games count, but it's a hard thing not to bring up. Chris Sale has a narrative to change: "I was given that [$145 million contract before the 2019 season] to do a job and I haven't done that. That has eaten me alive."
Kenley Jansen has a new clubhouse to find a fit in, eschewing the World Baseball Classic to help do it.
Justin Turner is going from primarily a position player to a DH — no easy feat, as manager Alex Cora noted to reporters Thursday and David Ortiz did annually.
And that's on top of all the other changes headed to your MLB packages this season. Arguably the most, and the most significant, in a generation.
The pitch clock and shift bans. 'Pizza box' bases, to use Cora's words, with limited pickoffs. Ghost runners in extra innings — not actually a change, but a permanent installation. All amid a new schedule with less divisional play and more interleague, with every team facing every other, every season.
Brief aside: That last one has its reasons, but more than anything, it's a big step toward Rob Manfred's long-desired destination of adding two teams and a geographic realignment of a 32-team MLB that'll destroy the last vestiges of the American and National Leagues you grew up with. Can't wait for the quickly expanding implosion of the regional sports network model to be cited as a reason he had to do it.
It's a lot, and that's just for those of us who see it coming. Jayson Stark recently reported one word kept coming up in talks about the sport's short-term future: [Expletive] show.
That's on top of the one these Red Sox might be staring down. Consider these four New England-specific friction points for the new rules.
Kenley Jansen
The clock is finally in the majors, pitchers (and hitters) getting 15 seconds between pitches with nobody on base and 20 seconds with men on. Automatic balls and strikes can — and baseball promises will — be called for violations on each side. (Beyond the time, batters can't step out more than once in an at-bat, and pitchers can't "disengage," be it a step off the rubber or a pickoff throw, more than twice.)
There's going to be an adjustment for everybody, but Boston's new closer earns a special mention. Last season with Atlanta, he was baseball's slowest worker with men on — a pitch-clock equivalent of 25.4 seconds between throws, according to Baseball Savant, or 25 percent slower than league average. He was third-slowest with the bases empty, nearly 30 percent off the normal pace.
Since 2016, his first All-Star season with the Dodgers, Jansen has four of the 22 slowest tempo seasons in the league with runners on.
It's hardly shocking, then, to find he told the Los Angeles Times in 2018 that efforts to speed up the game were "ridiculous." He has been more conciliatory since signing in Boston, noting it's an adjustment everyone has to make.
Jansen, it should be noted, does have a rather long delivery that doesn't help his numbers. (The new rules merely say a pitcher must have started his delivery in the time alloted.) That delivery, however, will likely be tweaked anyway due to MLB's emphasized enforcement of the balk rule this season.
Speaking of:
Richard Bleier
There are a few things we are guaranteed to see a lot of this spring, as players, umpires, and everyone else adjusts to new realities. Indignant tweets, shouting matches, general weirdness . . .
And balks. The combination of pitchers needing to work faster than most are accustomed to, at the same time umpires have been told to strictly enforce the need to come set in a motion? There will be balks.
I already wrote my latest treatise on 1988: The Year of the Balk in the fall, complete with the story of Charlie Hough getting called for seven balks in one spring inning that year. Now, we're on the cusp of getting to live it for ourselves.
It's already started. Ask Bleier.
The lefty return in the Matt Barnes trade offers some intrigue at half the price of the UConn product, though he's coming off one of his worst seasons. A low-strikeout, pitch-to-contact guy who'll be 36 in April, Bleier gave up career worsts in both hits per inning and hard-hit contact last year.
He also was called for the first three balks of his career. All in one at-bat on Sept. 27 in New York.
"It's the same move I've been doing my entire career," he told reporters that night. "Words cannot describe what just happened in that inning."
I suspect we'll have another chance to talk our way through such a scenario real soon.
A shift in idealogy
Plenty are bristling at the coming of the clock, but it's both been a long time coming and proven to be a winner. Just ask anyone who watched its use in the minors, where Triple-A games were 25 minutes faster in 2022 (at two hours, 38 minutes) than 2021. It'll win you over if you give it a chance.
(Note: The Triple-A clock was one second faster than the MLB model, pitchers getting 14 and 19 seconds versus 15 and 20.)
The shift ban, though, which will mandate at least four players on the infield dirt and two each side of second base when a pitch is thrown? Test usage of various versions in the minors had a negligible affect on batting average on balls in play, though shifts aren't near the thing there as they are in MLB, where one in every three plays last season had one in place.
On the surface, the Red Sox weren't an outlier among teams, employing some form of shift in 35.3 percent of plate appearances — 12th-most among the 30 teams. Against lefthanded hitters, though, they used one in a whopping 70.7 percent of PAs, second only to the Astros.
The loss of the ability to pack three infielders right of second, with the second baseman in short right field, would've been easier to weather with Trevor Story. Alas, he was headed to shortstop even before his season-crushing elbow surgery. Christian Arroyo is no slouch, though. Arroyo has a plus-11 defensive runs saved the last three seasons despite limited usage.
Who knows? Maybe Cora rolls the dice with the two-man outfield.
The rebalanced schedule
Shifting from 76 games (19 versus four opponents) within the AL East to 52 (13 times four) would figure a boon in arguably the sport's toughest division — one in which the 2022 Red Sox were an abysmal 26-50. (Only 107-loss Washington was worse in its division.)
There is a trade-off, however. According to Jayson Stark, Red Sox air travel will jump nearly 20 percent from a year ago, their one three-city West Coast trip of 2022 now three tours to six cities. Every team will visit every opponent at least once every two years, and Boston gets three of the National League's five teams west of the Great Plains this year:
San Diego-Anaheim-Arizona (May 19-28)
Chicago Cubs-Oakland (July 14-19)
San Francisco-Seattle (July 28-Aug. 2)
Players often gripe about the grind of three-city trips, and the Sox will have only two of those this season, the above Western revue joined by a Washington-Yankees-Houston sojourn in August. They had three last year, all in the first half .
Will losing two dozen division games make life a little easier? Sure, but it's all relative. According to STATS Perform, the Red Sox will play 13 fewer games against teams with a winning record last year (from 106 to 93) than the 2022 team did.
They will still, though, play more games against the Yankees, Orioles, Blue Jays, and Rays than anyone. And rarely is that an easy proposition.
Sign up for Red Sox updates⚾
Get breaking news and analysis delivered to your inbox during baseball season.