Red Sox
"If he wants me to be here, I'll be here': Dustin Pedroia helps out at Red Sox spring training
Pedroia said that he maintains a close relationship with manager Alex Cora and is willing to help the Red Sox out in any way they ask him to.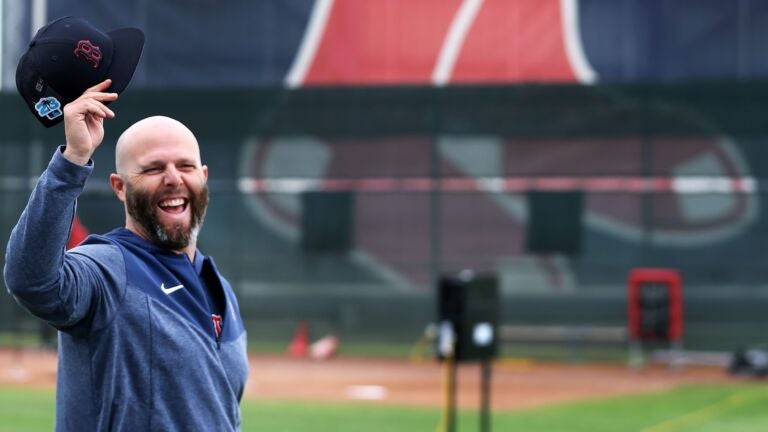 The Red Sox had a special guest at Saturday's spring training practice in Fort Myers.
Red Sox icon Dustin Pedroia joined the team for the day, helping to coach the team up for a handful of hours. Pedroia's remained close with the Red Sox since announcing his retirement in February 2021, especially holding a good relationship with his friend Alex Cora.
Pedroia called back to the times that Cora helped him out when he making his way into the majors in 2006 and 2007, recalling the strong advice he gave him. Now, he wants to help pay it back.
"If he wants me to be here, I'll be here," Pedroia told reporters Saturday.
There is one instance more than others though in which Pedroia and Cora will speak to each other.
"Me and Alex talk a lot, mostly if the team's struggling," Pedroia said, smiling. "That's when I'll reach out. You don't wanna hear from me."
If that is the case, they likely spoke to each other more than ever last season. The Red Sox went 78-84 to finish in last place in the AL East. Following a dismal 2022, many prognosticators project the Red Sox to finish even worse in 2023 after the departure of Xander Bogaerts, a former teammate of Pedroia's.
Pedroia wasn't in Fort Myers though to give his take on the team. He's there to help the Red Sox out.
"Ah, shoot Jonny, I'm not the GM. Hell, I don't know," Pedroia said when asked by WBZ Radio's Jonny Miller on his thoughts of the Red Sox' offseason. "I'm just here to help out anyway that I can. All I know from experience is that I've been on teams that have been predicted to win the World Series and not make the playoffs and I've been on teams predicted to finish in last place and win the World Series.
"There will always be expectations here. I don't think people's outside perception of how good they are really doesn't matter. What really matters is how the players they have play."
There aren't many of Pedroia's former teammates on the Red Sox' roster. Just three players remain in Boston (Rafael Devers, Chris Sale, and Ryan Brasier) from the last time Pedroia played a game with the team in April 2019.
But Pedroia has built connections with other players on the team, too. He said he texted with Justin Turner before he signed with the Red Sox this offseason. Ditto with Trevor Story in 2022, who Pedroia thinks did a fine job at second base last season.
Pedroia isn't sure what kind of role he wants to have with the Red Sox moving forward, saying that they'll ask him what he wants to do but he would rather be told what to do.
"I can help with a minor league guy or I can do a lot of jobs," Pedroia said when specifically asked about working with second base prospect Nick Yorke.
Pedroia was also asked if he would ever manage the Red Sox someday, which Cora actually said he'd like to see happen back in 2021. Pedroia replied "not right now," but might have left the door open about possibly taking the role in the future.
"I don't know," Pedroia said when asked if he'd ever become the Red Sox' manager. "I'm going day-by-day right now."
For now, the 39-year-old is managing his youngest two sons' baseball teams. He also made sure to mention that he's the manager for both of the 11U and 9U squads, quipping "I answer to no one. Nobody."
Pedroia mentioned that the kids he coaches will say that he still moves around well when running the bases and fielding balls during practice, leading them to wonder why he's still not playing. He said that while he "can still do it," he just won't be able to the next day after he had a partial knee replacement in December 2020.
The partial knee replacement surgery doesn't affect Pedroia too much on a day-to-day basis, and the one thing it does affect, he doesn't miss.
"I can do everything. I can't run but who wants to run anyway?" Pedroia said. "But my life's good. I can golf, whatever. I just won't be doing it four days in a row. So that's the part I still have to think about, things that I do. Because the next day will be tough. But other than that, I'm good."
Pedroia said he'll eventually get a full knee replacement surgery, but that won't happen for a long time into the future.
"I only have a partial right now so I've got to be smart because I've got to let this last for a while because I plan on living until I'm 120," Pedroia said. "So I've got to get at least 10, 15 years out of this thing and then I have to get a full one. I'll probably get a couple of them."
But Pedroia's focus remains on managing his sons' baseball teams. He mentioned that he was going to bring former Red Sox Jacoby Ellsbury into practice for one of the teams in the upcoming weeks to help teach the kids how to hit from the leadoff spot. He also said that current Red Sox player Bobby Dalbec helped work with one of the teams recently, too.
Pedroia said that his oldest son doesn't play baseball and he thinks it's because he saw the game "take me away from him" while he was growing up. Pedroia's youngest sons don't have many memories of their father playing, so they'll look at his highlights from time to time.
"They'll be like, 'Dad, you were pretty good,'" Pedroia said. "And I'll say, 'Yeah, sometimes.'"
Pedroia was asked if his youngest sons plan to follow in their father's footsteps and play baseball at a professional level. Pedroia said that isn't the goal right now, saying he's teaching them baseball, life lessons, and to "not throw helmets and things like that."
"They just want to kick somebody's [expletive] today," Pedroia said. "We've got the right mindset going."
Sign up for Red Sox updates⚾
Get breaking news and analysis delivered to your inbox during baseball season.