Red Sox
Christian Vazquez believes Xander Bogaerts 'deserved more respect' from Red Sox front office
"He'll look weird in another uniform."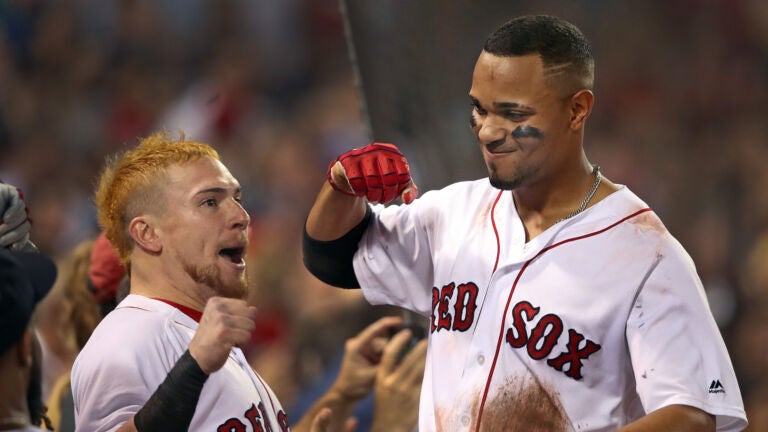 Count former Red Sox catcher Christian Vazquez among those who were shocked when Xander Bogaerts left Boston in free agency this offseason.
Bogaerts, who played the first 10 seasons of his MLB career in Boston, signed an 11-year, $280 million contract with the Padres in December, a little over a month after opting out of the final three years of his deal with the Sox.
Bogaerts deciding to opt out of the current framework of his below-market deal with Boston (six years, $120 million) wasn't much of a surprise.
Not only was the star shortstop still raising his stock with strong production at the plate, but his affiliation with agent Scott Boras stood as a clear omen that the infielder was going to market.
Still, Vazquez found it hard to believe that the Red Sox didn't act when Bogaerts was putting pen to paper on his mega-deal with San Diego.
"I was thinking he was coming back to finish his career there," the current Twins catcher said on Audacy's "The Bradfo Show" this week. "He is a big part of that organization before, but it's a business. I don't know, he'll look weird in another uniform."
Given both Bogaerts' age and the length of his current contract with San Diego, the case could be made that Boston was right to not commit long-term to a player in Bogaerts who turned 30 in October.
But some of the frustration vented out by Red Sox fans centered more on the team's inability to placate Bogaerts and his representatives before he opted out of his deal in November.
Even though Boston had the chance to extend Bogaerts during 2022 spring training with a reworked contract, their reported offer of four years and $90 million was regarded as a "slap in the face", according to Jon Heyman of the New York Post.
Add in Boston failing to put forth a competitive offer for Bogaerts once the bidding war began for his services this winter, and Vazquez could see why Bogaerts felt slighted by the only MLB franchise that he had previously played for.
"The people don't get the insight of what happened inside the clubhouse and all that stuff," Vazquez said. "He deserved more respect from the front office, everybody. He's a star, I think you need to respect that. Respect what he did for the organization – he got two rings with that organization. I feel like he deserved more than that."
Vazquez's sentiments on Bogaerts' departure and the void the shortstop leaves in Boston's clubhouse seems to be shared by many across the league.
According to a poll conducted by The Athletic, Bogaerts is considered to be the "most irreplaceable" free agent who switched teams this offseason. The poll consisted of 29 people in MLB ranging from executives to scouts and coaches.
"This was about everything else he took with him," The Athletic's Jayson Stark wrote of Bogaerts leaving Boston. "When the Red Sox let this guy get so close to free agency and ultimately let themselves get outbid, they lost something else that's nearly impossible to replace: They lost a level of trust from their fan base that no replacement from the outside could duplicate."
Bogaerts took home his fifth Silver Slugger Trophy in 2022 with Boston. In 150 games last season, Bogaerts hit .307 with 15 home runs and 73 RBI. He ranked ninth in AL MVP voting and earned his fourth All-Star nod.
Newsletter Signup
Stay up to date on all the latest news from Boston.com