Red Sox
Why Alex Cora believes MLB's new pitch clock is 'the right thing' for baseball
"I think it's a better product for the fans."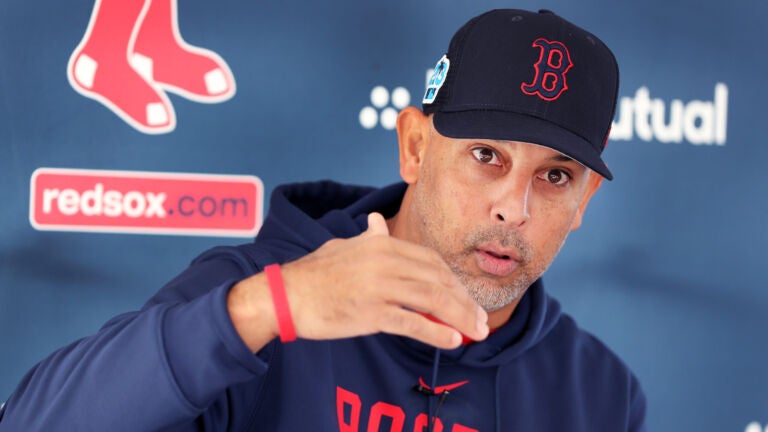 It's only been installed in spring-training games for the last couple of days, but MLB's new pitch clock is already stirring up plenty of controversy across baseball.
Implemented as part of a sweeping set of rule changes for the 2023 season, the pitch clock is designed to speed up the pace of play and make for a more streamlined product out on the diamond.
As part of the rules, pitchers are allowed just 15 seconds between pitches when the bases are empty, and 20 seconds when there are runners on base.
As expected, it's taken some time for MLBers to adjust to the new directives.
As noted by Jayson Stark of The Athletic Monday morning, there have already been 69 clock violations across the 35 spring training games played with the new rules in place. In 16 games alone on Sunday, there were 35 violations, with 27 committed by pitchers.
But Red Sox manager Alex Cora hasn't had much of an issue with the new time-imposed mandates set down by the league. Even though there will be a learning curve for many players, Cora added that the newly-added brevity will allow the game of baseball to resonate with younger fans.
"It's been great. I love it, to be honest," Cora said down in Fort Myers. "Why I say that? Because I want to be home sooner rather than later. I think it's a better product for the fans. I can tell you from experience right now with my kids — they're playing soccer, they're playing baseball, they're doing gymnastics. And in order, it's 1A, 1B and 3? It's baseball. And they love it. They like it. But they take ground balls, and then you go in the back of the line, and it takes forever.
"I hate to say it, because I want them to love the game. They love it. But I would love them to play it. But this is where we're at, and there's sports out there — they're more fun. Because there's no dead time. When they go to soccer practice, it's nonstop … The pace has been amazing. Obviously, there's a few things that we still have to work [on] and we got 27 more days or whatever it is to get to where we want to. But for the game, for where we want to go? No doubt about it. This is the right thing."
So far, the pitch clock's impact has been felt through these first few spring-training contests.
Stark added on Twitter Monday that the average game time in spring training games over the weekend was 2:39. Last spring, games clocked in at an average of 3:01 — representing a 22-minute drop this year.
The Red Sox benefited from these new time-centric mandates on Saturday in their Grapefruit League opener against the Braves.
In the bottom of the ninth, Atlanta threatened to walk things off in a 6-6 contest. But with the bases loaded and Cal Conley staring at a full count, the shortstop didn't set himself up in the batter's box before time elapsed on the pitch clock.
That violation resulted in a called third strike and ended the game in a 6-6 draw for Boston and Atlanta.
While it's to be expected that these mental lapses with the pitch clock won't carry over into more high-stakes games, Red Sox shortstop Kiké Hernandez welcomed the fortunate break via Twitter on Saturday.
A leadoff role may not be in the cards for Masataka Yoshida
The Red Sox still have more than a month before Opening Day.
As such, Cora has plenty of time to tinker with his lineup and plug the right pieces into place.
But the Sox manager did offer a few hints about where some regulars might slot into the batting order once the calendar flips to April.
Even though Masataka Yoshida's sterling plate discipline in the Nippon Professional Baseball League (80 walks, 41 strikeouts in 508 plate appearances last season) and high contract rate paints the picture of an intriguing leadoff option, Cora believes Boston's top free-agent pickup will settle into the heart of the lineup.
"This whole thing about Yoshida leading off, I don't know [how it started]," Cora told reporters, per MLB.com's Ian Browne. "If I mentioned it, I didn't mean to. He might lead off, but he might hit in the middle of the lineup.
"That's what he's done his whole career. So I think it's about personnel and who we have. … "My main goal is to keep [Rafael Devers] and Yoshida split up and try to keep Raffy in the second spot," Cora said. "That would be great."
Newsletter Signup
Stay up to date on all the latest news from Boston.com