Red Sox
J.D. Martinez on deciding to sign with Dodgers in free agency: 'I wanted a team that was going to be in October'
J.D. Martinez signed a one-year contract with the Dodgers in December following five seasons in Boston.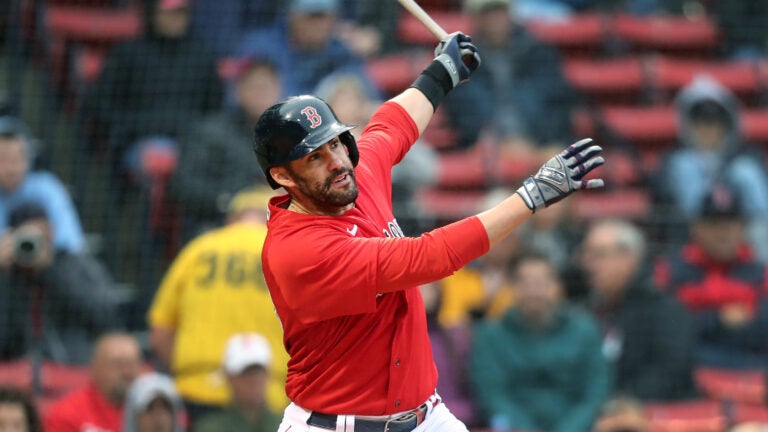 J.D. Martinez knew he was stepping into an uncertain future this past fall.
After five productive seasons in Boston, the 35-year-old slugger entered free agency.
And even though Martinez kept a steady dialogue with Chaim Bloom and the Red Sox' top brass throughout the year, there was no guarantee that he'd be back at Fenway Park in 2023.
As such, Martinez didn't wait for other dominoes to fall before finding his new home for the upcoming season. Martinez signed a one-year, $10 million contract with the Dodgers on Dec. 17, giving the perennial NL powerhouse another dependable bat in the heart of the order.
Just a day later, the Red Sox signed former Dodger Justin Turner to fill the void left by Martinez's departure.
Speaking to WEEI.com's Rob Bradford on the "Bradfo Sho" podcast, Martinez acknowledged that he was keeping his options open this offseason. But before inking a deal with Los Angeles, Martinez was aware that Boston was already in contract talks with Turner.
"I had no idea," Martinez said when asked if he thought he'd return to Boston this season. "The way they made it sound was that they were in on it. During the season we never talked. Just basic talk with Chaim, and stuff. It was one of those things where we never moved forward with it.
"[In the offseason], it was one of those things where we were kind of waiting. A situation occurred where at the time they had the offer out to [Turner] … [Los Angeles' contract] was an offer that came up seeing if it was something I was interested in doing. Obviously, it was a little bit of a pay cut, but if I held up maybe I could have gotten more. We were confident about that."
Still, Martinez isn't exactly bemoaning how his latest stint on the open market played out.
His production and poise at the plate might be sapped due to the effects of Father Time. But Martinez is still joining a Dodgers team coming off an 111-win season in 2022.
And with other stars like Mookie Betts, Freddie Freeman, Clayton Kershaw, and others all set to return, L.A. is once again expected to be a contender in 2023.
The same can't be said for a Red Sox team who is staring at an uphill climb in the cutthroat AL East.
"I wanted a team that was going to be in October, be in the swing of things all year and give me a chance to win," Martinez acknowledged. "I didn't want to get stuck with the Red Sox getting the guy they wanted and me left [feeling] wondering where I was going to go."
Newsletter Signup
Stay up to date on all the latest news from Boston.com