Red Sox
Alex Cora: 'The goal' is to train players so they don't have to look at pitch clock
The pitch clock has sped up the pace of spring training games. Red Sox manager Alex Cora hopes players will learn to play faster on their own.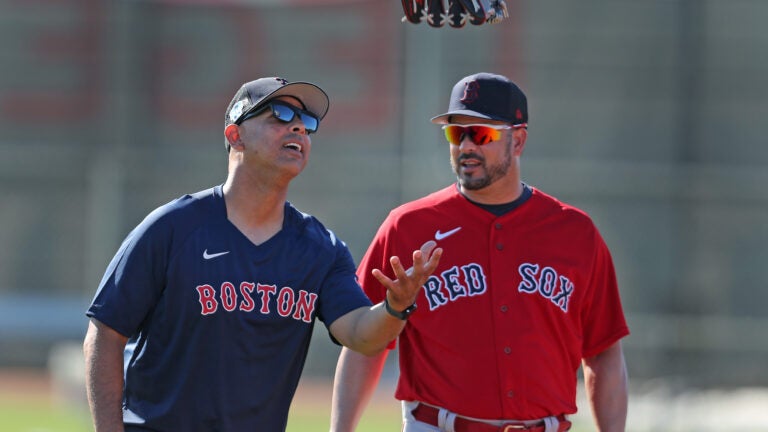 MLB's new pitch clock is making the game a better product for fans, Red Sox manager Alex Cora said Monday during an appearance on The Bradfo Show with WEEI's Rob Bradford.
"I don't know what we did the last 10 to 15 years," Cora said. "But this pace is what it was supposed to be. It was in the 80's and the 90's, but for some reason we forgot how to do it. And I don't want to say we paid the price, [but] yeah we need the pitch clock now. We did a horrible job over the last 20 years with the pace of the game."
While he likes the change of pace and the increased urgency players have to get to their spots, Cora said he hopes younger players will be trained to correct their pacing so that future generations don't need the pitch clock.
"I believe that should be the goal," Cora said. "That should be the goal. It's happening in college, it's happening in minor league baseball, now it's here. So the kids are going to be trained to do this and hopefully that's the final product where we're not looking at the clock like 'oh, 3, 2, 1.' In New York the other day they were screaming the seconds for the countdown and it was like 'nah, we don't need that.'"
Cora mentioned the newfound sense of urgency for players to get set up promptly as a plus.
"The one thing I noticed is there's no more walking to positions," Cora said. "Everybody is running."
Cora said that he hasn't seen any issues from Red Sox pitchers taking too long on the mound so far.
"I think we're right on point," Cora said. "There's other stuff that comes into play…but I think the league has done such a good job explaining everything. They'll reset the clock and go, you'll see the guys in between innings making adjustments. Some of them need eight pitches, others need four. We'll see, but so far so good."
Sign up for Red Sox updates⚾
Get breaking news and analysis delivered to your inbox during baseball season.