Red Sox
Justin Turner's wife offers encouraging update after Red Sox infielder hit in face by pitch
"16 stitches and a lot of swelling."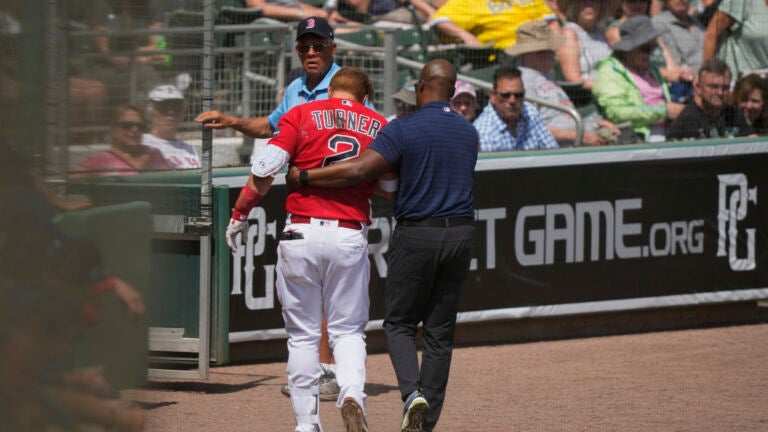 Just hours after Red Sox infielder Justin Turner was brought to the hospital after taking a pitch to the face on Monday afternoon, Turner's wife, Kourtney, shared a positive update on social media.
"Thank you to everyone that reached out about Justin and sent prayers," Kourtney Turner tweeted. "We're home now and he's resting (okay — maybe listening to the replay of the game). 16 stitches and a lot of swelling but we are thanking God for no fractures & clear scans."
It was a scary sight at JetBlue Park during the Red Sox' Grapefruit League matchup against the Tigers.
In the bottom of the first inning, Justin Turner was struck in the face on a pitch from Detroit Tigers righthander Matt Manning. The 38-year-old Turner immediately dropped to the ground and began bleeding profusely from his face.
Even though Turner — covered in a towel — walked off the field and down into the dugout under his own power, he was taken to a hospital to undergo further testing.
"Justin Turner was taken to a local hospital for further evaluation after being hit in the face by a pitch," the Red Sox announced in a team release. "He's receiving treatment for soft tissue injuries, and is being monitored for a concussion. He will undergo further testing, and we'll update as we have more information. Justin is stable, alert, and in good spirits given the circumstances."
Kourtney Turner's update sure seems like good news, especially if the Sox' free-agent pickup didn't suffer any fractures.
There may not be any timetable for Turner's return at this moment. But considering the circumstances, things could have been far worse.
"I mean, anything that is above the shoulders, is always scary," Alex Cora told reporters postgame, as transcribed by NESN.com's Sean T. McGuire. "You hear it, you go and you just react. Saw a lot of blood there so just get everybody there and try to help him out."
Newsletter Signup
Stay up to date on all the latest news from Boston.com