Red Sox
9 questions with Chad Finn about The Boston Globe's new book chronicling Red Sox history
"I was eight in '78 when I fell for the Sox, which is pretty much like taking your first boat ride on the Titanic."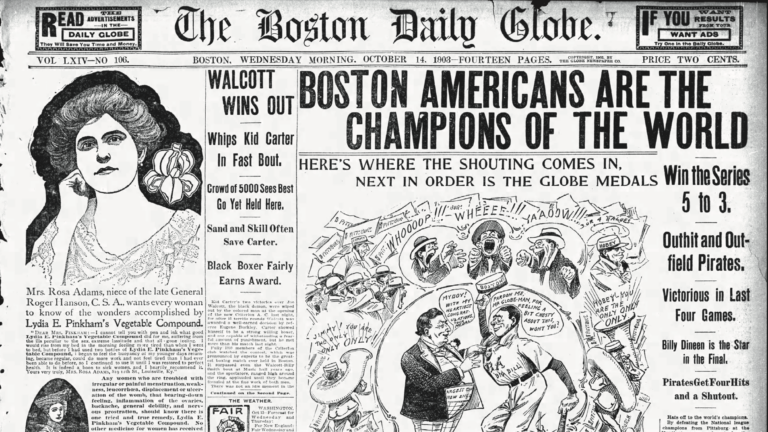 The history of the Red Sox, spanning more than century and encompassing some of baseball's most iconic moments, is no small thing to characterize in a book. Yet at each step of the team's storied journey — both the highs and lows — The Boston Globe has been there to cover it.
To commemorate that history, the publication helped put together a new book titled, "The Boston Globe Story of the Red Sox: More Than a Century of Championships, Challenges, and Characters."
The book, which explores Red Sox history through more than 300 Globe articles, was edited by columnist Chad Finn and features a forward by Baseball Hall of Famer Dennis Eckersley. He recently answered a few questions from Boston.com about the difficult task of selecting and organizing such a comprehensive project, and the moments that stand out in his mind.
What was the origin of this book? Did the format change at all during the researching process as you developed it?
Chad Finn: Well, the framework of the book was established back in 2012, when the publisher, Black Dog & Leventhal, released "The New York Times Story of the Yankees,'' edited by Pulitzer Prize winner Dave Anderson and Bill Pennington. That book, on a far less interesting franchise, of course — I'll pause to allow Red Sox fans to snicker here — did very well and has been updated through the years, including a paperback version. I'm not sure if the idea to do a Red Sox version originated with the publisher or was part of the Globe's new media initiatives, but the idea was overdue.
The Globe archives for writing and photography are a gold mine. I grew up reading the Globe — my dad used to bring home the Boston papers every day when I was a kid — and have wanted to work here since I was in high school. So I was flattered back in January 2022 when Globe sports editor Matt Pepin asked me if I'd like to take on the project. Couldn't say yes fast enough. It felt like an incredible privilege, but for someone who battles chronic imposter syndrome, I somehow felt confident that I was the right person to do it.
Given the sheer amount of Globe coverage of the Red Sox, day-in and day-out for over a century, how daunting a task was it to try and approach putting together a full history? Can you talk about your process for researching and organizing?
CF: Very daunting. Fun … but, yes, very daunting, mostly because of the fear of overlooking something important. (I nearly left out the infamous Jeff Bagwell trade in 1990.) The first thing I was asked to do by the publisher was put together a table of contents – the dividing lines in Red Sox history, essentially, broken down into 10 chapters. I think it was a test to see if I really knew what I was doing.
Then re-read several Red Sox books – "Red Sox Century,'' by Glenn Stout and Richard Johnson was essential – and compiled a thorough list of topics, events, key figures, and so on that we absolutely had to include. After that, it was a matter of finding not just whether the Globe had covered every important moment — it had, including even Jackie Robinson's sham workout at Fenway in 1945 — but finding the best versions of those stories. Our Globe librarian, Jerry Manion, is a wizard. He had an uncanny knack for finding in our archives exactly what I was looking for, and even a few exceptional stories along the way that I wouldn't have known existed.
Reading baseball journalism — the game recaps and also the news reports — from decades ago can be a fascinating exploration. When you were going through the early history of the team, was there anything that stood out about the way the Globe covered baseball then vs. now? (Beyond just the fun cartoons).
CF: Possibly the most pleasant surprise in working on the project was how thorough and (mostly) readable the Globe's Red Sox coverage was in the early years of the franchise. Some of the writing is flowery, and the style for certain words was different than it is now (baseball was often base ball or base-ball in the articles from the early 1900s). But the coverage was informed and passionate – some of the game stories from Red Sox World Series victories early in their history ran over 3,000 words. (They're still pretty long in the book, but not THAT long.)
The Globe also ran a Sunday baseball column that was usually a couple thousand words and covered the entire American and National Leagues; it was like the grandfather of Peter Gammons's legendary Sunday columns in the '70s and '80s. And the reporters were plugged in. In 1907, Red Sox manager Chick Stahl committed suicide by drinking carbolic acid, just a horrific story. The Globe's baseball writer, Tim Murnane, wrote an extraordinarily detailed piece about what had happened the day Stahl died, with on-the-record quotes from Stahl's roommate, Jimmy Collins.
We tend to remember major events differently after the fact as opposed to what the on-the-ground reporting was saying at the time. From your own perspective, was there an interesting example of this from Red Sox history?
CF: I'd love to be able to say the ball did not roll through Bill Buckner's legs and our research reveals that the Red Sox actually won the 1986 World Series, but unfortunately all of their bad breaks and lousy luck before October 2004 is confirmed. It was very interesting to read the coverage of the "Impossible Dream" 1967 Red Sox team, which is the pivotal moment in franchise history in terms of the Red Sox becoming part of New England's fabric. The coverage of the '67 pennant race was joyous, and even after the Sox lost to the Cardinals in seven games in the World Series, there was a feeling of – I don't know, gratefulness – about being able to watch that team. Bud Collins wrote a piece a day or two after the loss titled "Sweet Memories Will Follow Sadness,'' which is included.
Once you approached the period of time that you lived through and can remember — which, as I read, began during the infamous 1978 season — did it become any easier to assemble this book? Did you have to discipline yourself not to include certain things because of sentimental attachment?
CF: Yep, I was eight in '78 when I fell for the Sox, which is pretty much like taking your first boat ride on the Titanic. (I still refuse to say that team choked — they won eight straight to force the one-game playoff with the Yankees!) Chapters 6 and 7 cover the stretch from 1971-94, and they were my favorite to compile and edit, in part because of sentimental value (I did manage to squeeze in a photo of my boyhood hero, Butch Hobson), but also because the Globe writing in the '70s and '80s was unparalleled anywhere.
You have Peter Gammons on the 1975 World Series and '78 playoff game, Leigh Montville and Dan Shaughnessy on the '86 World Series, Bob Ryan (the Sox beat writer in '77) writing about the day-to-day stuff (he was all-in on Fred Lynn and Jim Rice when they were in Triple A), Ray Fitzgerald writing elegant but accessible columns (a favorite in the book is his take on Luis Tiant signing with the Yankees). Just one masterpiece after another in the newspaper every day. I also included one Gammons Sunday notes column in full even though only a portion is about the Red Sox. Those columns could be a book unto themselves.
Speaking of editorial decisions, was there a particular story or subject that you ultimately had to cut that was especially difficult?
CF: I ended up culling 450 or so Globe articles that we initially pulled from our archives down to the 300 or so we used in the book. I was fortunate that my terrific Sox-fan editor, Zander Kim, and the publishers at Black Dog & Leventhal allowed me some flexibility. The book is 432 pages, bigger than initially planned – I think the original idea was around 325 pages.
Still, there were some tough cuts – I really wish I had been able to get in a 5,000-word Globe magazine profile Neil Swidey wrote on Jerry Remy in 2009, but no story in the book is more than 2,000 or so words, and trimming it wouldn't have done it justice. There was also a seven-part series on Ted Williams from the early '50s that was a terrific, thorough read, but it would have been redundant with specific articles that ran at the time his achievements occurred. And there's already more about Williams in the book than any other person.
On the flip side, was there something you ended up including that you did not initially expect to have in there?
CF: Not many, because the math of the book – covering 120 or so seasons in 432 pages – limits including much beyond the most noteworthy news and profiles. But there were a few quirky features that we were able to include. One I liked a lot was a piece Gordon Edes wrote on a guy named Mike Gimbel, who was kind of an odd duck, but had general manager Dan Duquette's ear due to his analytics research back in the early 2000s, right around the time "Moneyball" became a phenomenon.
Do you have a favorite lede (or particular passage) from a Globe story in this book?
CF: Doesn't it have to be Gammons's deadline lede after Carlton Fisk's home run won Game 6 of the 1975 World Series? I think it does.
"And all of a sudden the ball was there, like the Mystic River Bridge, suspended out in the black of the morning.
"When it finally crashed off the mesh attached to the left-field foul pole, one step after another the reaction unfurled: from Carlton Fisk's convulsive leap to John Kiley's booming of the 'Hallelujah Chorus' to the wearing off of the numbness to the outcry that echoed across the cold New England morning."
Go ahead, beat that.
The final chapter and the epilogue address aspects of the current state of the team, noting that it's at another "crossroads." Having studied the entirety of Red Sox history, does this period now remind you of any other specific time?
CF: It really doesn't. There have been stretches where the Red Sox have been bad (for most of the years in between selling Babe Ruth and Ted Williams's arrival), and there have been single teams (like Bobby Valentine's disastrous 2012 edition) that left us less than inspired.
But this is different. The Red Sox traded Mookie Betts and made no genuine effort to retain Xander Bogaerts, and other than Rafael Devers, there is no surefire star on this roster. The Red Sox have always had stars, plural, that connected with the fan base. Now, Chaim Bloom seems content to sign decent but flawed veterans to short contracts while waiting for the next generation of prospects to arrive. Maybe Chris Sale will stay healthy, and Masataka Yoshida will be an immediate hit, and the Sox will be better than they're perceived to be. But right now, it's easy to appreciate their history, especially recently, because the present is so murky.
Sign up for Red Sox updates⚾
Get breaking news and analysis delivered to your inbox during baseball season.