Red Sox
Watch: Kiké Hernández walks through the Red Sox dugout as an opponent
The utility player faced off with Boston as a member of team Puerto Rico Wednesday night.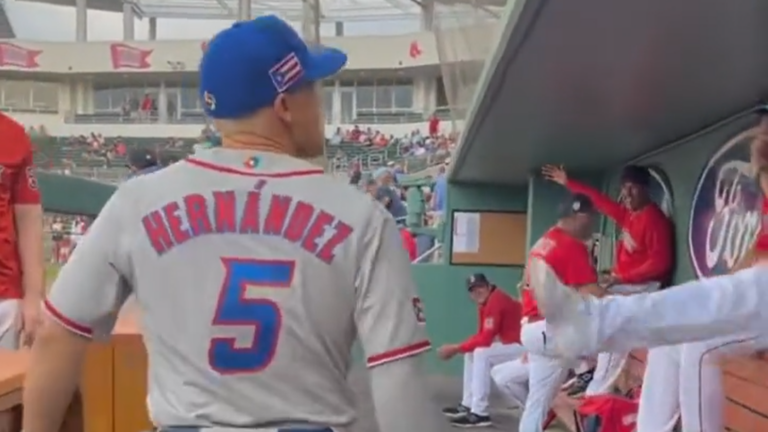 On Wednesday night, Red Sox utility player Kiké Hernández strutted through the team's dugout at Jet Blue Park wearing the "wrong" uniform.
Hernández, a member of team Puerto Rico for the upcoming World Baseball Classic, tossed on his native country's grey and blue threads before yesterday's game against the Red Sox.
Rather than walking through the visitor's clubhouse into the dugout, however, Hernández strolled straight through the home team's with his bats and glove in hand.
On his way he received jeers and laughs from his teammates and coaches. Several people simply pointed across the field directing him to the opposing dugout, including his manager Alex Cora, who is from Puerto Rico himself.
The game between Boston and Puerto Rico was the first action for Hernández's international squad. Several teams with pool play in the United States have scrimmaged pro teams so far, including team USA and the Dominican Republic.
While Hernández and Puerto Rico fell to the Sox in the exhibition game, the centerfielder was simply happy to be back playing for his home country.
"Being able to share a field with your peers from your home country, the best of the best, it means a lot to us," Hernández said. "We only get to do this every once in a while so every opportunity we get, we try to make the best of it."
The last time the World Baseball Classic was held, in 2017, Hernandez didn't see much action for Puerto Rico. That time around Cora was actually in charge of the Puerto Rican squad, so when Hernández got the start against Boston Wednesday, he had a little fun with his big league manager.
"Last time, AC was the GM and he didn't want me to play every day," Hernández said. "So this time we took him off the team and [they made me] an everyday player."
Sign up for Red Sox updates⚾
Get breaking news and analysis delivered to your inbox during baseball season.