Red Sox
There are a lot of 'ifs' and 'maybes' on the Red Sox roster, and other observations from spring training
It's a roster stacked with gambits.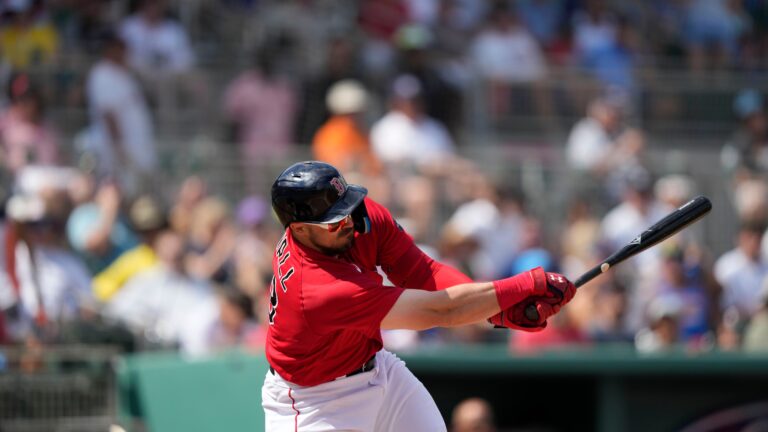 FORT MYERS, Fla. — Three observations on the Red Sox while penciling in Ceddanne Rafaela for a Gold Glove in 2025, and '26, and …
The Red Sox will have more "ifs" and "maybes" in places where sure things once stood than any of their Opening Day rosters of recent vintage. It's a roster stacked with gambits.
This is more uncertain than 2013, when Ben Cherington loaded up on inexpensive veterans to surround David Ortiz, Dustin Pedroia, and Jon Lester, and more unsettling than 2021, when Xander Bogaerts, J.D. Martinez, and Christian Vázquez were still among the dependables on a roster that underwent some remodeling.
The "if" — or "maybe" if you prefer — with the most variance of possibility might be outfielder Adam Duvall. You could tell me he'll drive in 90 runs this season and I'd buy it, and you could tell me he'll move on to, oh, the Oakland Athletics by June and I'd accept that as a logical plot twist, too.
The ideal outcome within reason is that Duvall becomes this season's version of 2021 Hunter Renfroe. Chief baseball officer Chaim Bloom signed Renfroe to a one-year, $3.1 million contract in December 2020 after he had hit .156 with eight home runs the previous season for the Rays.
Renfroe became one of the bigger success stories early in Bloom's tenure, hitting 31 home runs with an .816 OPS in 144 games and playing an entertaining right field for the 92-win 2021 club. That was the kind of savvy move that might have made a Red Sox fan believe Bloom was going to unearth such finds habitually.
Trading Renfroe after the '21 season for fading Jackie Bradley Jr. and a couple of prospects was not a similarly savvy move. It may have been the opposite of that, though speedy David Hamilton, one of the minor leaguers who came over from the Brewers in the trade, may see his major league prospects enhanced by rule changes that could reemphasize the stolen base. I'm not writing off that deal as a bust just yet.
It makes sense to take a chance on Duvall. Yes, he is probably older than you think (he turns 35 in September) and is coming off a wrist injury that ended his season in July. He required surgery for a torn tendon sheath, a term that might be triggering to Red Sox fans of a certain age who remember the beginning of the end of Nomar Garciapparra's dominance.
But Duvall did lead the National League in runs batted in just two years ago (113, in a season split between the Marlins and champion Braves), and he's hit more than 30 homers in a season three times. His sixth-most-similar player statistically in baseball history is, wouldn't you know it, Renfroe. Bloom has been right on that type of free-swinging, discount-priced slugger before, and he's trying to be again.
But Duvall is an if, a maybe, one of the hardest players to project on the roster. He's a good-natured guy, and his career spray charts suggest he will mash at Fenway. I'd like to see this one work out. Some evidence that it will is welcome.
The Red Sox are low on star power — or at least familiar star power — in this post-Mookie Betts, post-Bogaerts age. But that shouldn't be confused with lacking decorated players.
A reminder of that comes when entering the Red Sox clubhouse at JetBlue Park. The pitchers are situated on the right half of the room, and the first stretch of lockers you see if looking straight ahead belong to, in order, Chris Sale (he has two lockers, an accomplished veteran's privilege), Kenley Jansen, Corey Kluber, and James Paxton.
Among them, they have played 46 major league seasons, pitched in 1,482 games (766 by Jansen), earned 326 wins (114 by Sale, 113 by Kluber), made 13 All-Star appearances, and collected two Cy Young Awards (both Kluber) and eight other top-five finishes. Good company and lots of pitching wisdom in that corner.
It's been fun this week to listen to Red Sox manager Alex Cora and players such as Kiké Hernández express their excitement for the World Baseball Classic, and there was a joyous atmosphere at JetBlue Park Wednesday night when a skeleton Red Sox roster took on Francisco Lindor and a joyous Team Puerto Rico, whose players had all dyed their hair blond in unity.
I hope and believe the WBC will catch on in the United States just as it has with some smaller, baseball-passionate countries. Players such as Mike Trout and Betts making the commitment to play is huge, and the teams have distinct identities that should make for a compelling tournament. Get on the bandwagon now.
Sign up for Red Sox updates⚾
Get breaking news and analysis delivered to your inbox during baseball season.