Red Sox
Why Alex Cora has 'hope' in Trevor Story returning at some point during the 2023 season
Story took a positive step in his rehab after having offseason elbow surgery.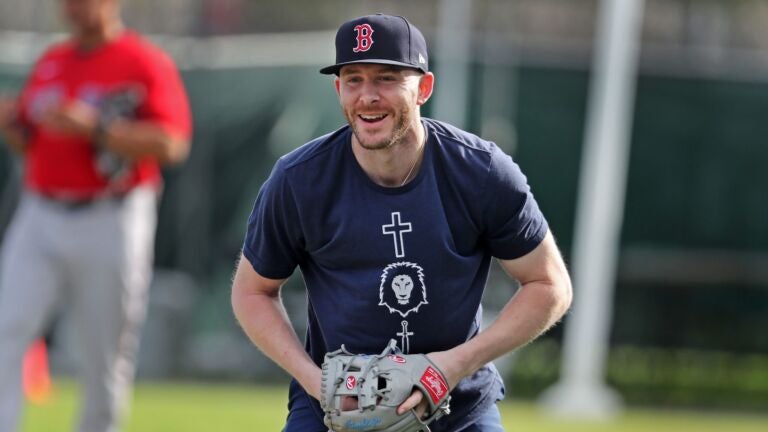 It's likely that Trevor Story will miss most, if not all, of the 2023 season after having offseason surgery on the UCL ligament in his throwing elbow, but that isn't stopping the Red Sox from being hopeful that he'll return.
A reason for the Red Sox to be optimistic that Story can return in the second half of the season emerged Thursday. Story took part in the team's workouts that day at Fort Myers, where he fielded groundballs for the first time since his surgery in January.
Red Sox manager Alex Cora explained why Story's workout Thursday was a very positive development.
"It gives you hope," Cora told MLB.com's Ian Browne. "If he's not thinking about [playing] this year, then why take ground balls so soon? He wants to be a baseball player, just like everybody else. He's engaged and he's excited. To take that step, it means a lot. That's a good first step."
Cora told Browne that Story's been "involved" with the team during meetings and the like as he's rehabbed in camp.
Cora also mentioned how taking the field will make Story's days "a little bit more fun" as he breaks up the usual rehab routine. Story admitted that was the case for him.
"It's huge," Story told Browne on Friday. "You get to that point where you feel like just a rehabber. To get out in the field and take ground balls and feel more like a baseball player is really good, something I've been looking forward to. It's something small in the grand scheme of things, but in the progression it's big. It was a good day yesterday."
Story, who signed a six-year, $140 million deal with the Red Sox ahead of the 2022 season, didn't have the best first year in Boston. He hit .238 with a .737 OPS, 16 homers, and 66 RBIs in 94 games as he missed time due to hand and heel injuries.
It was also his first season playing at second base, and while he fielded the ball well (he only had six errors), concerns about his arm strength continued. Story's average velocity in 2021, when he played shortstop with the Rockies, was 79.1 mph, ranking 52nd of the 58 shortstops that qualified, according to Statcast. Last season, that number dipped to 76.1 mph, which was 61st among the 70 second basemen that qualified.
It was presumed that Story would return to his natural position at shortstop in 2023 following the departure of Xander Bogaerts. For now, the Red Sox have trotted Kiké Hernández.out there to play the position in spring training and traded for Adalberto Mondesi from the Royals, who is also rehabbing from an injury.
Sign up for Red Sox updates⚾
Get breaking news and analysis delivered to your inbox during baseball season.