Red Sox
Why Red Sox' Chris Sale 'understood' Alex Cora's decision to not name him Opening Day starter
In five innings of work so far this spring, Sale has struck out seven batters and not surrendered a run.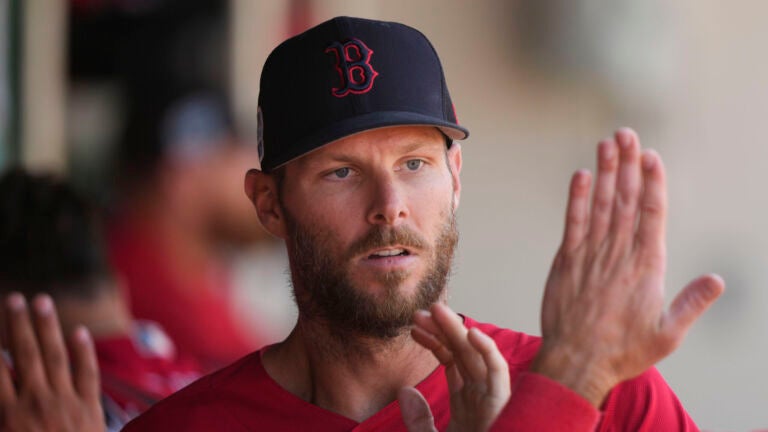 For the first time in a long time, Chris Sale is looking like himself on the mound.
Finally removed from a variety of injuries that limited him to just 48.1 innings over the last three seasons, the Sox southpaw has put together promising returns over his first two Grapefruit League outings down in Florida.
But despite his strong start this spring, the 33-year-old pitcher will not get the ball when the Red Sox open the regular season on March 30 at Fenway Park.
"You can write that one down. He's not [going to start Opening Day]," Alex Cora told reporters of Sale's status on Sunday. "I want him to enjoy [Opening Day] as a regular baseball player. Just the whole Opening Day thing. Wherever he pitches in the rotation is where he'll pitch in the rotation."
Given Sale's projected standing as the ace of an unsteady Sox rotation — coupled with his desire to get back on the hill after three lost seasons — it wouldn't have come as a surprise if Sale objected to his manager's pitching plan.
But speaking to WEEI.com's Rob Bradford, Sale agreed with Cora's rotation reshuffle.
"[Cora] told me a while ago, and honestly, I really appreciate it," Sale said on "The Bradfo Sho" podcast. "He's right, the last few opening days have been bittersweet for me, I guess. Opening Day is always a magical day, it's Christmas for baseball players. When you don't get to play, it's like showing up to Christmas with no toys.
"It still is great, it still is fun, I still enjoy it, I still appreciate it – but I definitely understood why he did that. And I just appreciate that. To be able to soak it all in and enjoy that day as a whole and not have the stress of getting ready for it and all this other stuff. And it's my birthday."
Multiple stints on the IL have kept Sale planted in the dugout over the last few years on Opening Day. The circumstances will be different this season, with Cora noting Sunday that there's "a good chance" Corey Kluber will get the nod in Game 1 of 162 against the Orioles.
But for Sale, just entering a new season with a clean bill of health and a regular role in the rotation stands as a victory when contrasted against the past three campaigns.
"Being the Opening Day starter is a very high honor, and it is a great thing," Sale told Bradford. "So I don't want to take away from that. But at the end of the day, I've done it before and he didn't just pull a name out of a hat.
"There was a reason [Cora] did this, and I respect that more than anything because there was a lot of thought that went into this. I appreciated him having my back and thinking of me outside of the realm of baseball. He was thinking of me as a person right there. Which, that's who AC is, that's why players love him, that's why he is who he is. All of that as a whole, I really appreciate that."
In two starts so far this spring, Sale has yet to surrender a run over five innings of work.
After striking out two Tigers over two innings on March 6, Sale fanned five and relinquished just one hit in a three-inning outing against the Twins on Saturday afternoon.
Sale also worked a simulated inning in the bullpen after his start against Minnesota, considering it only took him 32 pitches to get through his three innings.
"That's what you like, that's what we like to do. Quick innings are nice," Sale told reporters on Saturday. "And the more quick innings you can get, the more innings you're going to be able to throw when the season gets here."
He may not get the call on Opening Day, but Sale is providing some optimism in a Red Sox rotation that desperately needs the lefty to regain his form (and stay healthy) in 2023.
Sign up for Red Sox updates⚾
Get breaking news and analysis delivered to your inbox during baseball season.