Red Sox
World Baseball Classic: 4 things to know now that pool play is over
Three Red Sox stars still remain in the international tournament.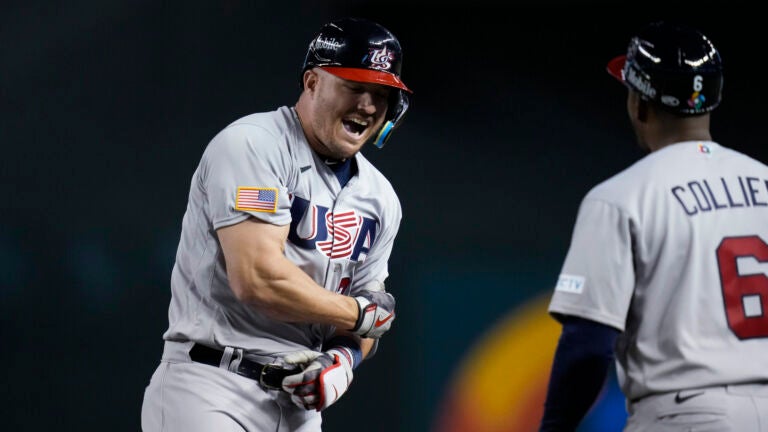 Heading into Friday night, there are just six teams left of the original 20 in the 2023 World Baseball Classic.
The final games of pool play and two early quarterfinals simultaneously narrowed the field over this past week, and by Monday night, the WBC will have its two finalists.
Over the past 10 days, 42 games have been played in the tournament in total. We've seen the expected dominance of some MLB stars, a complete failure of others, and surprise stories from nations that we don't always think of when it comes to baseball.
Here are some of the key storylines for fans who missed out on pool play but who are looking to catch up on the action.
Can anyone stop Japan?
Japan and Venezuela are the only two undefeated teams remaining in the WBC. Japan though has done it in the more convincing fashion with a +36 run differential in its five games compared with +14 for Venezuela.
The top story for Japan has been Shohei Ohtani, who has a 2.08 ERA on the mound and a 1.438 OPS at the plate. Four of his seven hits have gone for extra bases.
Ohtani's success with the bat has been great for his teammate Masataka Yoshida, who has driven in the most runs in the tournament so far.
The offseason addition for the Red Sox is hitting .400 with 10 RBI in his 15 WBC at-bats.
While the rest of the roster isn't full of names that MLB fans may recognize, there is still tons of talent around Ohtani and Yoshida.
The rest of the rotation around Ohtani has dominated so far. NPB aces Yoshinobu Yamamoto and Roki Sasaki have combined for 16 strikeouts across their two starts so far.
Japan still has Padres star Yu Darvish as well, but he's struggled so far with a 5.40 ERA in his lone start.
Two favorites stumble in pool play
Red Sox closer Kenley Jansen spoke at spring training and said that he intended to wait until the later rounds of the WBC to join The Netherlands. The reasoning behind Jansen's decision was that he wanted more time to spend adjusting to MLB's new pitch clock rules.
Luckily for Jansen, he'll have more time than initially expected to work on his timing. Sadly for the Dutch, it's because the team failed to make it beyond the opening stage of games in Pool A.
The Dutch, with an All-Star infield featuring Xander Bogaerts, Jonathan Schoop, Didi Gregorius, and Andrelton Simmons, went just 2-2 in pool play and missed out on the quarterfinals for the first time since 2006.
The Netherlands wasn't the only squad stacked with major league talent that got bounced early.
Rafael Devers and the Dominican Republic had what some considered the best lineup in WBC history.
Every player in the starting lineup is an established major leaguer, yet they too won just two games in their pool and missed out on the second round.
The famed lineup scored just 19 runs in the tournament, 12th out of 20 and Devers struggled in particular. The third baseman had just two hits in his 16 at-bats.
Red Sox players are still fighting
While Devers and Jansen won't be competing in the latter stages of the WBC, Red Sox fans still have some of their favorite players to cheer for in the tournament.
Boston fans still have Yoshida and Japan, but anyone who doesn't want to root for their favorites can back Alex Verdugo and Mexico or Kiké Hernández and Puerto Rico.
Hernández and Verdugo will play each other Friday night, and Yoshida will take on the winner of that game in the semifinals on Monday. Both games will have a 7 p.m. start time in Miami.
USA stars are heating up
Following their 11-5 loss to Mexico on Sunday, Team USA has won back-to-back games and the squad's biggest starts are fueling the fire.
Over the past two games, Mookie Betts and Mike Trout, hitting first and second in USA's lineup, have combined for seven hits in 13 at-bats.
The hot hitting comes after the duo began the tournament with just two hits in the first two games.
Other top batters for the USA so far have been Nolan Arenado and Tim Anderson, who have nine hits and five for extra bases between them.
Up next for the USA is a quarterfinals matchup with Venezuela at 7 p.m. Saturday.
Sign up for Red Sox updates⚾
Get breaking news and analysis delivered to your inbox during baseball season.