Red Sox
Red Sox outfielders Masataka Yoshida, Alex Verdugo star in Japan-Mexico World Baseball Classic semifinal
Team Japan pulled off a dramatic 6-5 walk-off win.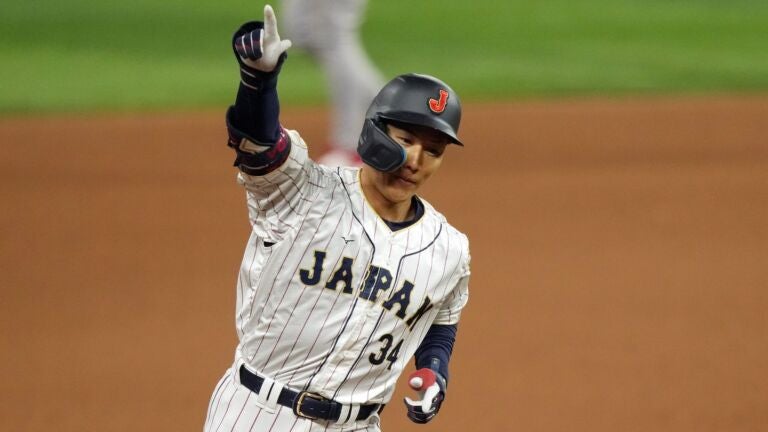 There could only be one victor in Monday's World Baseball Classic semifinal showdown between Team Japan and Team Mexico.
But the Red Sox have to be thrilled with the performances put forth by two of their starting outfielders in Masataka Yoshida and Alex Verdugo at loanDepot Park.
Both Sox stalwarts delivered the heroics for their respective teams in the late innings, driving in a combined four runs in Team Japan's dramatic 6-5 walk-off win.
Yoshida went 3-for-4 at the plate with a three-run home run and walk, while Verdugo went 1-for-4 with an RBI double.
Team Japan's bats were quieted by Patrick Sandoval for most of the evening, but Yoshida gave his team life with one swing of the bat.
Already 2-for-3 at the plate in Monday's game, Yoshida stepped into the batter's box in the seventh with two out and two men on in Kensuke Kondoh and Shohei Ohtani.
On a 2-2 count, Yoshida took a changeup from JoJo Romero and blasted it into right field. The pitch hooked just inside the foul pole for a three-run shot, tying the game at 3-3.
It was the second straight game where Yoshida went deep for Team Japan, with the Sox' top free-agent pickup validating Alex Cora's plan to slot him into the cleanup spot in Boston's lineup.
But not to be outdone, Verdugo answered for Team Mexico in the following frame.
Mired in a 2-for-19 slump in WBC play entering Monday night, Verdugo delivered in the clutch with Randy Arozarena on second — slicing a ball into left-center to give his team the lead right back, 4-3.
Both Yoshida and Verdugo's big hits drew plenty of praise from their Sox teammates on social media.
Verdugo was subsequently replaced by fellow Sox outfielder Jarren Duran, who came around to score on Isaac Paredes' RBI single later in the inning to give Team Mexico a two-run cushion.
Mexico nearly added another run on Paredes' base knock, but Yoshida threw out Joey Meneses at the plate to end the inning and halt the rally.
Yoshida once again played a role in Japan's ninth-inning surge.
After Ohtani opened the ninth inning with a double to center off of Giovanny Gallegos, Yoshida followed it up by working a five-pitch walk.
Yoshida was pulled from the game in place of pinch runner Ukyo Shuto, who subsequently came around to score on Munetaka Murakami's two-run double to give Japan the win.
Yoshida has been an instrumental part of Team Japan's run to a third WBC Final. The 29-year-old outfielder is now batting .474 (9-for-19) in the tournament with two home runs, 13 RBI, three walks, and no strikeouts.
Yoshida's 13 runs driven in are the most ever for any player in a single World Baseball Classic.
The Sox outfielder will have a chance to further add on to his record-setting totals when Team Japan takes on Mookie Betts, Mike Trout, and Team USA in the WBC championship game on Tuesday night in Miami.
First pitch is set for 7 p.m.
Newsletter Signup
Stay up to date on all the latest news from Boston.com