Red Sox
Former Red Sox infielder Jed Lowrie announces retirement
Jed Lowrie, who played for the Red Sox from 2008-2011, is retiring after a 14-year career.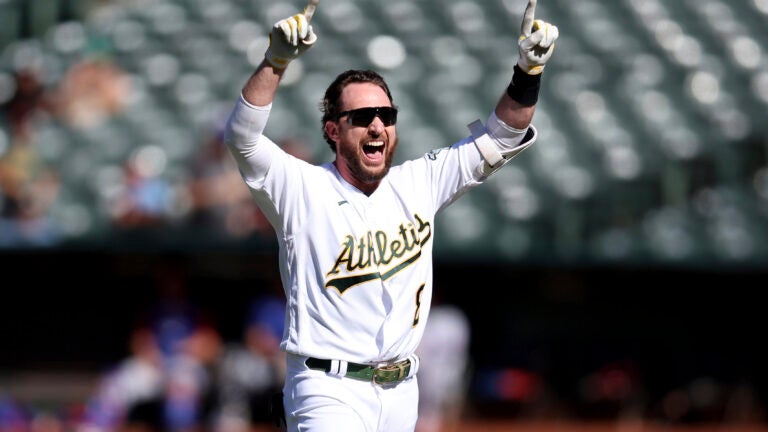 Jed Lowrie has retired, he announced Thursday on social media, ending a 14-year MLB career.
"No one gets to play forever. And the time has come for me to close the chapter on my playing career," Lowrie wrote. "I was relentless in my pursuit to get better, whether on the field or fighting my way back. From a high school kid who had 'a higher ceiling as a pitcher than as a hitter', I'm proud of my accomplishments and the resiliency it took to thrive at the highest level."
The Red Sox selected Lowrie in the first round of the 2005 amateur draft. Lowrie was Pac-10 Player of the Year and a two-time first-team All-American selection during his college career at Stanford.
Lowrie had three RBIs in his Red Sox debut on April 15th, 2008. He played with the Red Sox until 2011, when he left for the Houston Astros. Lowrie had two different stints with the Astros, and three different stints with the Oakland A's. He also played briefly for the New York Mets.
"I was lucky to learn from some of the pillars in our game," Lowrie wrote. "And hopefully I did my part in passing on that institutional knowledge to the next generation. The players have never been more talented than they are right now. I'm amazed how high the bar has been pushed during my career. The game has changed."
The most productive season of Lowrie's career came in 2018, when he made his lone All-Star appearance and hit .267 with 23 home runs and 99 RBIs.
He never played in more than 88 games during any of his seasons with the Red Sox, but he got his chance to play more elsewhere and did well enough to play for nearly a decade and a half.
"To the fans in Boston, Houston, New York, and Oakland, it wasn't always perfect," Lowrie wrote. "But I gave it my all and I'm grateful for the opportunity to play for you. Thank you. Love never dies though, so I'm looking forward to new opportunities in the game."
Sign up for Red Sox updates⚾
Get breaking news and analysis delivered to your inbox during baseball season.