Red Sox
Rafael Devers the lone Red Sox player ranked in a few different top 100 lists
Devers is still viewed by experts as one of the game's best third basemen, but there isn't much other top-tier talent around him in Boston.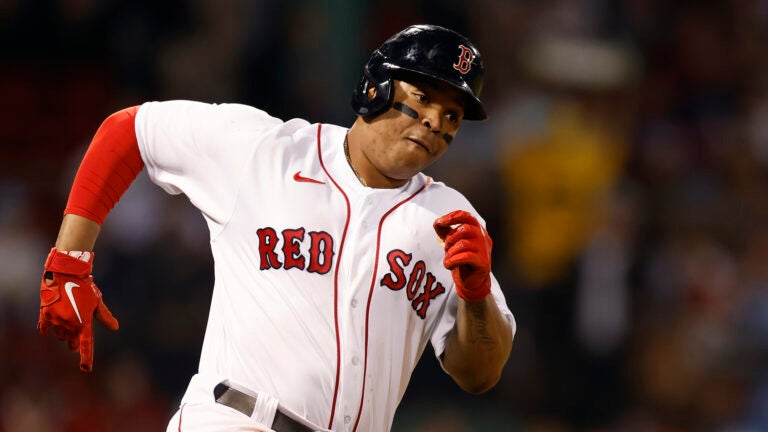 Following the departure of Xander Bogaerts this offseason, a common concern shared among many for the Red Sox is their lack of top-end talent.
That was reflected in many MLB analysts' and experts' top 100 preseason lists. The majority of them only featured one Red Sox player: Rafael Devers.
Devers was the only Red Sox player ranked in ESPN's top 100 list, but he was ranked pretty highly, coming at No. 20. ESPN's Joon Lee explained that the contract extension the Red Sox gave Devers over the offseason (10-year, $313.5 million deal) shows the third baseman's value.
"The reason [why the Red Sox gave Devers the contract] is simple: Boston views his bat as a generational talent and something that will age well as he enters his age-26 season in the big leagues," Lee wrote. "While Devers has shown a power stroke at the plate early in his career, his ability to hit the ball to all fields is what makes him one of the game's biggest offensive threats, slashing .295/.358/.521 in 2022."
As Devers was the fifth-highest-ranked third baseman on the list, Lee predicted that the slugger will "keep chugging along as one of the game's most dynamic offensive hitters" in 2023.
MLB Network gave Devers a similar ranking earlier this offseason, placing him as the 19th-best player in baseball, which is three spots better than where he was placed in 2022. He's also the fourth-highest-ranked third baseman on the list.
CBS Sports placed Devers a bit lower, ranking him as the 39th-best player in baseball. But like the MLB Network's list, Devers was the only Red Sox player represented. Daryn Perry remarked on Devers's consistency over the last few seasons, writing that Devers has "an OPS+ of 132 since the start of the 2019 season. For his career, he's averaged 324 total bases per 162 games played."
As Perry mentioned, Devers's strong bat will likely be the most reliable thing for the Red Sox in 2023. In addition to posting a high OPS+ over the last four seasons, he's hit at least 30 home runs in two of the last 162-game seasons. After hitting 38 homers in 2021, Devers's home run total dropped to 27 in 2022, but he dealt with a forearm injury for much of the second half of the season.
Even though there aren't many hitters as good or better than Devers, the Red Sox still lack other top-tier talent around him, which is a change compared to past seasons. Last year, MLB Network included three other Red Sox players in their top 100 list alongside Devers, the most notable being Xander Bogaerts. Of course, Boston let Bogaerts walk to the Padres this offseason.
The three aforementioned lists ranked Bogaerts in similar spots (ESPN had him at No. 28, MLB Network ranked him at No. 32, and CBS Sports placed him at No. 27).
Boston was also the only American League East team to have one representative in each top 100 list. The Blue Jays were the most represented team in the AL East in the top 100 lists, having eight players ranked in the top 100 in CBS Sports' ranking and seven players being ranked by ESPN.
Sign up for Red Sox updates⚾
Get breaking news and analysis delivered to your inbox during baseball season.