Red Sox
'Just got to drive home safe': Chris Sale feels 'very' confident entering the regular season
Sale closed his spring training with a five-inning start against the Twins, allowing two runs on Sunday.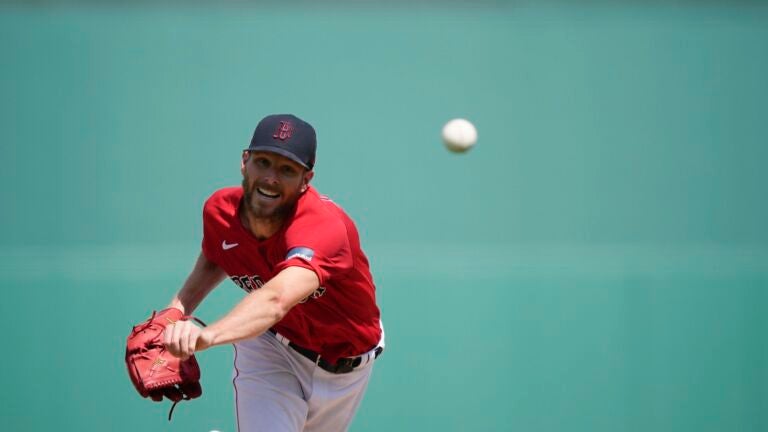 Chris Sale's final spring training tune up brought a mixed bag of results, but an overall positive feeling as he heads into the regular season.
The Red Sox lefty gave up two runs (both earned) on five hits, two walks, a hit by pitch, and three strikeouts in five innings against the Twins on Sunday.
Sale was strong out of the gate. After getting a pair of Twins hitters to fly out, Sale walked Kyle Farmer before striking out former Red Sox catcher Christian Vázquez on three pitches. Sale used his breaking ball to freeze up Vazquez as he took strike three on the inside part of the plate.
In the second inning, Sale retired the side in order, getting Willi Castro to strike out looking with his slider.
Sale began to hit some turbulence in the third. He allowed a leadoff double and a walk two hitters later to put runners at first and second with one out. He got out of the jam though by inducing a ground ball from Carlos Correa that turned into a double play.
The fourth was Sale's trickiest inning. He allowed a leadoff single to Farmer and two hitters later, Ryan Jeffers hit a two-run homer to right center. Sale hit Castro with a pitch two batters later, but got out of the inning without allowing any more runs.
After getting Eddie Rosario to strike out looking at his slider, Sale gave up a double in the fifth that led to the Twins having runners at the corners with one out. That's where Sale got some help. Reese McGuire threw out a runner attempting to steal second and Bobby Dalbec (who replaced an injured Kiké Hernández) made a leaping play at short to end Sale's day.
That also ended Sale's spring. He allowed eight runs (all earned) on 17 hits, three walks, and 12 strikeouts over 15 innings pitched in four starts.
Even though Sale's stat line in his last two outings weren't outstanding, he characterized this spring training as a "good" one.
"I got everything that I really needed to work on," Sale told NESN's Jahmai Webster. "I kind of found my mechanics and had a little bit of everything today. I had a good couple of cruising innings. Then I ran into some trouble and had to get out of it.
"Some great defensive plays though, anytime your catcher throws somebody out at second base, that's a plus. Had a little help, but I got through it. Just take it up north with me and get going."
Sale also thought his curveball worked well through much of the spring but admitted it was "on and off" on Sunday.
"Hell, I threw one behind somebody," Sale said with a laugh. "I've got to keep them on their toes I guess, too. That's part of it."
But he was happy to just have the opportunity to work through situations and jams like the ones he put in on Sunday.
"I appreciate having these times and situations where I can work out of it and there's not high stakes," Sale said.
All of the work Sale's put in this spring has him feeling "very" confident as he enters the regular season, which marks the first time he'll be on the active Opening Day roster since 2019.
"This preparation is what gives you the confidence to go out there and do that," Sale said of his confidence level. "I feel like this spring training from the start to where I am now, I did all the things that I really needed to do. All of the focus was in all of the right spots.
"There wasn't a lot of wasted energy on a lot of the stuff I had to work on a couple years ago. It was really getting back to the basics of pitching and getting stronger and the building blocks everyone has to work on. So, I'm just happy of that and I'm appreciative of it and ready to go."
Even though he's viewed as the Red Sox' top starter in the eyes of many, Sale won't make the Opening Day start against the Orioles on Thursday. That honor went to Corey Kluber.
But Sale will take the bump in Game 2 of the season, which takes place on Saturday. Sale said he appreciated everyone from his teammates to the coaching staff, training staff, and strength coaches to "not just get through [spring training], but actually excel through it and finish strong to be prepared for the for the start of the season."
Now, Sale has just one thing to do.
"I've just got to drive home safe," he told Webster with a big laugh.
Sign up for Red Sox updates⚾
Get breaking news and analysis delivered to your inbox during baseball season.