Red Sox
Red Sox manager Alex Cora says he's entering 2023 season with a 'chip on his shoulder'
"I'm ready to go. I'm really locked in on what I want to do."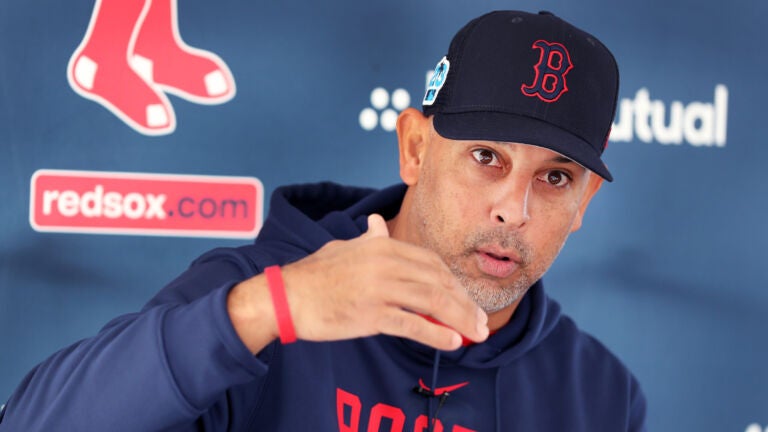 The Red Sox aren't exactly entering the 2023 season with high expectations.
Coming off of a last-place finish in 2022, Boston enters a new 162-game campaign with plenty of question marks, both in the lineup and across its pitching corps.
Back in early February, FanGraphs's ZiPS Projected Standings tabbed the Red Sox for a 79-83 record.
Just don't tell any of that to Alex Cora.
Speaking ahead of Boston's final spring-training tuneup of the year on Tuesday, the Red Sox manager was candid when it came to his motivations entering his fifth season at the helm.
"I've got a lot of reasons to go out there and guide this team to where we want to go, "Cora said, per Chris Cotillo of MassLive.com. "I always have the same expectations just like the fan base and the organization. But there's a lot of things that happened in the offseason that I took personal. It's not baseball-related. I think it's life-related. If I needed a chip on my shoulder, then I just got another one. I don't want to say I'm more locked in than in previous years but people [lit] a fire under me in the offseason, personally.
"I'm ready to go. I'm really locked in on what I want to do," Cora added. "There's just some things you take [personally]. Others, you just brush away. I think there's a lot of things that happened in the offseason that made me go, 'OK, this is how it goes? Then let me go out there and do my thing.'"
Even though Cora didn't expand on his personal motivation entering the 2023 campaign, it was an eventful offseason for the Sox skipper. Earlier this winter, Cora once again found himself tied back to the Houston Astros' sign-stealing scandal in 2017.
Even though Cora's role in Houston's cheating scheme has been profiled extensively, Evan Drellich's book, "Winning Fixes Everything: How Baseball's Brightest Minds Created Sports' Biggest Mess" reported additional details that painted Cora in a negative light.
"Around their new team, Cora and Craig Bjornson — the former Astros bullpen coach who took the same role in Boston — would occasionally talk about the Astros' sign-stealing from 2017, even brag, sometimes in a late-night setting," Drellich wrote.
"'Especially when they started drinking,' a member of the Red Sox added. 'We stole that [expletive] World Series,' Cora would say, and his comments would shock some people."
Throughout the spring, Cora has not spent much time discussing Drellich's book.
"I'm not here to talk about a book," Cora said last month, per Cotillo. "That's the last thing I want to do.
"I've been talking about this book, this whole situation, for three years," he said. "I've been very open about it. So my focus is on next year. Obviously, the timing of this is kind of awkward, but it is what it is. I mentioned a few years ago, you know that there's gonna be books, and there's gonna be stories, maybe Netflix in a few years like Meghan [Markle] and Harry. But as of now, I don't want to comment. My focus is on the Red Sox, my family and to keep moving forward."
Beyond the looming shadow of the Astros scandal, Cora also has plenty to prove when it comes to turning around a Red Sox roster with newcomers sprinkled across the depth chart.
Cora, who is 362-286 (.559) in his four seasons with Boston, has missed the postseason twice during his time with the Sox. The other two campaigns, he led Boston to a World Series title and a run to the ALCS.
The 47-year-old manager will be looking to orchestrate another unexpected postseason push this summer.
"There's a lot of reasons out there that I can go out there and do my job the way I know I can do it," Cora said Tuesday. "It's not that last year I didn't do it, just plain and simple, we sucked. But if I needed a reminder that you've got to keep pushing the same way you've always done it, there were a few reminders in the offseason of that."
Newsletter Signup
Stay up to date on all the latest news from Boston.com