Red Sox
Poor command on the mound dooms Corey Kluber, Red Sox in frustrating season-opening loss
"A lot of traffic, right? We got to be better at that."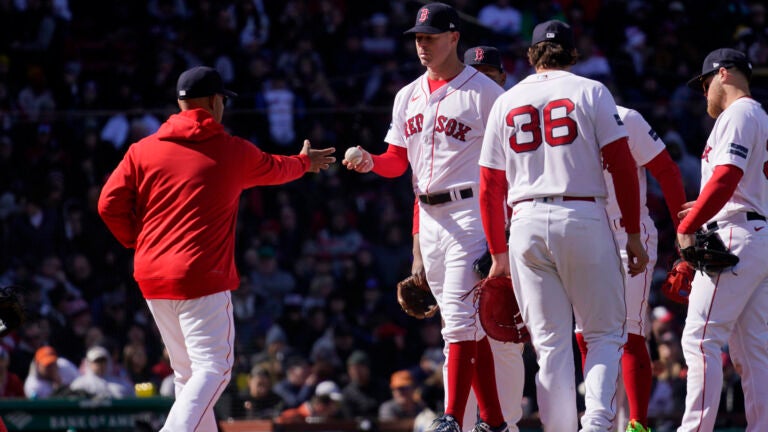 The Red Sox found themselves back in the team record books during Thursday's season opener against the Orioles.
Just not the good records.
Despite a spirited comeback in the later innings, the Red Sox were unable to climb out of a steep, six-run deficit during their 10-9 loss to the Orioles at Fenway Park.
Before Boston's bats started doing damage, Baltimore's lead ballooned in the early innings due to a lack of command from Corey Kluber and the Sox bullpen.
In total, Boston relinquished nine walks during Thursday's loss, which stands as the most surrendered in a season opener since 1966.
"Too many walks. A lot of traffic, right?" Alex Cora said postgame. "We got to be better at that."
Even though the 36-year-old Kluber's game has dipped from his peak years in Cleveland, the righty's command has rarely been in question over the years.
But after walking four batters just once in each of the last two seasons, Kluber handed four Orioles a free path to first base on Thursday. Just 48 of the 80 pitches he threw against Baltimore were called for strikes.
"Corey, he walked four guys, but then in the middle of the game we felt like we had a chance and we got to do a better job holding them down," Cora said. "Nine walks as a team, we've been talking about throwing strikes and attacking the zone. … Not great, we have to be better in that aspect."
Things weren't much better after Kluber was lifted in the fourth inning after loading the bases. Cora called on Zack Kelly, who promptly allowed another runner to score off a wild pitch, giving Baltimore a 4-1 lead. He later walked Ryan Mountcastle with the bases juiced, bringing in another run for the O's.
Ryan Brasier didn't stop the bleeding in the following frame. The veteran threw just 16 of his 35 pitches for strikes in the fifth, getting tagged for three runs off of two hits, two walks, and one hit batter.
Kluber's debut on Thursday left a lot to be desired. But Cora isn't letting a four-walk start cloud his lengthy track record of efficient pitching lines over the years.
"He battled," Cora said of Kluber. "We got a matchup there that we didn't like there with the bases loaded, so we took him out. But one of those, that I'm not worried about Kluber throwing strikes. He'll be fine."
Newsletter Signup
Stay up to date on all the latest news from Boston.com