Red Sox
A Red Sox team with everything to prove finally gets its chance to do so
Almost nothing is off the table for the 2023 Red Sox, who will likely hit, but for whom pitching will be a major question.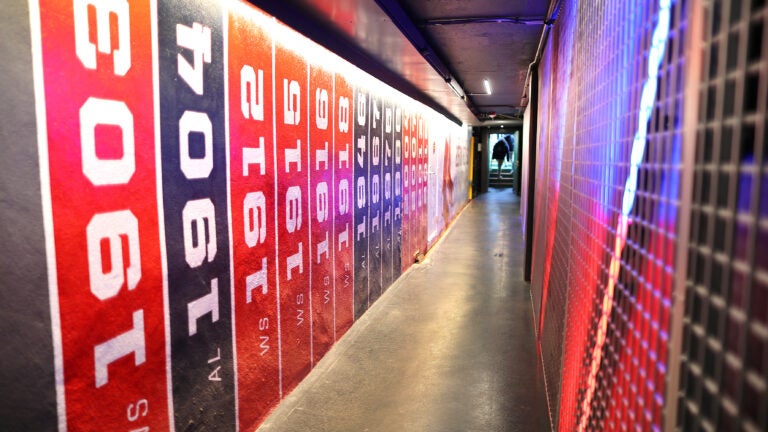 COMMENTARY
Man. Does this Red Sox team ever want to make you eat your words.
The "nobody believed in us" cliche among big-time athletes, always desperate for motivation, probably dates to the first two humanoids racing each other out of the ocean. It certainly reaches James B. Connolly, the track star son of South Boston who sought to have Harvard send him to the 1896 Olympics in Athens.
Harvard said no, reportedly declaring they thought he was trying to scam a free trip to Greece. Connolly quit school, drained his savings to go, and won the triple jump to become the first Olympic champion in 1,500 years. (Now you know why he has a statue.)
Kiké Hernández may need more than one resurgent season to get his own bronze somewhere around Fenway Park. One of those seeking to fill the Red Sox leadership void post Xander Bogaerts, he certainly has not blanched in the face of we vocal critics.
"There's a lot of guys in that locker room that are going to be playing with a chip on their shoulder," he told the Globe this winter. "When you have a lot of guys like that, things can get fun and we can become a dangerous team."
That sentiment goes up and down the roster, and it welcomes us to the season, which will begin chilly and with a side of avocado fries on Thursday against Baltimore.
Alex Verdugo, coming off a step-backward, injury-plagued season, came into camp leaner and reportedly told team ownership he plans to earn himself a new contract by making his first All-Star team.
"I think it's going to be a team that grinds and it's going to be a fun team. At our best, we're going to grind every at-bat," Sox architect Chaim Bloom, he of the 'we're going to do this, it's gonna be awesome' soliloquy, told WBZ earlier this week. "We're going to make you work, make you throw strikes, and we're going to put the ball in play."
It is an old Red Sox identity, but a new one to the Bloom administration. Change is inevitable when you let a dozen free agents walk, and your 40-man roster has 17 new names on it since the end of last season. The Red Sox, to a man, think they got the changes right.
It's been a spring of hearing about better fits. About candidates to lead. About character guys.
About proving me wrong. Fangraphs wrong. The high-70s over-under line on wins wrong. You wrong. (Even if they do owe you for shaming John Henry into the Rafael Devers extension, of course.)
"What it says on paper doesn't equate to a World Series. It's what you have in the clubhouse," Justin Turner told reporters at his January unveiling. "There is a lot of talent in the clubhouse. I think there is a lot of opportunity to have success."
"We'll talk in October. We'll talk in November," Hernández told Chris Rose in February.
"This group knows what we can do," chief booster Alex Cora told the Globe, "but the world doesn't."
That's certainly not new from Cora, for whom the shoulder chip is surgically attached. (Evan Drellich's book reintroducing the Astros scandal certainly didn't soothe it.) Nor does it feel even remotely problematic; a lack of talent and health might crush the 2023 Red Sox, but a lack of drive certainly won't.
It does make me chuckle that the biggest name in the room, face-of-the-franchise Devers, is absent from above because he might have the least swagger of all of them. Also, well, I'm not worried about the offense.
It's a throwback year in Major League Baseball, its rule changes helping push this toward the game so many of us grew up with. And much like Red Sox of our youth, this team will hit because, well, this team always hits.
In the last 20 seasons, the boom-or-bust Red Sox have finished last five times, but been below American League average in runs per game exactly once: 2014. Last year's group was still fourth in the AL at 4.54 runs/game despite having no leadoff hitter, and despite giving Jackie Bradley Jr. and Bobby Dalbec nearly 600 combined at-bats.
Trevor Story's absence until deep into the season will hurt, as obviously will losing Bogaerts, their second-best hitter to Devers last year. But lest we forget J.D. Martinez was underwhelming, in addition to down years for Verdugo and Hernández. Triston Casas shone in the spring. Masataka Yoshida could scarcely have had a better World Baseball Classic. Run scoring won't be the problem.
The pitching will.
The Athletic spoke to a slew of baseball people about the state of starting pitching, and compiled a list of 50 "aces." Boston got one mention: Chris Sale, from whom even the deepest carmine optimist would take the 25 starts and 147 innings he threw in 2019 right now.
Staff projections look like the spaghetti models before a hurricane. If you told me Brayan Bello and Garrett Whitlock were seated atop the rotation as Boston drives into late September chasing a wild card, I'd believe you. James Paxton could have a Michael Wacha 2022-type season ahead. Nick Pivetta could be designated for assignment in July. Tanner Houck could be closing again by August.
Almost nothing is off the table. Certainly not backed by a defense with Story and Bogaerts replaced by a first-time starting shortstop (Hernández), a career backup second baseman (Arroyo) whom all hope rises to the role, a left fielder in the lineup for his bat (Yoshida), a never-a-regular center fielder who's 34 years old (Adam Duvall), and a right fielder who was bad last year in a small sample (Verdugo).
It'll be something to see, that's for sure. And yet there's is something invigorating in that. (Kind of like that 32-degree wind chill forecast for Thursday, which is better hockey weather than the Winter Classic got.)
Ten years ago, an expectation-free team found its identity early and rode it to a third modern-era championship. That, to be clear, is asking a lot of this group. A wild card chase isn't, though. Nor is the usual seven months of ups and downs, the occasional fleeting highs that even the worst teams we've seen produce across the marathon.
This year's going to be something. Maybe it's Yoshida's breakout. Maybe it's Devers ascending to the game's true stratosphere. Maybe it's a two-man outfield sparking the first inside-the-park grand slam in . . . well, in like a year. Maybe it's a debacle.
These Red Sox, to a man, are giddy about the possibilities before them.
And I don't think I'm the only one who's giddy we again get the chance to watch them chase 'em.
Sign up for Red Sox updates⚾
Get breaking news and analysis delivered to your inbox during baseball season.