Red Sox
Alex Cora shares his thoughts on the historic Rafael Devers strikeout
The third baseman became the first batter in history to be struck out for taking too long between pitches.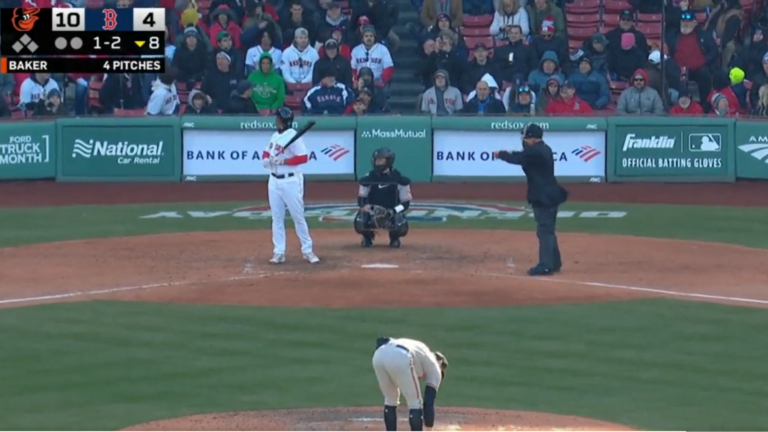 On Thursday afternoon, Rafael Devers became the first player in MLB history to strikeout due to a pitch clock violation.
The Red Sox third baseman was called out on strikes in the bottom of the eighth inning after taking too long to get ready between pitches. There was about 14 seconds between when Devers fouled off a pitch and when he was called out by home plate umpire Lance Barksdale.
After the game, Red Sox manager Alex Cora said there may have been some confusion regarding the time given to players after actions like foul balls or hard swings.
"Obviously he wasn't ready but there's a few things we got towards the end of last week like pitches to the head or big swings and we could reset," Cora said. "I thought he took a big swing the previous one but there are no excuses. We know the rules, they know the rules."
While the out was not consequential at the moment, it turned into a potential sore spot as the game carried on.
When Devers struck out the Red Sox were down 10-4. At the end of the inning that deficit was just three. One inning later, Boston ended the game down by just one run.
There's no guarantee that the third baseman would've helped the team win had he not been called out for the violation, but he wouldn't have hurt his squad's chances.
In his other at-bats, Devers delivered for the Red Sox with a single, a double, and two runs.
Around the rest of the league, the new pitch clock didn't make much noise. In total, 14 pitch clock violations were called, with the majority caused by pitchers taking too long between pitches.
Two other batters were given a strike for taking too much time to get ready, but neither instance was as potentially consequential as the Devers punch-out.
Sign up for Red Sox updates⚾
Get breaking news and analysis delivered to your inbox during baseball season.