Red Sox
The baseball's secondary on Opening Day, and boy is that good news for the 2023 Red Sox
A Red Sox team desperate to prove its doubters wrong did nothing but boost them on Thursday.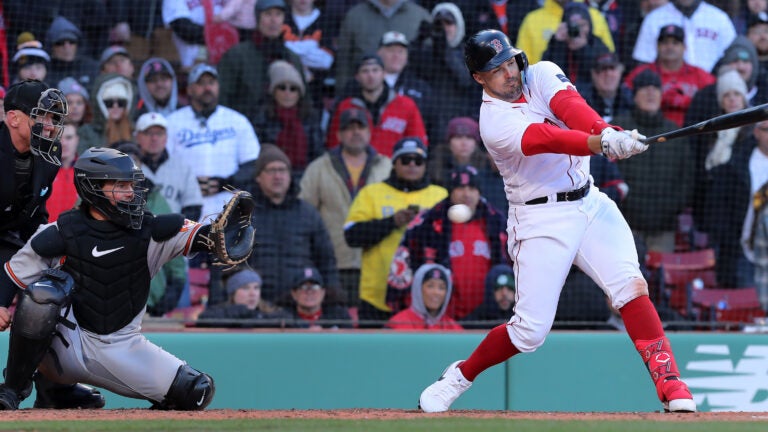 COMMENTARY
"Bad, But Interesting." Pencil it down for the season-in-review streaming blurb until we have evidence to the contrary.
Which, thankfully, can start coming Saturday against an Orioles team that looked just about as gruesome as the Red Sox did Thursday.
"It wasn't a great game," Red Sox manager Alex Cora told reporters after a 10-9 loss that spent most of the day a blowout. "We've got to be better."
For one day, a major leaguer can be just about anything. On April 24, 1946, in front of Fenway Park's largest weekday crowd ever to that point, Joe DiMaggio went 0 for 6 and Ted Williams grounded into three double plays. A decade later, with Williams watching from the bench, a rookie named Norm Zauchin — playing what would be his only full season, in the stead of the dying Harry Agganis — came within about six feet of a four-homer game the Red Sox franchise has still never had.
And as baseball days go, few have the baseball further shunted to the sidelight than No. 1. Opening Days are for giant flags and flyovers. For wondering whether maybe we ought to still be watching games in Fort Myers. (That blustery, 38-degree first pitch reminded of the time David Price couldn't feel his fingers even before everyone pitched like they couldn't.)
They're for going, "Oh, hey! Dana Barros and Shawn Thornton!" (Remind me later to figure out how many enforcers end up the Chief Revenue Officer of an NHL team.) For spending too much on a ticket you could get for half the price come Game No. 2, 3, 4 . . .
It's a good day to revel in the sport in full, even if that's just a thinly veiled excuse to not dwell on a 26-hit, 12-walk, 3-error, 3-HBP bonanza. (Which would've been at least an hour longer than the 3:10 it was if played a year ago under the old rules.)
Shohei Ohtani threw six scoreless innings and struck out 10 calling his own pitches from a PitchCom tucked in his jersey. He memorized the buttons so he could input them without looking, because of course he did. And the Angels lost, because of course they did.
In the Bronx, 19 of the first 24 outs in the Yankees' shutout of the Giants were strikeouts. Gerrit Cole and Logan Webb each went six innings, fanning 23 between them and untroubled by the lack of defensive shifts. Webb also gave up a 422-foot homer on Aaron Judge's first real swing of 2023, the perfect start to an arc of Yankee fan euphoria that will be deeply satisfying when they lose to the Astros again.
The Pirates and Reds each embraced the idea their youth will be the end of decades in the baseball wilderness. Hunter Greene threw 100 miles per hour 48 times as a 23-year-old starting Opening Day, and Oneil Cruz blasted one of them 425 feet for victorious Pittsburgh.
The Rangers and Phillies staged a classic pitchers duel turned bust, Jacob deGrom and Aaron Nola both gone by the fourth in an 18-run slugfest.
The Cubs, who preached they'd play the sort of smart, fun baseball that the Red Sox have also promised, turned two double plays, went first-to-third in a key situation to aid a four-run rally, and pitched a shutout to beat the Brewers. See? It can happen!
Toronto scored their requisite bunch of runs. Tampa scored their requisite few, and won anyway because, well, Rays. Xander Bogaerts opened his Padres career double, double, single, even if his big-money teammates mustered just four hits beyond him.
And listen, it could be worse. All-world Max Fried strained his hamstring in Atlanta's win at Washington. The Mets announced Justin Verlander has a strained side, just the sort of injury that can linger even within a franchise other than the Mets, who have never had a malady be less serious than first reported.
But good grief. Winter-long punching bag Ryan Brasier hitting the first batter he faced, walking two others, and giving up three stolen bases to turn a three-run game into a six . . . the scriptwriters who penned a perfect World Baseball Classic couldn't have crafted anything less inspiring.
The Red Sox hit. They always hit. They did not pitch a whit. Corey Kluber, again noting 38 degrees is not great feel-for-the-baseball weather, threw just 48 of 80 pitches for strikes. Zack Kelly, on his first Opening Day roster, was 12 for 22. Then came Brasier. Then came Kaleb Ort, who was in the zone but tagged for four hits and the last of Baltimore's five stolen bases.
Even the good news was tinged. Alex Verdugo had a double and a triple, but also had Kevin Youkilis chastising him for less-than-alert baserunning in the late-inning comeback. Adam Duvall ripped a two-RBI single off the Monster in the fourth, but on a meatball that felt like it could've been a three-RBI shot on Lansdowne.
We needn't belabor it, because I suspect you have as much desire to read it as I do to write it. Frankly, I can't believe you got this far. The team desperate to prove its doubters wrong did nothing but boost them on Thursday, outside of an Orioles-aided late-inning comeback that felt a lot like the everybody's-in-the-playoff-race spirit Rob Manfred's sport has championed in recent years.
It was still nice to be back. It's one day.
May the next 160-odd not challenge the idea that what we learned on Thursday was all we need to know about the 2023 Red Sox.
Sign up for Red Sox updates⚾
Get breaking news and analysis delivered to your inbox during baseball season.