Red Sox
Here's our annual look at the top statistical player comps for each veteran member of the 2023 Red Sox
Is Rafael Devers set to be the next Scott Rolen or will he turn into David Wright?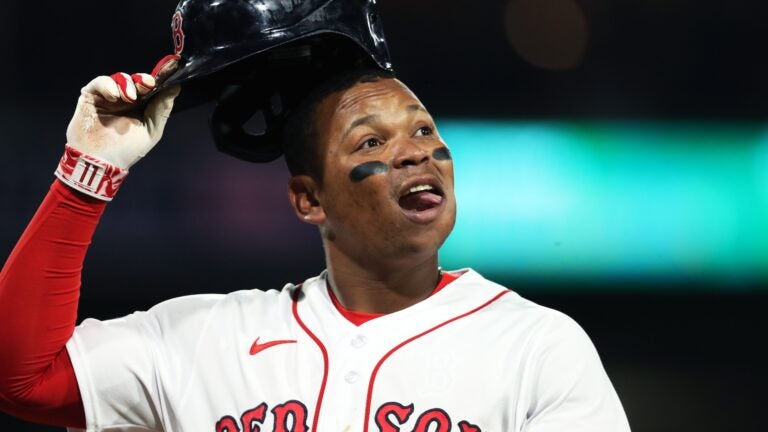 What would you say to a Red Sox lineup that included Coco Crisp, Ron Kittle, and Eric Chavez? Or a pitching staff featuring Stephen Strasberg and Dazzy Vance, with Craig Kimbrel and Hideki Okajima coming out of the bullpen?
You'd say, "Man, I knew Chaim Bloom turned things over, but the Sox are more doomed than I thought. Is this some analytics thing I don't understand? Most of those guys are retired, the ones still playing aren't very good, and Vance died 62 years ago."
To which I paraphrase "Major League" and say, "Cross him off, then."
Fortunately, this isn't a literal exercise. It's our annual look at the Red Sox roster through the prism of their most similar players in baseball history through their current age, per a formula developed by Bill James in the 1980s and readily available on each player's baseball-reference.com page.
It's more of a fun exercise than one designed to offer many insights, though sometimes it offers insights by comparisons into a player's career trajectory and the overall shape and quality of the Red Sox roster.
Let's get to it. Here's a look at the top statistical player comp for each veteran member of the 2023 Red Sox.
STARTING LINEUP
Alex Verdugo
Comps through age 26: Coco Crisp, Danny Litwhiler, Tito Francona
The irresistible comparison for Verdugo during his two full seasons with the Red Sox has been Andrew Benintendi, his direct predecessor in left field. (Verdugo has moved to right this year, which should be an adventure.) But it's another former Red Sox outfielder who lands as his top statistical comp, and Crisp is an intriguing name. He's not stylistically similar to Verdugo per se — Crisp was a sensational defensive outfielder in his three seasons with the Sox (2006-08) before Jacoby Ellsbury bumped him aside, and he stole 309 bases in a 15-year career. Verdugo should be a better hitter than Crisp, who had a career .265/.327/.402 slash line. He should strive to contribute as much overall.
Rafael Devers
Comps through age 25: Eric Chavez, Ryan Zimmerman, Bob Horner
The only difference between this year's top three for Devers and last season's is Horner, the Braves slugger who bounded from Arizona State straight to the major leagues in 1978, and Nationals fan favorite Zimmerman switching spots. Devers's top 10 is encouraging in some ways. Hall of Famers Scott Rolen (5) and Ron Santo (10) appear on his list, as does contemporary potential Hall of Famer Nolan Arenado (9). But it's concerning in another way. It's populated with peaked early/got hurt types such as David Wright (4), Evan Longoria (6), and Troy Glaus (7). Devers's list also includes Harlond Clift, who with a name like that couldn't have been a ballplayer, but an actor who, oh, probably portrayed a rapscallion of a love interest for Bette Davis in a series of 1930s films.
Justin Turner
Comps through age 37: Melvin Mora, Casey Blake, Kevin Millar
Turner and Mora — who had some excellent seasons in a 13-year career, including 2004 when he hit 27 homers and led the American League with a .419 on-base percentage — were actually teammates on the 2009 Orioles, for whom the current Red Sox designated hitter made his debut. But the name that pops around here is, of course, Millar, who was a productive hitter and good-natured vocal leader ("Don't let us win tonight … ") for the Red Sox from 2003-05. Millar's career actually ended nine days after his 38th birthday, when he completed the 2009 season with a .223 average and seven homers for the Blue Jays. Aside: Turner's top comp at age 30 was Tim Naehring, an overlooked what-if in Red Sox history.
Masataka Yoshida
Comps through age 28: None, he's new in town.
After Yoshida went 2 for 4 with a run and an RBI on Opening Day, I tossed out a question on Twitter, asking fans to project his final stats. I'd say the average of the 80-something responses was a .295-ish batting average, 22 or so home runs, roughly 90 RBIs, and a bushel of walks (I believe 80 walks fit in a bushel, but I'll have to double check). Optimistic? No, realistic. He hit 21 home runs and drove in 72 runs in each of the last two seasons for the Orix Buffaloes in Nippon Professional Baseball, so perhaps the run production will be less than anticipated. But he's clearly a polished offensive player. I see a young Mike Greenwell, who averaged 20 homers, 104 RBIs, 61 walks, 39 strikeouts, and averaged .326/.404/.547 in his first two full seasons (1987-88).
Adam Duvall
Comps through age 33: Ron Kittle, Russell Branyan, Brandon Moss
Got a chuckle when typing Duvall's name into baseball-reference's search and it tried to autofill former Reds and White Sox slugger/whiffer/walker Adam Dunn's name. Dunn was the extreme version of his fellow Adam D., seeming to homer, strike out, or walk in virtually every plate appearance. Duvall doesn't walk much — he's averaged 40 per 162 games in his career — but he will rack up the homers and whiffs. Two seasons ago, he hit 38 home runs, drove in a National League-best 113 runs, and struck out 175 times. As for his actual comps, Kittle, who hit 35 homers as a rookie with the 1983 White Sox and may have led my foolish 13-year-old self to "invest" in too many of his rookie cards, is a logical No. 1. But really, Duvall is supposed to be this year's Hunter Renfroe, right?
Triston Casas
Comps through age 23: None, since he's a rookie.
I've become a big believer in Casas, whose eventual ceiling could be Adrian Gonzalez without the tiresome personality. Casas, mostly because of injuries, never hit more than 20 home runs in a season in the minors (neither did Gonzalez, for the record). But his raw power is apparent, and he does have six home runs in 113 career big league plate appearances at this writing. Casas's career slash line in four seasons in the minors is .269/.374/.485. The hunch here is that he comes quite close to those percentages as a rookie and has a season similar to, oh, Gonzalez's 2015 season with the Dodgers (.275/.350/.480, 28 home runs).
Christian Arroyo
Comps through age 27: Chris Nelson, Bobby Morgan, David Bote
That's an interesting if hardly inspiring array of comparables. Nelson, the ninth overall pick in the 2004 draft by the Rockies, went .301/.352/.458 with nine homers for Colorado in 2012, but played just 91 major league games after that season. Morgan played for a handful of NL teams in the 1950s and hit 14 homers for the '54 Phillies. Bote is a utility player for the Cubs. If Arroyo, who has never played more than 87 games in a season, can stay healthy, his comps will feature different names next year.
Reese McGuire
Comps through age 27: Charlie Berry, Jerry Willard, Nelson Santovania
Not exactly inspiring company. Berry played for the Red Sox from 1928-32, hitting 14 homers with a .711 OPS. Willard, the Indians' No. 1 prospect in 1984 per Baseball America, hit .249 with 25 homers over eight seasons. Santovania played mostly for the Expos, who should still exist. McGuire might be a reliable backup, especially if his pitchers give him a chance to throw out a base stealer once in a while, but this could be the weakest position on the Sox roster.
Kiké Hernández
Comps through age 30: Trevor Plouffe, Mike Pagliarulo, Jackie Bradley Jr.
Figured Hernandez might end up with a trio of super-utility types, but instead he got two low-average, good-power third basemen and his predecessor in center field for the Red Sox. Plouffe hit 24 homers for the 2012 Twins; Medford's Pagliarulo clubbed 32 homers for the 1987 Yankees and won a ring with the '91 Twins. Bradley … well, you know him. He's the best defensive center fielder the Red Sox have had in my lifetime, and on the short list of the streakiest hitters witnessed around here. Butch Hobson, who hit 30 homers for the mashing 1977 Red Sox and is this byline's boyhood hero, is No. 4 on Hernandez's list.
STARTING PITCHERS
Chris Sale
Comps through age 33: Stephen Strasberg, Adam Wainwright, Jose Rijo
This is what it looks like when you're one of the most dominating pitchers of your era (I'm still thrown off by the fact that Sale never claimed a Cy Young Award) but have barely pitched for three years — you end up on lists alongside electrifying, injury-plagued pitchers such as Strasberg and Rijo, the hero of the Reds' 1990 World Series champs. Sale's comps have shifted with his recent absences — his most similar pitcher entering 2020 was Cole Hamels.
Corey Kluber
Comps through age 36: Dazzy Vance, Preacher Roe, John Tudor
Vance, a Hall of Famer who was the 1924 NL Most Valuable Player award after going 28-6 with a 2.16 ERA for the Brooklyn Robins, is swell company. It's cool to see Tudor's name too, even though he's stylistically opposite of Kluber; he was one of three talented lefties (along with Bruce Hurst and Bob Ojeda) who came up with the early 1980s Red Sox. Taking age out of the consideration and just looking at career statistical totals, Kluber's most similar pitcher is … Sale.
Nick Pivetta
Comps through age 29: Jason Hammel, Shaun Boskie, Brian Bannister
Pivetta's inspired performance down the stretch and in the postseason in 2021 has somewhat obscured the fact that he has been a mediocre pitcher (career 5.02 ERA, 4.47 with the Sox) at best for most of his career. That three-pack of uninspiring comps, which includes Bannister, the Red Sox' former vice president of pitching development, confirms it.
Garrett Whitlock
Comps through age 26: Eric Show, Pat Neshek, Mychal Givens
Whitlock's comps are all over the place, in part because he has had an unconventional start to his career, first as a relief ace, and now as a starter. Show had some decent years as a starter in a 10-year run with the Padres. Neshek was a Frisbee-chucking reliever for 14 seasons. Givens throws smoke but doesn't always know where it's going.
Tanner Houck
Comps through age 26: Jack Ferry, Hersh Freeman, Chad Green
Houck, like Whitlock, is another tough one to gauge because he's flipped around from the rotation to the bullpen. Factoid noticed while perusing his baseball-reference page: He was taken by the Red Sox 24th overall in the 2017 draft, eight picks before the Reds selected Jeter Downs. That name sounds vaguely familiar.
James Paxton
Comps through age 33: Kenta Maeda, Hyun Jin Ryu, Chris Young
He's like the discount-brand version of Sale, the Hydrox to his Oreos if you will. Paxton was once one of the better lefthanders in the league, going 11-6 with 208 strikeouts in 161⅓ innings for the 2018 Mariners, but he's pitched six games since the end of the 2019 season. Want some hope? His most similar pitcher overall is Carlos Rodon.
Brayan Bello
Comps through age 23: No comps, and the one that everyone is tempted to make isn't fair.
Other than Yoshida and maybe Casas, the talented righthander is the most intriguing player on the Red Sox roster. Just. Stay. Healthy.
RELIEF PITCHERS
Kenley Jansen
Comps through age 34: Craig Kimbrel, Jonathan Papelbon, Mariano Rivera.
Go ahead, find better company among closers than that. Any time a pitcher's numbers align with Rivera's, he's doing something extremely right. I've never really considered it until now, but Jansen, who needs nine saves for 400, has a legitimate Hall of Fame case. Nos. 4 and 5 on his list are Cooperstown enshrinee Trevor Hoffman and Billy Wagner, who is trending toward joining him.
Chris Martin
Comps through age 36: Bobby Tiefenaur, Yoshihisa Hirano, Chad Fox
I get itchy seeing Fox's name on this list. He was the adventure of a lifetime on Opening Day 2003 when he gave up a walkoff home run to Tampa Bay's Carl Crawford, getting the maligned "closer by committee" off to a rough start.
Richard Bleier
Comps through age 35: Hideki Okajima, Caleb Thielbar, Joey Eischen
I'll acknowledge that I didn't know much about Bleier, an eight-year veteran who broke in with the Yankees at age 29, when the Red Sox acquired him from the Marlins for Matt Barnes in February. But anyone whose top comp is Okajima, the easygoing setup man for the 2007 World Series champs, is off to a good start with me.
Ryan Brasier
Comps through age 34: Chris Martin, Toby Borland, Joe Nelson
Interesting to see him matched up with new teammate Martin, whose career blossomed after age 34. Scott Atchison, who had a 3.18 ERA in 102 games for the Red Sox from 2010-12, is 10th on Brasier's list. I think I'd rather have Atchison on this year's roster.
Joely Rodriguez
Comps through age 30: Randy Choate, Dennis Kinney, Randy Niemann
Choate was a quintessential lefty specialist who lasted 15 years and pitched 672 games in the bigs, so that's not a bad career outcome. Kinney pitched in the first game I ever went to at Fenway, a 9-7 Red Sox win on April 21, 1978. The associations baseball gives us are a treasured gift.
BENCH PLAYERS
Raimel Tapia
Comps through age 28: Billy Sample, Randy Moore, Alvis Woods
Sample was a reliable outfielder for nine seasons with the Rangers, Yankees, and Braves; that's decent company. Tenth on Tapia's list is Maurice Van Robays, which has to be a top-50 baseball name.
Rob Refsnyder
Comps through age 31: Cedric Durst, Don Kelly, Don Lund
I think all Red Sox fans have watched Refsnyder, a valuable, versatile reserve, and said, "Man, is he ever a doppelganger of ol' Cedric Durst."
Other Red Sox players without enough MLB time to receive statistical comps on baseball-reference: Yu Chang, Connor Wong, John Schreiber, Josh Winckowski, Kutter Crawford, Zack Kelly, and Kaleb Ort.