Red Sox
Why the Red Sox are scrapping their laundry-cart celebration after home runs in 2023
"A couple pumps, walk through the dugout, cheer with the boys."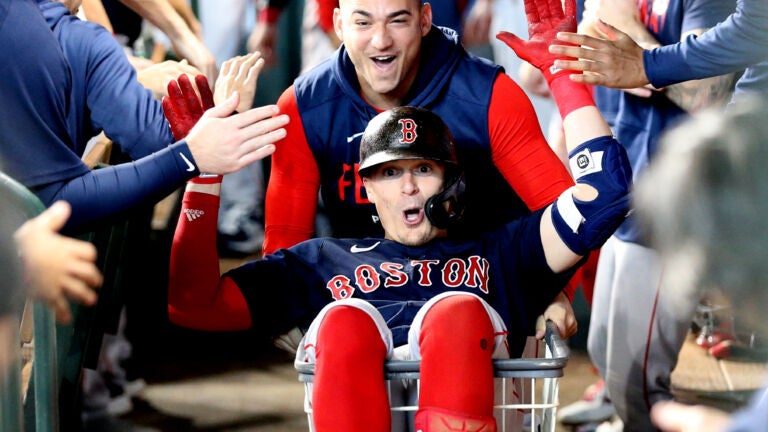 The Red Sox have zig-zagged up and down the AL East standings over the last three seasons.
But one thing that has been a constant for Boston over that stretch has been its unique home-run celebration in the dugout.
Whenever a Sox batter deposited a pitch into the stands, they were usually wheeled around in a laundry cart, earning a bevy of high-fives along the way.
But the Red Sox are changing things up in 2023. The laundry cart is nowhere to be found, with players instead hoisting inflatable dumbbells after rounding the bases.
Speaking to Chris Cotillo of MassLive.com, Christian Arroyo noted that the Red Sox opted to retire the laundry cart routine after Kevin Plawecki — the creator of the home-run celly — left Boston in free agency.
Even though those inflatable dumbbells stand as a tribute to the "Macho Man" moniker that Masataka Yoshida built for himself during his career in Japan, Arroyo told Cotillo that it was Justin Turner who came up with Boston's new tradition following every big fly.
"I think that's [Yoshida's] thing, the whole 'Macho Man,'" Arroyo said. "That's what they're trying to portray him as. So we've got the dumbbells. [Turner] had the novel idea of, 'Let's do it after a homer'. I think after Plawecki moved on, we retired the cart. It had a great run. Lot of fun with it. But I think the dumbbells might be the new thing. … A couple pumps, walk through the dugout, cheer with the boys."
After Yoshida, Rafael Devers, and Triston Casas each took part in the new dugout workout regimen on Monday, the Sox have found themselves mired in a power outage.
As part of a three-game sweep at the hands of the Pirates, the Sox have only scored three runs over their last 26 innings of work, with no home runs to account for.
Newsletter Signup
Stay up to date on all the latest news from Boston.com