Red Sox
Red Sox have flipped the script early, and have home cooking to thank
Thanks to monster hitting numbers at home, the Red Sox are off to a surprisingly hot start.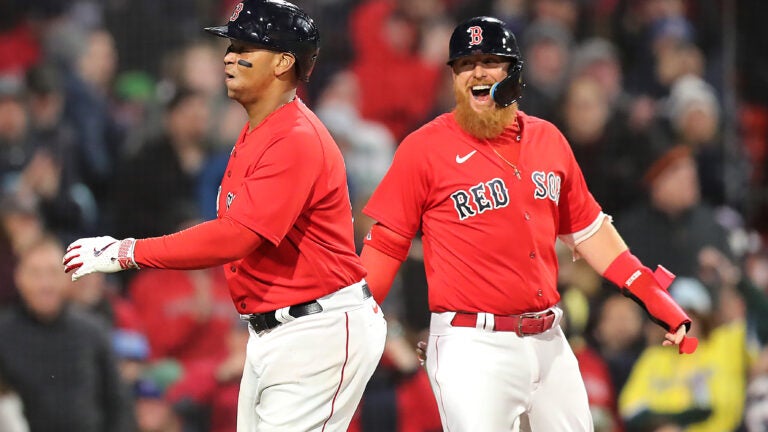 COMMENTARY
Night and day. And I'm not just talking about how Fenway Park pongs between the two thanks to its new rave lighting.
Brayan Bello last faced the Blue Jays Oct. 1 in Ontario. Lacking fastball command, the hosts tagged him for 10 hits in a 10-0 win that immediately followed a 9-0 one, and capped a year which included 28-5, 9-3, 7-2, 6-1 . . . all Red Sox losses to one avian opponent.
"Next year, we have to show up in the division," manager Alex Cora told reporters, "because I've never seen anything like this."
He challenged Alex Verdugo and now might have an All-Star on his hands. We all challenged his franchise after a disappointing slog, a more-disappointing winter . . .
At minimum, we've got a third-place team in baseball's toughest division Friday morning. One that feels like it has some staying power as it begins a road trip through Philadelphia and suburban Atlanta, homes of the last two National League champions.
"I've been saying it from the beginning. We have a good team," Rafael Devers told reporters Thursday night, after the 11-5 capper to a rare four-game sweep of contending Toronto. "[Verdugo] didn't even play today. Guys are getting a lot of timely hits and things are good."
Your 2023 Red Sox are formally feisty. A pair of come-from-behind one-run wins, the former on Verdugo's third walkoff in roughly 60 plate appearances, a five-run pounding against Alek Manoah aided by four Toronto errors, followed by the masterwork.
A thorough undressing of Kevin Gausman, who started six wins against the Red Sox last season and entered Thursday with a 16-inning scoreless streak and 54 strikeouts in 38 2/3 innings.
"The split wasn't getting into the zone as it had been," Blue Jays manager John Schneider said of Gausman's primary weapon, whose absense left him hammered for 10 hits, nine hard-hit balls (per Baseball Savant), and eight runs in just 3 1/3 innings. "A lack of command on some of the fastballs, but they were laying off of it."
Gausman's split is his put-away pitch; he turns to it more than half the time when ahead or with two strikes, the .158 batting average against it and 50 percent whiff rate on swings at it more than explaining why. Even Thursday, Sox hitters missed it on six of 14 swings.
But of the 21 hitters Gausman faced Thursday, he got ahead 0-1 to just three, throwing 14 first-pitch balls (he missed on 6 of 11 fastballs) and giving up four first-pitch hits, including the first-inning home run from Masataka Yoshida — arguably the hottest hitter in the sport.
And the splits the Sox didn't miss produced five hits. Yoshida's hard grounder that Cavan Biggio missed was a middle-middle miss, and former Jays Raimel Tapia and Reese McGuire both hit ones that were six inches outside.
How well is McGuire living, by the by? His two hits Thursday were on the aforementioned pitch six inches outside and a bat-shattering sinker six inches inside. A .474 batting average on balls in play for a hitter who, according to Fangraphs, has the fifth-lowest hard-hit rate in baseball among players with 50 plate appearances. We started calling Sandy León a Hall of Famer for less.
It's a bad night for a star, and a good night for his opposition, which is building early confidence and playing that way. Tapia's hustle double in the fourth. Five stolen bases. What easily could've been a two-homer night from Devers, the roster's only superstar, but hardly the only player with growing swagger.
At home, they are a force to be reckoned with, 13-7 and scoring more than six runs per game. First in the majors in home batting average (.297), solidly ahead of the rampaging Rays in weighted runs created (129 vs. 111), just behind them in home OPS. And the opposition hasn't been pushovers: Cleveland and Toronto each made last year's playoffs, Minnesota leads the AL Central, and Baltimore and Pittsburgh have each started well.
That has not continued away from Fenway. Boston is 6-7 after trips through Detroit, Milwaukee, Baltimore, and Tampa. The batting average is 60 points lower (22nd among the 30 teams at .237) and the wRC some 40 percent below league average at 61 (20th of 30), albeit with the eighth-best road OPS (.738).
For now, it's just interesting. We're talking about a sliver of a season, and a difference which seems largely explained by the .339 batting average on balls in play at Fenway and .268 everywhere else. (League average is .298 as of Friday morning.)
It's not unique, either. San Diego is fifth in wRC at home and 27th on the road. Heck, Toronto's fourth on the road and 24th at the revamped Rogers Centre, which has gone from a league-average run scoring environment last season to tied for the worst early in 2023.
We say it all the time: Nothing matters, all of it counts. This homestand was an emphatic statement of purpose for the Red Sox, six wins against legitimate opponents. More than that, it was some traction in the AL East that hadn't yet developed.
The Sox won their series with Baltimore to open the year . . . with an asterisk. They played well in St. Petersburg against the undefeated Rays, but they got swept. Before this homestand, they lost two of three at Camden Yards. This was something, and it was something against a team that dominated them a year ago like few in history have.
"It seemed like we never had an answer," Cora told reporters on Thursday.
They delivered one this week. They take that feeling to Philadelphia for Bryce Harper's return home, then to Truist Park and baseball-obliterating Ronald Acuña Jr.
It's going to be fun to watch.
And, despite a winter and early March that fed whispers to the contrary, the team in the Boston road grays appears very capable of contributing to the fun into the summertime.
Sign up for Red Sox updates⚾
Get breaking news and analysis delivered to your inbox during baseball season.