Red Sox
These 6 Red Sox are fueling the team's surge up AL East standings
After a sluggish start, Boston is now 14-6 since April 14, the second-best record in baseball over that stretch.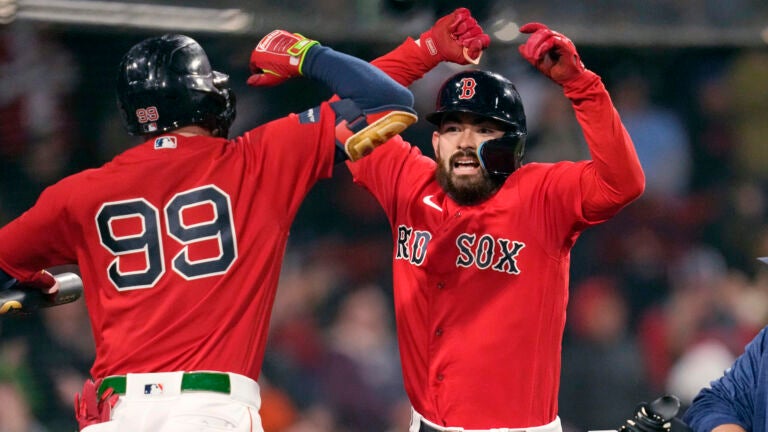 Don't look now, but the Red Sox are on a roll.
Following Boston's 11-5 victory over the Blue Jays on Thursday, the Sox have now won six games in a row and sit third in the AL East standings at 19-14.
After a sluggish start, Boston is 14-6 since April 14, the second-best record in baseball over that stretch.
And even though Boston's starting rotation has left a lot to be desired, the Red Sox bats have delivered.
Adam Duvall and Trevor Story remain on the mend, but the Sox are still second in MLB in runs (195) and team batting average (.274), and third in OPS (.808).
So what exactly is fueling Boston's recent resurgence? It's been an intriguing mix of newcomers hitting the ground running, lineup regulars elevating their game, and a slew of youngsters taking major steps forward.
Here are six Red Sox that fans should get to know with the summer on the horizon.
Alex Verdugo, OF
After Boston's disappointing 2022 season wrapped, Alex Cora had stern words for Alex Verdugo, stressing that the 26-year-old outfielder was reaching a critical stage in terms of his development. In Cora's eyes, Verdugo had far more to give.
"He's getting to that area in his career of who he's going to be," Cora said of Verdugo back in October, per John Tomase of NBC Sports Boston. "We talked about this with Benny a few years ago and you see the player he has become. He has become a better defender, a good hitter, and I think Verdugo has a chance to hit for power, hit for average, but he can impact the game running the bases and playing defense."
So far, Verdugo has answered Cora's challenge.
Since slotting into the leadoff spot in Boston's lineup, Verdugo has been a game-changer — batting .315 with 15 extra-base hits. He's already slugged five home runs in just over a month of action. He needs just eight more dingers to match his previous career high of 13.
Verdugo has also delivered in the clutch multiple times for a Boston roster that leads baseball in comeback wins (13). With his walk-off homer on Monday night against Toronto, Verdugo already has three game-winning hits through his first 32 games of the season.
With Verdugo setting the table at the top of Boston's lineup and injecting some much-needed spark on the field and in the dugout, the outfielder is playing at an All-Star level so far in 2023.
Connor Wong, C
Once considered a throw-in in Boston's blockbuster deal with the Dodgers that centered around Mookie Betts, Wong has emerged as an impact player both at the plate and behind the dish this season.
The 26-year-old catcher leapfrogged Jorge Alfaro in spring training as Boston's backup battery mate next to Reese McGuire and hasn't looked back.
Wong's arm and defensive capabilities have already paid dividends this season, opening the door for more reps over McGuire. As noted by Red Sox Stats on Twitter, Wong is the first player in MLB this season to reach +1.0 defensive WAR on the season, and has already posted 7 defensive runs saved over 174 innings of work.
But Wong is also mashing with the bat, especially over the last few weeks. In his last 11 games, Wong is batting .400 with three doubles, three home runs, eight RBI and a 1.175 OPS. He was the hero in Boston's 7-6 win over Toronto on Tuesday, going 4-for-4 at the plate with two solo shots.
Masataka Yoshida, OF
It took some time for Boston's top free-agent pickup to get adjusted to major-league pitching, as expected.
Through his first 13 games in MLB, Yoshida batted .167 with just eight hits.
But it didn't take long for the poised batter to adjust and begin tormenting opponents, as expected.
Over his last 14 games, Yoshida is batting .446 with five home runs and 18 RBI. He is in the midst of a 14-game hitting streak, and has only struck out 11 times in 104 at-bats.
His pop at the plate has been a welcome sign, but Yoshida has lived up to the early hype as far as his reputation as a refined and effective hitter. Yoshida's spray chart this season is already littered with opposite-field slices off the Green Monster and sharp liners down the third-base line.
Jarren Duran, OF
What a difference a year makes.
After a disappointing 2022 season both at the plate and in the outfield, an extended stay in Worcester seemed destined for Duran in 2023. But after Duvall broke his wrist just a week into the season, Duran earned another shot up in the big leagues.
So far, there hasn't been much of a drop-off in terms of production at the plate.
Duran's speed has usually been his calling card. But his patient and composed approach at the plate has been night and day from his previous stints with Boston.
In 17 games with Boston, Duran is batting .417 with two home runs, 10 doubles, 13 RBI and a 1.139 OPS. Once Duvall does return to the lineup, the Sox suddenly have a tough call to make when it comes to a crowded outfield between him, Duran, Verdugo, and Yoshida.
Josh Winckowski, P
One of the returns in Boston's deal with the Royals for Andrew Benintendi, Winckowski has been a steadying presence in the Sox bullpen so far this season.
With Kenley Jansen (also impressive in 2023 with a 1.04 ERA and six saves) sidelined for a few days with a back issue, Winckowski stepped up earlier in this Toronto series.
Despite logging two innings in Monday's win, Winckowski strolled out of the bullpen the following day and recorded a 1-2-3 ninth inning for his first career save.
In 12 appearances so far this season, Winckowski holds a 1.61 ERA over 22.1 innings of work.
Between Jansen, Winckowski and John Schreiber (2.30 ERA over 16 appearances), the Sox haven't had much of an issue in the late innings so far this season.
Enmanuel Valdéz, 2B
Acquired by Boston last August as part of a deal with Houston involving Christian Vazquez, Valdez has provided plenty of offense during his short time up in the big leagues.
In nine games with Boston, Valdez is batting .313 with three doubles, one home run and five RBI. Even though the Red Sox have missed Yu Chang's defensive capabilities at second since the infielder went down with a hand injury, a rotation of Valdez, Christian Arroyo and Kiké Hernandez up the middle should be enough to keep Boston afloat.
Sign up for Red Sox updates⚾
Get breaking news and analysis delivered to your inbox during baseball season.