Red Sox
Red Sox' Kutter Crawford received a big fine following ejection for standoff with Phillies pitcher Matt Strahm
"It's a big one because you're on the IL."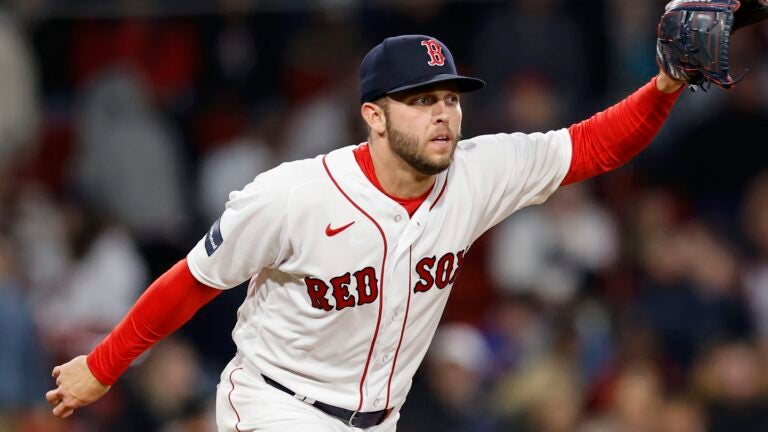 Red Sox pitcher Kutter Crawford is currently on the 15-day injured list, yet he still found a way to get tossed from a game.
Once the national anthem ended ahead of Saturday's Red Sox-Phillies game, Crawford engaged in a standoff with Phillies pitcher Matt Strahm, who pitched for the Red Sox last season and became friends with Crawford during that time.
The two pitchers remained in the standoff for at least a couple of minutes before they were ejected from Saturday's game.
Red Sox manager Alex Cora told reporters Sunday morning that the umpire gave both players a warning, but they remained in their standoff, causing the umpire to toss them.
Even though Crawford isn't on the active roster, fines for players who are on the injured list when they get ejected from a game are heavier than those who are on the active roster.
It's unclear just how big of a fine Crawford received, though Cora quipped "you get crushed" by those fines.
"It's a big one because you're on the IL. I know there's a guy that went to the same school as him that's probably going to take care of that," Cora said, likely alluding to Chris Sale, who's an alum of Florida Gulf Coast University like Crawford.
Strahm, however, is on the Phillies' active roster. It's unknown if Philadelphia planned to use the lefty as it started left-hander Bailey Falter on Saturday. He said that the standoff wasn't planned.
"Anthem was over and I looked across and Kutter kind of gave me a grin and I know exactly what that grin meant so just stood there," Strahm told WEEI's Rob Bradford. "There was zero plan on that. Just locked eyes after the anthem and both still had our hat over our heart and neither of us were moving."
When Crawford began the standoff, Strahm said his competitive nature kicked in, but he seemed to have some regrets engaging in it.
"If you know me, you know competition is everything to me so kind of felt like I was being called out right there," Strahm said. "Looking back on it, probably not the wisest decision I've made in my big league career. … I guess I should've known better with how strict they are with pitch clock."
Strahm, who pitched out of the bullpen for the Red Sox last season, has primarily been used as a starter with the Phillies this season. Six of his seven appearances this season have been as a starter, going 2-3 with a 3.38 ERA in 26 2/3 innings pitched.
With Strahm already pitching more than half of the innings he pitched last season, the Phillies announced earlier in the week that they were moving the lefty back to the bullpen.
Sign up for Red Sox updates⚾
Get breaking news and analysis delivered to your inbox during baseball season.