Red Sox
Kenley Jansen celebrates 400th save with former Dodger teammates
Kiké Hernandez and Justin Turner were present for many of Jansen's 350 saves with the Dodgers and were there for his 400th on Wednesday night.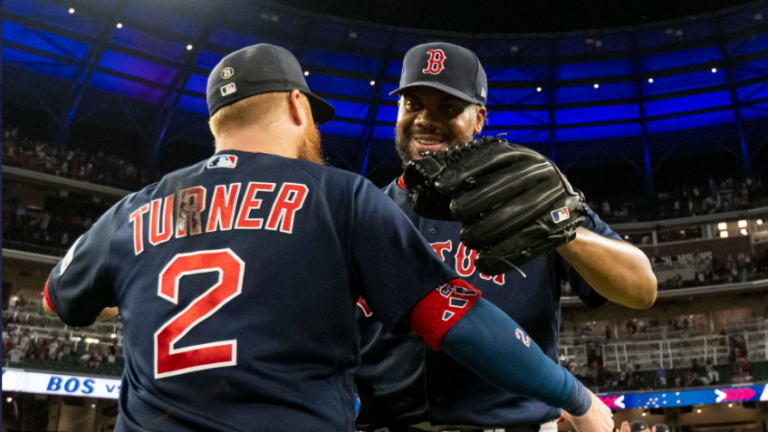 Kenley Jansen made history Wednesday night, becoming just the seventh player in major league history to earn 400 career saves.
The save was his ninth of the season and it dropped his ERA to 0.77 with the Red Sox.
Afterwards, Jansen was able to celebrate the achievement with two of his longtime Dodger teammates.
The 35-year-old spent the first 12 years of his career with Los Angeles, recording 350 saves in his time there.
Kiké Hernandez and Justin Turner were present for many of those outings with the Dodgers. Hernandez played with Jansen from 2014 until 2020, and Turner was his teammate from 2014 until 2021.
Now, the trio are back together on the Red Sox, after Turner and Jansen were added in the offseason.
Following the last out, Jansen embraced them both.
In a postgame interview, the closer talked about what the moment meant to him.
"Blood sweat and tears man, we went through it all [together]," Jansen said. "We went through crying, through winning the World Series together, through everything man. We built something very special in LA and here we are today, wearing a Red Sox uniform, it can't be better than [Justin Turner] being behind me, playing defense, and getting my 400th save."
Jansen also mentioned how appreciative he was to record the milestone as a member of the Red Sox.
"It's a pleasure, it's an honor, to do it with this organization," Jansen said. "This franchise is nothing but success and we're going to continue to do that. That's why I'm here and that's why we're all here."
After the game, a franchise legend in Pedro Martinez was quick to congratulate Jansen on his achievement.
During the outing, Jansen exactly why he was able to reach 400 saves in his career. Against the Braves he dialed up his signature cutter, averaging 97 mph on the pitch and topping out at 98.5.
He allowed just one hard hit ball, forced a pair of flyouts, and struck out his last batter with a tight slider.
Sign up for Red Sox updates⚾
Get breaking news and analysis delivered to your inbox during baseball season.