Red Sox
Justin Turner discussed his departure from the Dodgers, happiness playing for the Red Sox
The offseason recruitment of Turner even reportedly included a text message from Bill Belichick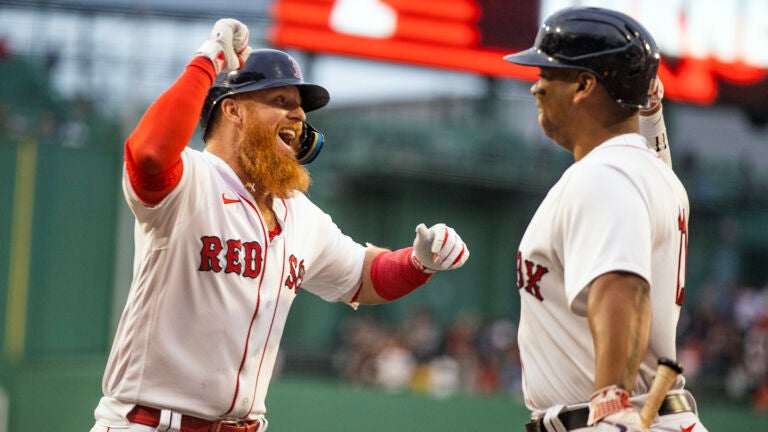 While Justin Turner said he's "extremely happy" as a member of the Red Sox, exactly why his old team didn't want him back remains a mystery.
Turner, 38, spent what has been to this point the best years of his career with the Dodgers. In nine seasons with Los Angeles, he made two All-Star teams, established himself as a clutch hitter, and became a well-liked personality on the team's star-studded roster.
But following the 2022 season, his contract option was declined by the team. Even still, he hoped he might stay with the Dodgers.
In a recent interview with Jorge Castillo of The Los Angeles Times, Turner explained the series of events.
While at then-teammate Chris Taylor's wedding, he found out that the Dodgers were signing J.D. Martinez. It meant that the place on Los Angeles's roster Turner occupied was now gone.
"It's like, 'Damn, it's over,'" Turner recalled. "'That nine-year run's done.'"
Luckily, former Dodgers teammate (and current Red Sox utility player) Kiké Hernández had already been pitching him on potentially signing with Boston.
According to Castillo, the full recruitment campaign from Boston eventually included team management, former players like Dustin Pedroia and Jason Varitek, and even a text from Bill Belichick.
When the news about Martinez joining the Dodgers came out during Taylor's wedding, Turner's path became clear. The next day, he signed a one-year deal with the Red Sox that includes a player-option for 2024.
Months after the fact, Turner still isn't sure why he wasn't able to say with Los Angeles. Still, he said he's happy with where he ended up.
"I have no idea," Turner told Castillo of the reasoning for his Dodgers departure. "No idea. That's not a question for me to answer because other than being extremely happy with where I am and loving all these guys and being a part of it, like, the honest truth is I did not see myself ever playing for another organization for the rest of my career. And that's just the truth."
After a slow start to his Red Sox career (he hit just .259 in April), Turner's average is now up to .280, with a .368 on-base percentage.
Sign up for Red Sox updates⚾
Get breaking news and analysis delivered to your inbox during baseball season.