Red Sox
Why the Red Sox Way of teambuilding might soon feel plenty familiar across baseball
The Red Sox join nearly every other MLB team at this point in the season as a team with playoff hopes, despite not spending this offseason like the Padres.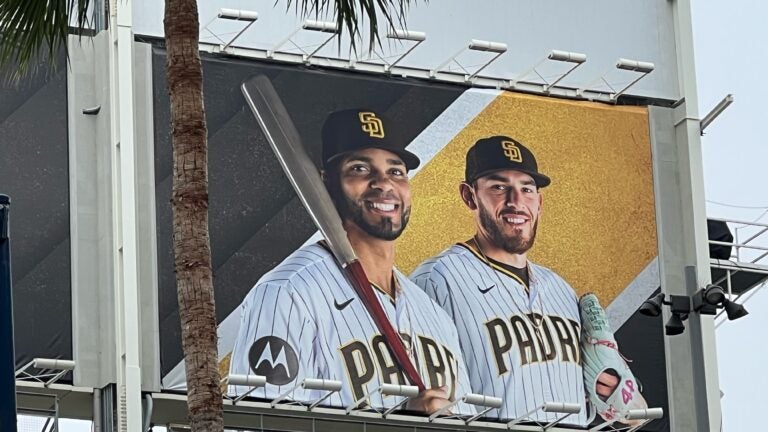 COMMENTARY
We know the argument against what the San Diego Padres have been doing for the last three winters. Intimately.
Xander Bogaerts frankly feels like an old example after the last three weeks.
The Florida Panthers moved to 9-4 in the NHL playoffs at 1:54 a.m. Friday morning, beating Carolina in Game 1 of the Eastern Conference final three hours after it first looked like they did. A .500 team on the road for a six-month regular season, they've won seven straight there, beating two proverbial Stanley Cup favorites and taking an early lead on a third.
The Miami Heat are 10-3 since losing their play-in game to Atlanta on April 11, their worst-in-the-NBA offense during the regular season nearly four points better after deciding to start making 3-pointers. Miami's expected record in the regular season was sub-.500, 19 games worse than the Celtics they just swiped home court from in their Eastern Conference final.
This is the bargain we accept when we commit to caring about sports in America. The best team not only doesn't always win, it usually doesn't win. To the point we tell ourselves that, actually, the Bruins weren't the best team because their last three games matter more than the prior 86.
I feel like too few people understand the correlation between that and the situation we will find ourselves in this weekend, staring at Bogaerts in Padres' brown and yellow, wondering why exactly the guy nobody really wanted to leave did.
"I talk to my guys there all the time, the players and coaches, almost every day. That team will always be a part of me," Bogaerts told the Globe prior to this weekend's three-game Red Sox visit to Petco Park. "But once I could meet with other teams, I saw what they thought of me. I really had no choice in the end."
I'll end that throughline here. We have 72 hours of Bogaerts navelgazing to slog through, and if I'm going to hate-think about something, the time's better spent on the Celtics.
The Red Sox in No. 2's wake are, we can safely say, fun. When I talk to people about them, I get the impression they're better than a lot thought. That surprises me. Being 24-20 is an 88-win pace . . . winning a couple more than .500 is never really out of reach for a competent team builder given a relatively ample budget.
Yes, those elements still exist in your baseball franchise. Even during the "FSG Family" era.
Fourteen come-from-behind wins. Seven five-run innings, which is already halfway to last year's season total from what was a top-10 offense. Alex Verdugo is a quarter of the way to a genuine breakout year. (Until reading Alex Speier's latest on him, I'd largely lost in the team's general defensive crapulence just how good Verdugo's been in right field.) A rotation deep enough, at least for a moment, it can shuttle innings-eater Nick Pivetta to the bullpen.
That the Sox arrive out west with better records than two of the teams they'll face there makes me chuckle, mostly because the one they don't is the Diamondbacks (25-19). A quarter of a regular season is still a small sample size, and those only matter in the playoffs.
Twenty-seven of baseball's 30 teams on Friday morning are within five games of a playoff spot. Nineteen, last of which is the Padres, are within three games. It feels like we've seen a lot, but we haven't seen a thing.
The budding superteam in the Gaslamp District, just 20-24, was called "lost" on Friday morning in the pages of the San Diego Union-Tribune. San Diego welcomes the Red Sox, losers of nine of 11, and with Manny Machado — a new MLS owner, by the by — sporting a broken hand. They're 1-5 against the rival Dodgers, the team they finally solved last October.
There's also a ton of time for their collection of individual stars to find some semblance of cohesion. A lineup with Juan Soto, Fernando Tatis Jr., Bogaerts, and Machado will not hit .226 all year, never mind .196 with runners in scoring position. Those numbers are neck and neck with Oakland, for goodness sakes.
At some point across six months, talent finds its level.
At which point we throw half the league in a pool, wipe the records, and declare whatever chaos ensues as a narrative for all history.
The older I get, the more I hate it. (Which, when you were kvetching like a retiree at age 25, is a heck of a thing.) The concept of the World Series made a ton of sense 100 years ago when you had two genuinely separate leagues, and you put the champion of one against the other.
With each subsequent dilution of that structure — divisions in 1969, wild cards in 1994, additional wild cards in 2012 and 2022 — much has been gained. Playoffs are exciting. They draw attention. They draw money. That's why they exist.
But they inevitably lead to the question of what motivation is there to truly excel. To annually build a Dodgers, who for all their billions and all their 100-win seasons you view as flawed because it's amounted to one championship (and it's the 2020 weirdo one).
The NFL, NBA, and NHL all have deep playoff structures, the NFL feeling like it'd love to deepen theirs every year. But they also have salary caps and salary floors, taking the spending disparities of baseball largely off the table in the face of postseason randomness.
Something like England's Premier League allows teams to spend as much or as little as they want, without any revenue sharing beyond splitting broadcasting rights fees. But that spending directly results in championships because there are no playoffs: 38 games, and the best team gets the giant trophy.
Baseball? The worst of both systems! The Dodgers spent $270 million last season to win 111 games, the Guardians spent $67 million to win 92, and they each lost in the Division Series.
Is the LA Way going to give a franchise more bites of the playoff apple than the Cleveland one? Sure. There isn't no motivation to spend in Major League Baseball. Far from it. The top five spenders all made the playoffs last year.
But what did the Dodgers avoid relative to Cleveland, or San Diego, or Tampa Bay, or Toronto, or Philadelphia? A single three-game series. Hardly the best return on investment.
It's a lot of things, some good, some bad. But chief among them is it's a drag on spending to truly excel the way the Red Sox used to and the way the Mets, Padres, and others of recent vintage have.
Yes, there's something to making the six-month ride as fun as possible. But when the seventh month can invalidate so much of it so quickly, it offers pause.
And it means there will almost always be another Bogaerts, looking weird in someone else's uniform colors, looking forward when so many of us can't stop looking back.
Sign up for Red Sox updates⚾
Get breaking news and analysis delivered to your inbox during baseball season.