Red Sox
'I just feel more normal': Chris Sale pitches fourth straight quality start since making adjustments to his mechanics
Sale has gone 3-0 in his last four starts, posting a 2.30 ERA during that stretch.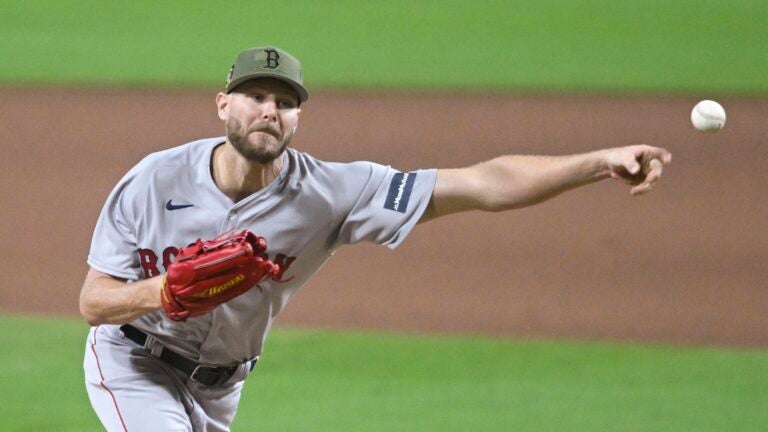 While many Red Sox fans were likely sleeping Saturday night, Chris Sale registered his fourth quality start in as many outings.
The Red Sox' lefty gave up two runs on three hits, a walk, and eight strikeouts over seven innings pitched in a 4-2 win over the San Diego Padres on Saturday.
Sale was in command for much of his outing. The only person to get on base against him through the first four innings was Juan Soto, who hit a solo home run off him in the second. He got into a jam in the fifth when he walked and hit a batter, but got out of it by forcing a lineout and struck out Austin Nola.
It appeared things could've unraveled for Sale in the sixth. He gave up a solo home run to Fernando Tatis Jr. to open the bottom frame, which cut the Red Sox' lead to 4-2. Ha-Seong Kim doubled in the following at-bat, bringing the tying runner to the plate with no outs.
But as the Padres' middle of the lineup came up to plate, Sale was able to get out of the jam again with relative ease. He got Xander Bogaerts to line out to right on the following at-bat. He followed that by striking out Soto in five pitches, getting the slugger to whiff at a slider low and away for the putout. He got out of the inning by striking out Nelson Cruz, getting the right-handed hitter to whiff at three straight sliders low and inside.
Even though Sale was at 98 pitches at that point of the outing, that was all Red Sox manager Alex Cora needed to see to let him pitch the seventh inning.
"He's in a good spot," Cora told reporters. "Early on [in the season], there was a game against the Twins that he went six and a lefty was coming up in the seventh, but I didn't feel comfortable sending him out there. Now you feel good about it, understanding that there's going to be an off day and his next start is Friday.
"We always talk about that F-you attitude. Those three sliders to Nelson, I was like, you know what? This is the game. Go out there. We had Kutter [Crawford] ready just in case."
Cora didn't need to go to Crawford because Sale retired the side in order, recording one last strikeout in the seventh as he threw a season-high 111 pitches. Sale's effort through seven innings allowed the Red Sox' bullpen to have a lighter workload on Saturday too as Chris Martin pitched the eighth and Kenly Jansen closed things out in the ninth.
For Sale, the turning moment of Saturday's game was when he was able to find the zone again following Tatis's sixth-inning home run. He had a seven-pitch battle against Bogaerts and threw three straight strikes to Soto after doing 2-0 in the count.
"Especially after a homer, strike one is the next best pitch," Sale told reporters. "Those were big homers. This place is loud when it gets going. So, no matter what happens, you have to get back on it and throw strikes. The key to getting out of all that is through the strike zone, not around it. That's a heck of a lineup too. So, for me it's just attack, attack, attack. Stay aggressive."
Sale's aggressive mentality got him through Saturday, but it was an adjustment in his mechanics made in late April that has helped him look like his former self as of late. He's 3-0 in his last four starts, posting a 2.30 ERA over 27 1/3 innings pitched. He's given up a total of seven runs on 16 hits, three walks, and 32 strikeouts.
"I feel like I'm trending in a good direction," Sale said of his recent outings. "I have been around too long to feel like I'm on top of a mountain. So I still got a lot of work to do. I know where I'm at. I know what I'm doing."
Sale's recent stretch has seen his fastball move similar to the way it did when he was pitching at a Cy Young candidate level. He threw his fastest pitch in five years two weeks ago against the Phillies.
Sale's four-seam fastball didn't travel at the 98 or 99 mph speed it did on that day in Philadelphia on Saturday, but it still moved pretty fast. The average velocity of the 60 four-seam fastballs Sale threw on Saturday was 95.4 mph and he topped out at 97.6 mph, according to Baseball Savant.
Red Sox shortstop Kiké Hernández told reporters that he thought Sale's fastball was moving faster than that — or it at least looked that way. Regardless, he's happy to see Sale pitching at the level he used to pitch at, especially now that he's on his team.
"He's got everything going for him," Hernández said. "I've been on this team for three years and I haven't played that much behind him. So to see him be the Chris Sale that I saw from afar, that I faced in the World Series in '18 and all those years in the past, it's just a lot of fun and I'm really proud of him because he's had to work his [expletive] off to get to where he's at right now."
Cora's also noticed a change in Sale since the adjustments to his delivery, which has allowed him to use him as a prototypical ace.
"I think since he changed his delivery, I started feeling more comfortable with him," Cora said. "Velo, deception, that's part of it."
And Sale is certainly happy to see the results of those adjustments.
"I just feel more normal," Sale said. "I don't have these beautiful clean mechanics, but when I do the things that I need to do when I hit the spots I need to hit, the end result is going to be much better."
Sign up for Red Sox updates⚾
Get breaking news and analysis delivered to your inbox during baseball season.