Red Sox
Garrett Whitlock has a 'good chance' to return to Red Sox' rotation on Saturday
Whitlock's return means the Red Sox will likely have to shuffle their starting rotation as they might be at full health for the first time this season.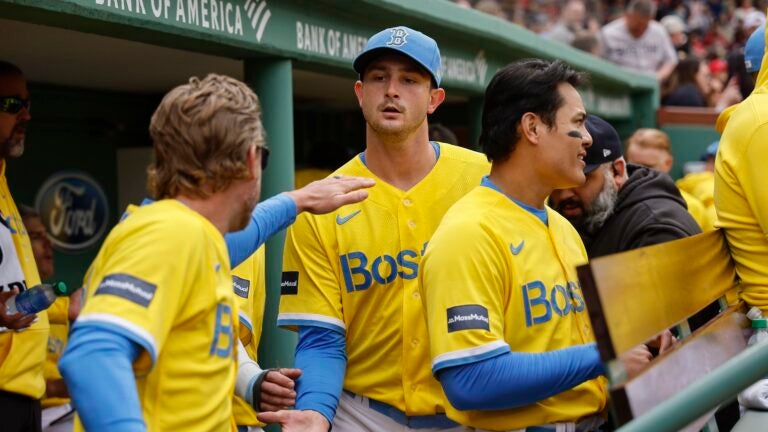 The Red Sox' starting rotation might be at full strength for the first time this season before they finish their nine-game West Coast trip next weekend.
Garrett Whitlock has a "good chance" to start Saturday's game against the Arizona Diamondbacks, Red Sox manager Alex Cora told reporters Sunday.
Whitlock made his final rehab start with Triple-A Worcester earlier Sunday, pitching 4 2/3 scoreless innings as he allowed four hits, one walk, and struck out four hitters. He threw 79 pitches in the effort.
This is the second time this season that Whitlock has had rehab outings. He began the season on the injured list with a hip injury before he was activated on April 11. Just a couple of weeks later though, Whitlock was back on the injured list due to an elbow injury.
In between the two IL stints, Whitlock began his first season as a full-time starting pitcher in the major leagues. The three starts Whitlock made didn't go too well, going 1-2 with a 6.19 ERA. While Whitlock gave up just one run in seven innings in a start against the Angels, he also gave up five runs in five innings or fewer in two separate starts against the Rays and Brewers.
Cora said Saturday that Whitlock has worked on his changeup over his last two rehab outings, believing the pitch might look closer to what it was a couple of seasons ago when Whitlock was one of the best relievers in baseball.
"We like the changeup," Cora said. "I think it got away from him for a while there. It was actually too hard. So we made adjustments. I think he's getting back to the changeup that he used in 2021. If we can get that one, I think we're going to be fine."
The Red Sox have already reshuffled their starting rotation a few times in the first two months of the season due to injuries with Whitlock, Brayan Bello, and James Paxton.
With Whitlock returning, the Red Sox will likely have to reshuffle their rotation again. Bello has settled in after a shaky first two starts to open his season, posting a 2.57 ERA over his last four starts, making it unlikely that he'll get optioned back down to Triple-A again. Paxton has pitched well in his first two starts with the team. He's gone 1-0 with a 2.45 ERA in 11 innings pitched. Chris Sale isn't going anywhere either as he's started to find his form again over the last month.
That leaves Corey Kluber and Tanner Houck as the last two candidates to move to the bullpen and join Nick Pivetta as recent starters-turned-relievers. Even though Kluber had a 6.41 ERA entering his start against the Padres on Sunday, it's probably too early to change his role considering he received $10 million from the team over the offseason. Houck has also been utilized as a reliever over much of the last few seasons. He's posted a 2.68 ERA in 33 outings as a reliever in his career as his struggles facing the same lineup multiple times in one game have been well-documented.
Sign up for Red Sox updates⚾
Get breaking news and analysis delivered to your inbox during baseball season.